The Real Reason There Are No Menus At Rao's - Exclusive
Ethan Miller/Getty Images
If you had to define the epitome of Southern Italian food in America, you'd have to look no further than Rao's. Per LA Weekly, the 125-year legacy of the iconic restaurant brand now includes a line of jarred tomato sauces, cookbooks, and a multitude of celebrity fans — but it all goes back to the original restaurant located in New York City. When visiting Rao's, you will swear you are in an Italian grandmother's kitchen thanks to the simmering smells of garlic and tomatoes throughout, accompanied by the comforting feeling of family. That's because Rao's serves meals created from recipes passed down from generation to generation in a place that is incredibly warm and welcoming. Just like at grandma's, though, you won't be browsing through a menu at Rao's in New York — they take that personal touch one step further.
During Mashed's exclusive interview with the fourth-generation owner, Frank Pellegrino Jr., the acclaimed chef and author of "Rao's On The Grill" and "Rao's Classics" shared why there are no menus at the 10-table original outpost of the restaurant, saying that "from a dining perspective, it's all about family and gathering."
There are no menus at Rao's New York because it's all about the personal connection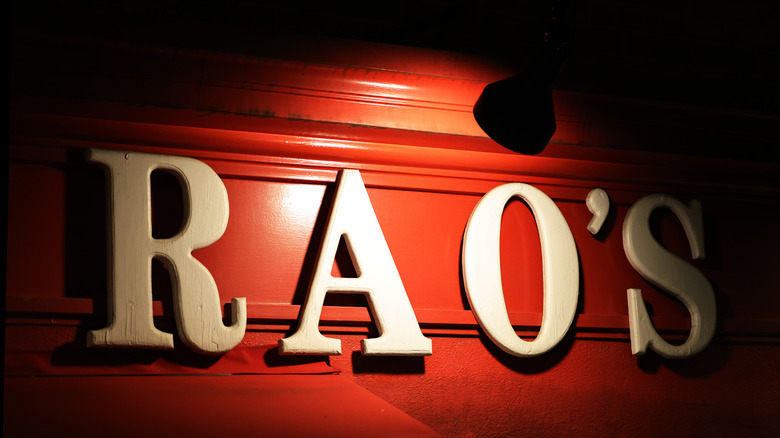 Michael M. Santiago/Getty Images
While it might seem counter-intuitive, there's a good reason why you can't order off the menu at the original Rao's in New York, says owner Frank Pellegrino Jr.: "In New York we don't have menus. We have them, [but] we don't use them. ... I sit at your table with you when you [come] in and introduce myself and basically say, 'What we do is an appetizer, pasta, and an entree. Anybody have any dietary concerns, food allergies, anything we should know?'" And after getting the answer, Pellegrino Jr. says he comes up with suggestions for the table. For example, if the table likes seafood, he'll suggest a seafood salad with lobster, crab meat, calamari, baked clams, roasted peppers with raisins and pignoli nuts, and fritto misto. 
For the pasta dish, as another example, Pellegrino Jr. adds that he often asks what the guests at the table are in the mood for — a clam sauce, red sauce, olio, etc. — to determine the best dish. And then assures the table, "I know that sounds crazy, but I promise you, once you try it, you're going to love it. And if you don't, don't worry, I'll eat it. I'll make you something else."
At Rao's, it's an overall experience where guests are welcome to try new things with Pellegrino Jr. and his team making the best choices for their diners based on personal preferences. "Basically, we try and suit your tastes, like in the beginning of our conversation. [We] do our best to accommodate the guest. At the end of the day, it's about the guest."
You can visit Rao's locations in New York, Las Vegas, and Los Angeles. You can also find some of Frank Pellegrino Jr.'s favorite recipes in his cookbooks "Rao's Classics" and "Rao's On the Grill."