The Best Wine To Pair With Your Thanksgiving Dinner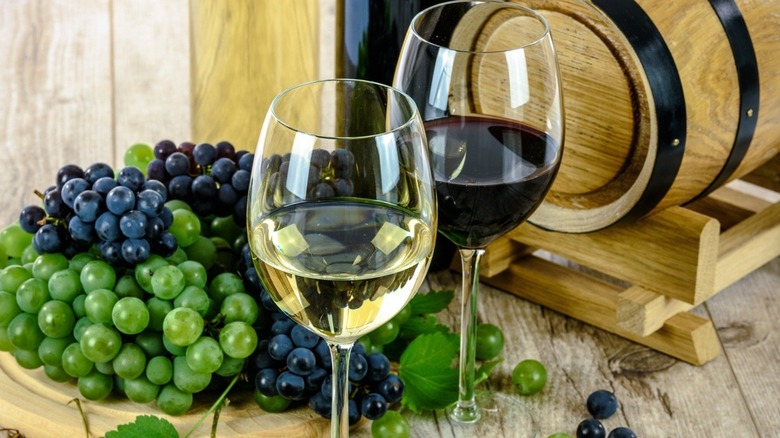 PhotoMIX-Company from Pixabay
Friends and family everywhere are finally coming together again for the Thanksgiving holiday after a pandemic kept us socially distanced last year. Much wine will be poured either in celebration of the reunion or to drown out what your crazy uncle just said. Whatever your reason is for popping the cork, a wine that pairs perfectly with your Thanksgiving dinner will make you truly thankful.
An ideal wine and food pairing will wow your guests by enhancing the aroma and flavor of your holiday offerings. According to Wine Folly, you'll want to match the flavor of the food being served with an equally intense wine while ensuring that your choice is more acidic and sweeter than the dish. Traditionally, people tend to pair white wine with light meats like poultry and seafood and reds with bolder meats like venison and beef. Rather than pairing with your protein choice, consider matching your wine pick with the sauce being served, as more astringent wines balance rich, buttery sauces. Pass the gravy and red wine, please.
As you familiarize yourself with different flavor combinations, your palate will recognize which wines fully accentuate your meal, and you can venture outside the box. While doing your wine research, following a few guidelines can help highlight the perfect pairings.
Red wine or white wine?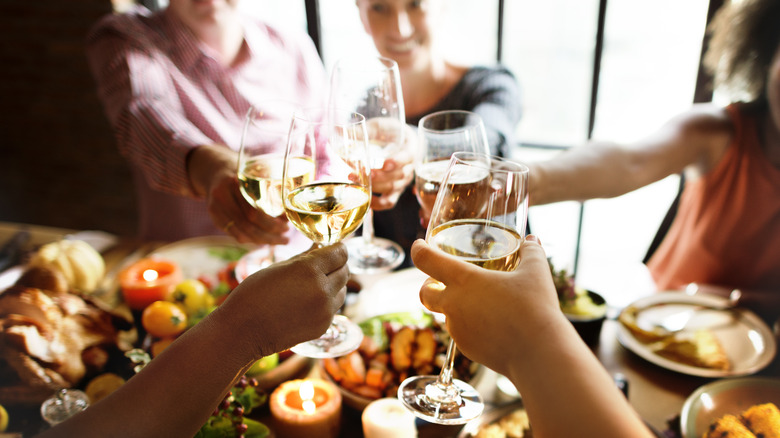 Rawpixel.com/Shutterstock
When it comes to choosing between red or white wine on Thanksgiving, you can't go wrong by having both varieties available to please every guest. Mathew Woodburn-Simmonds is a former sommelier who paired wines at various Michelin star restaurants for over a decade. A lover of all things drinkable, he is also the founder of Home Coffee Expert, but still has professional recommendations on the perfect wine for your Thanksgiving meal.
Woodburn-Simmonds prefers red wine with his holiday meal as it accentuates the savory elements of the turkey, balances the richness of gravy, and is a versatile choice that compliments a variety of side dishes. He suggests that the soft tannins and strong cranberry notes of the Cabernet Franc from California pair delightfully with an array of Thanksgiving dishes. If you are entertaining guests who aren't afraid of big flavor, he says, "You can find some oak-aged Cab Francs that will be slightly fuller bodied but still not overpowering for your perfect bird."
The wine expert also suggests going with full-bodied white wines like Bogle Vineyards Viognier and Cline's "Nancy's Vines" Viognier if you prefer lighter flavors. According to Vivino, fans of these white wines describe them as oaky and bold with notes of sweet honey and stone fruit. Woodburn-Simmonds says, "Viognier is a phenomenal grape variety ... that matches up so beautifully with the combination of turkey, gravy, and yams."
Wine pairings for Thanksgiving dessert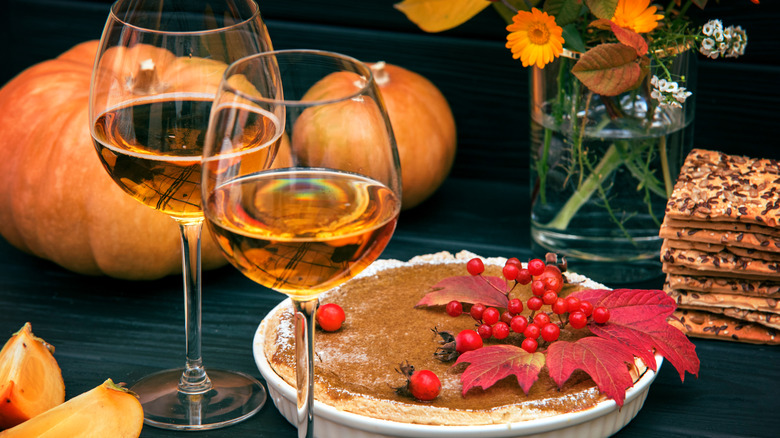 StanislavaSM/Shutterstock
After enjoying every savory moment of your Thanksgiving meal, it's time to finish strong by pairing a sweet wine with deliciously decadent holiday desserts. Mathew Woodburn-Simmonds explains, "If the food is sweeter than the wine, the wine will taste thin and overly acidic." He recommends switching to a late harvest Riesling from the Finger Lakes wine region in New York. Wine Enthusiast describes Rieslings produced in this region as dry and full-bodied with intense citrus and apple notes. The refreshingly sweet undertones and rich finish of a Riesling are ideal flavors to pair with your pumpkin pie.
A good rule of thumb when pairing wines with your holiday meal is to steer clear of both the very light and very bold ends of the spectrum. A subtle white and delicate red will not be robust enough to match the bold flavors of Thanksgiving. "The monster Cabs from Napa will completely overpower all the food, maybe a plus depending on who is cooking," Woodburn-Simmonds says.
Finding wines that elevate the flavors and aromas of each course in your Thanksgiving feast is a sure way to celebrate with success this holiday.