Instagram Is Raining Hearts Over Messy Pic Of Duff Goldman's Daughter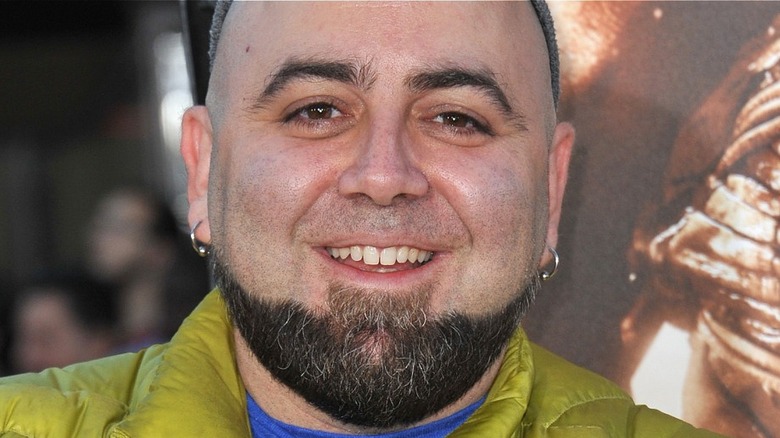 Agency/Shutterstock
Little Josephine Goldman isn't even a year old yet and she already has social media wrapped around her itty-bitty finger. The infant daughter of celebrity chef Duff Goldman was recently the subject of Daddy's Instagram. The wee one is shown in a photo with a Cheerio adorably stuck to her cheek, with accompanying caption, "Ma'am, there's something on your face." 
To the surprise of absolutely no one, Goldman's fans began to virtually swoon over the child, who was born to the "Ace of Cakes" star and his wife Johanna earlier this year. Josephine is frequently the subject of her doting dad's social media accounts – always to the delight of his fans, who are just happy to see the popular guy soaking up fatherhood. Notably, Goldman tagged @cheerios in the recent post. So either he thinks the company will simply appreciate the pic, or he is looking for baby's first cereal modeling gig. Either way, we're here for it.
Fan reaction to Josephine Goldman's Cheerio pic
With nearly 2,000 likes in only the first hour, it's safe to say that Josephine Goldman is an Internet sensation. "OMG she's absolute perfection!" exclaims user phillycarol7. More than one commentator noted that she has big, blue eyes. Of course, everyone loves a good messy baby photo. "It is good for your complexion," jokes aikosdaughter, and caalmon1967 says, "Cheerios to go...." Elsewhere in the comments, sweet_zzzzz jokes, "love the cereal mole," and amzieelew dubs her "the new Cindy Crawford," who is of course, famous for her beauty mark (via Vogue).
This isn't the first time Duff Goldman has posted messy food pics of his child, and it probably won't be the last. Just a few days ago, he put one on Instagram with the caption, "Just in case anyone is curious, Josephine got a banana apple spinach cinnamon oat yogurt smoothie for dinner." No matter what food she's wearing, the Goldman tot is bound to continue to cause smiles all around. Bon appétit, Josephine!