Duff Goldman Melts Hearts With Latest Baby Pic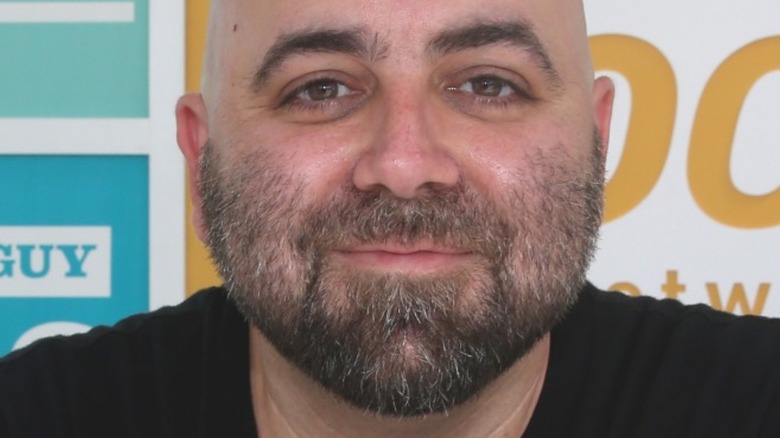 Aaron Davidson/Getty Images
Duff Goldman can just go ahead and add his baby girl to his list of sugary-sweet masterpieces. The celebrity cake artist and Charm City Cakes boss officially sent the internet into a tailspin when he posted an Instagram photo of himself with 4-month-old baby Josephine Frances Goldman. He captioned the precious pic, "Decided to take a family trip to Baltimore! Took Josephine to see the bakery that started it all, @charmcitycakes."
The bakery he referenced is of course the original location of Charm City Cakes, which he opened on March 3, 2002, in Baltimore. The photo shows the father/daughter duo posed on the other side of an open window, presumably inside the bakery. The site gained worldwide familiarity on the hit television show "Ace of Cakes," which aired more than 100 episodes. He has since opened another branch in Hollywood, called Charm City Cakes West, and published a cookbook and a book about the bakery. Currently, he stars in the Food Network's "Buddy vs. Duff," alongside Buddy Valastro of "Cake Boss" fame. He also has a show called "Duff Takes the Cake."
All about Duff Goldman's baby, Josephine
The photo of Duff and Josephine has since garnered more than 62,000 likes (as of July 11, 2021), not to mention tons of comments. Says user @miafern19, "Yay – she gets to see the OG! So cute." Goldman fan @Rosaup also adds to the love with, "Sooooo beautiful...you can just see the love...beautiful baby...with her handsome Dad." In fact, a cursory scroll through the post's comments reveals not one negative comment, a miracle in itself!
And it wasn't only "Ace of Cakes" fans commenting on Duff Goldman's Instagram post and sharing their love for baby Josephine — celeb chefs were of course also won over by the happy family. "Awww this is too cute!" wrote Food Network star Kardea Brown, while Iron Chef Cat Cora commented "Love this so much" with a plethora of heart emojis.
Baby Josephine was born to Duff and his wife Johanna on January 31, 2021, weighing in at 8 lbs, 2 oz. The couple announced the pregnancy on Instagram in August 2020 with a photo of Duff and Johanna each holding a regular-sized muffin, while they jointly held a mini-muffin. This sweet moment is a nod to how Duff calls Johanna "muffin" as a pet name.