These Baskin-Robbins Flavors Are Only Available In South Korea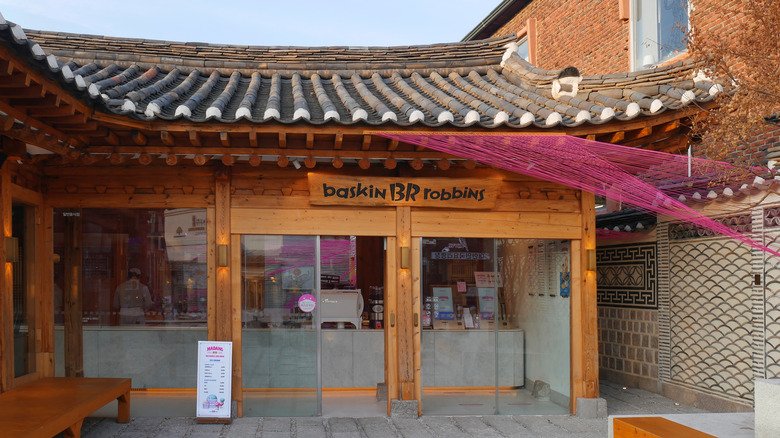 Kihyo/Shutterstock
We may receive a commission on purchases made from links.
Baskin-Robbins seems like the classic all-American ice cream chain, with flavors such as Baseball Nut, Quarterback Crunch, and Inside-Out Apple Pie. As it turns out, they also have quite an international presence, with locations in five different continents and 41 different countries outside the U.S. As fast-food chains tend to do, they tailor their menu to each country to account for local preferences. Wouldn't it be fun to go on a round-the-world trip and try all the different flavors? Perfect idea for when you hit the Powerball jackpot. In the meantime, it's always fun to enjoy a little armchair traveling –- and eating! (Imaginary ice cream is 100% calorie-free.)
Today's virtual visit is to South Korea, a country that Baskin-Robbins says is their largest market outside the United States. As of 2018, there were over 1,300 locations in the country, and it's had a presence there since the '80s. In light of this info, it comes as no surprise to learn that there are numerous flavors made solely for the South Korean market, though we sure wish BR would consider introducing some of them to the U.S. menu.
Many of these Korea-only flavors sound pretty tasty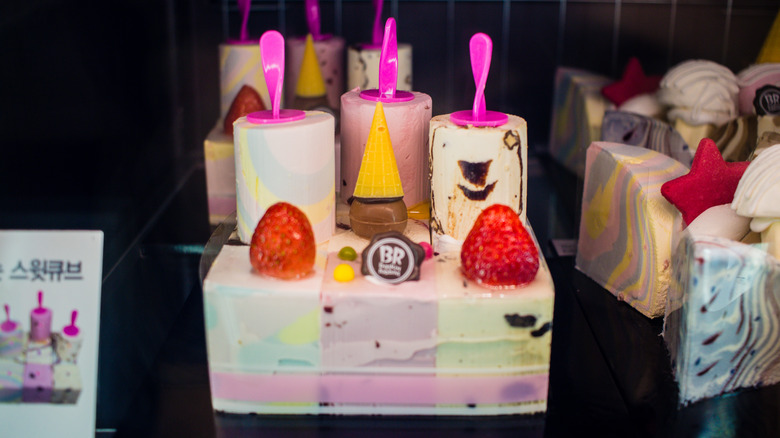 Brigitte Kwasny/Shutterstock
A Baskin-Robbins blog post from 2018 listed a few of their favorite South Korean flavors. They included Apple Mint, a green apple and mint sorbet; Shooting Star, vanilla with a cherry ribbon and popping candy; and Bonjour Macaroon, an ice cream swirled with macaroon pieces. There were also two flavors with unusual names: Honey Cheese Trap, cheesecake-flavored with honey and almond brittle; and Mom is an Alien, which was white, milk, and dark chocolate stripes with chocolate pretzel balls. While they solicited customer input as to which flavor we'd most like to see in the U.S., we haven't seen any of these flavors added to the American menu just yet.
More recently, Linda Goes East reported that Honey Cheese Trap remains on the Baskin-Robbins South Korea menu in 2021 and has been joined by a few other interesting flavors. Chocolate Forest combines matcha tea and chocolate ice creams, Twinberry Cheesecake mixes cheesecake chunks into strawberry and blueberry-swirl ice cream, and the aptly-named Good Luck is nougat-flavored with caramelized almonds and sweet syrup. (We'd sure feel lucky to get a scoop of that!) There's also Papa and Daughter, a flavor that parallels the popular Mom is an Alien by using stripes of vanilla and strawberry ice cream in place of the chocolate and getting its crunch from pink chocolate balls.
Some of Baskin-Robbins South Korean flavors might not translate so well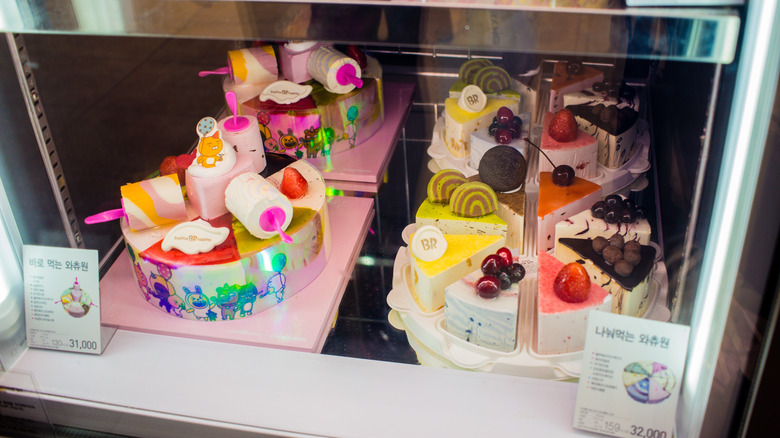 Brigitte Kwasny/Shutterstock
One of the current flavors on South Korean Baskin-Robbins' menu is called Zzon Teok, which began as a flavor of the month but transitioned to the regular menu because people loved it so much. So what does it taste like? The flavor combines black sesame with rice cakes and pecans, which the blogger calls "a truly Korean delight" –- meaning those flavors are less familiar to the traditional American palate. 
A look back at past monthly specials in South Korea reveals even more unique flavors: Steamed Potato, Ice Jollypong (a puffed wheat cereal, via Amazon), Strawberry Avocado, Black Sorbet, Simpson & Banana, Fantastic Troll, and the ambiguously named Mashups. (It doesn't clarify what is being mashed-up.) But we'd be all over the Hershey Macadamia Nut and the Ice Honey Butter Almond. What do you say, Baskin-Robbins? How about launching a limited-edition South Korean crossover menu here in the U.S.?