The Big Problem People Had With Chrissy Teigen's Squid Game Party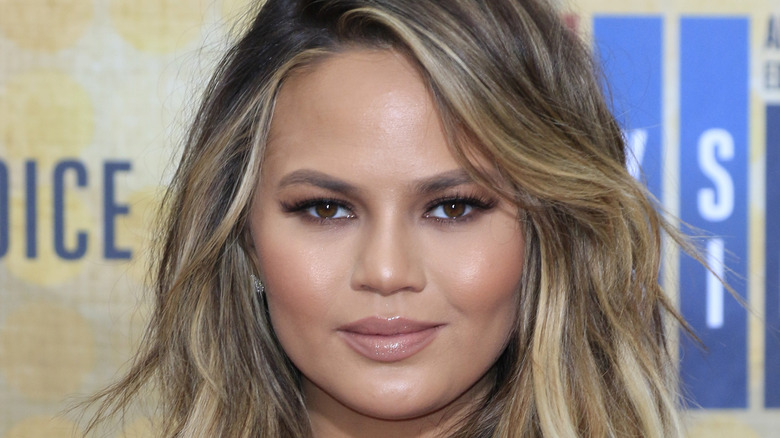 Kathy Hutchins/Shutterstock
Unless you've been living under a rock, you've most likely heard of the latest Netflix phenomenon, "Squid Game." The streaming sensation follows a desperate and in debt group of South Koreans who have entered into a deadly tournament full of children's games in order to win cash (via CNN). The ultimate prize for the tournament winner? Roughly $38 million in U.S. dollars (via WGNTV). Suspenseful, well-scripted, and incredibly entertaining, the show has become the most watched series in Netflix history, with 142 million viewers tuning into the series within the first month, as noted by What to Watch.
And it turns out that Chrissy Teigen, like everyone else in the world, is a major "Squid Game" fanatic. So much so that the "Cravings" author, alongside her husband John Legend, hosted a themed bash based on the South Korean drama with numerous celebrity guests in attendance, including Shay Mitchell and Jesse Tyler Ferguson (via People). Teigen even tapped award-winning event planners, Wife of the Party, to deck out her home with themed décor, including bunk beds and a maze staircase. They even served up honeycomb toffee treats, reminiscent of one of the iconic challenges shown in the Netflix series. Meanwhile, A-List guests battled it out in childlike games such as a dunk tank, musical chairs, hide and seek, and pin the tail on the donkey (without the gore or bloodshed, of course). While the party may have been a smashing success for everyone involved, many of Teigen's social media followers critiqued the event as being "tone-deaf."
Will Teigen get canceled again for her 'Squid Game' party?
The 35-year-old TV personality took to Instagram to celebrate what she viewed as an "epic night." As Teigen wrote in the post, "Where do I even begin?" and then captioned a series of photos from the event. "My dream came true of watching my friends fight to the death," the "Lip Sync Battle" host joked. While many of her celebrity friends mirrored Teigen's sentiments, referring to the party as epic in various comments, most of her social media followers did not feel the same way. 
According to Yahoo, one person commented on the post, stating, "This is so beyond tone-deaf as a millionaire to invite your rich friends over and re-enact 'Squid Game,' which is rooted in the violence of capitalism." Another user echoed that statement, writing, "Rich people can really be so out of touch with reality." While Teigen has since limited comments on the post, many users referred to the star-studded soiree as being a bit "cringe," while others disparaged Teigen for her "complete lack of self awareness."
This is not the first time that Teigen has been "canceled" for a social media scandal or virally blasted for being tone-deaf, particularly when it comes to displaying her wealth. Earlier this year, the former Sports Illustrated model joked about the time she and husband John Legend accidentally ordered a $13,000 bottle of wine. In response to Teigen's Tweet regarding the exorbitantly priced vino, a user wrote, "Did you recover? Meanwhile people are out here drowning in debt, losing their homes, and can't afford to see a doctor." Yikes. Clearly, 2021 is not Teigen's year.