Brooke Shields Packs 'Big Pieces Of Meat' In Carry-On For Holiday Travel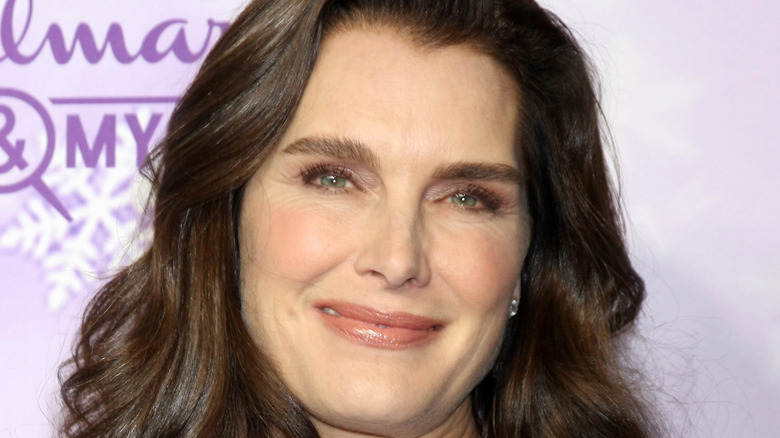 Kathy Hutchins/Shutterstock
When it comes to packing for traveling, everyone has a different approach. Some prefer to use packing cubes or other organizational systems to keep everything neat and tidy. Others swear by rolling their clothing to keep the wrinkles at bay. And, jetting off for the holidays comes with its own set of challenges, like potentially trying to fit in all the presents you're bringing home to loved ones. Or, as many foodies will relate to, perhaps you find yourself trying to squeeze in particular culinary delicacies that aren't available at your destination, but that you can't live without during the holiday season, as actress Brooke Shields knows well.
Shields recently made an appearance on popular morning show "Live with Kelly and Ryan," and she revealed an unusual item that she always brings along with her when she's traveling home for the holiday season with her family (via People). In fact, as she dished to the morning show hosts, her family has become so known for bringing this particular item that even the security crew at the airport knows that it's coming.
So, what exactly is Shields having to take out and show off during the check-in process? Brisket — to be specific, brisket that her husband smokes with his own dry rub blend. As Shields explained, "My family loves it the night before Christmas so we go through security with these big pieces of meat."
Shields' brisket-bundling process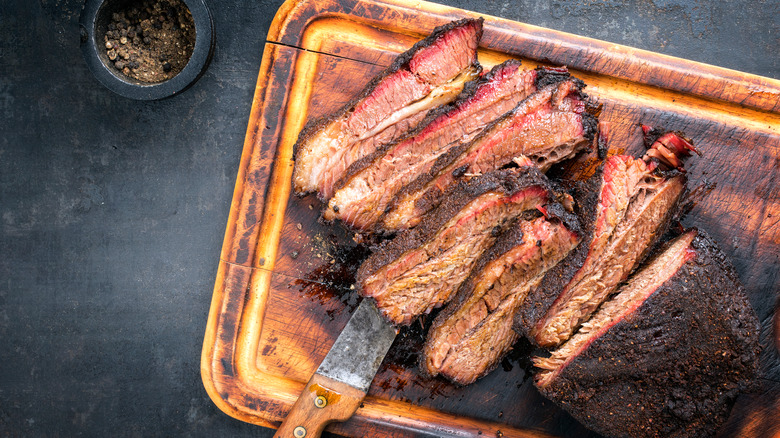 hlphoto/Shutterstock
Anyone who has dined at a barbecue joint will know that meat cooked low and slow for hours can emit some seriously mouth-watering aromas, even once it's just sitting out to rest. However, Shields and her family have a bit of a brisket-bundling process that prevents the smell from taking over the entire airplane cabin — they wrap it in "a lot of plastic," as well as tin foil, to keep everything intact and aroma-free for the journey (via People).
The confession seemed to resonate with fans. "Live with Kelly and Ryan" shared a clip on their Instagram page of a lighthearted segment they ran called, "Can you guess the food that could make it through TSA?!" While fans in the comment section named everything from pies to cake to frozen cranberry sauce, a few fans seemed to have caught the Shields segment. "I know!!!!! Brisket," one fan wrote, with another naming the meat as a guess as well.
And, it seems it's not only Shields who is interested in bringing along some home-cooked food for a plane journey. As Travel + Leisure reports, model and cookbook author Chrissy Teigen once took to Twitter to ask whether cold gravy could be taken through TSA and brought onboard.
Luckily for any curious cooks, there's plenty of information online on exactly what you can and cannot bring on the plane, so make sure to check before you toss that dish you spent hours making into your carry-on (via Conde Nast Traveler).