Chrissy Teigen Calls This Thanksgiving Main 'Better Than Ina's'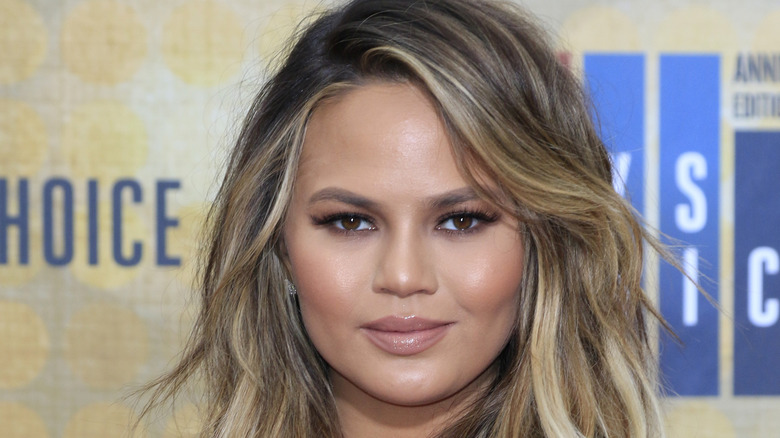 Kathy Hutchins/Shutterstock
While she started out as a supermodel, Chrissy Teigen has since made a name for herself in the culinary space. Mrs. John Legend has famously always been a foodie. "I can be totally full but can't sleep without my pre-bed sandwich," she once tweeted (via US Weekly). In the last few years, she's taken her love of food one step further by publishing her wildly popular cookbook (and subsequent food website) "Cravings," followed by a recent sequel, "Cravings: Hungry For More." Highlights include Chrissy's banana bundt bread and an everything bagel cream cheese breakfast bake.
Teigen has created more than a few delicious recipes, but one of her favorites to make during the holiday season is her BTI Roast Chicken and Vegetables, which is available on her website Cravings. What does BTI stand for? "Better than Ina's," as in better than the Barefoot Contessa herself, Ina Garten. Here's what makes Chrissy's Thanksgiving roast different than the celebrity chef's original version. 
The secret ingredient is a lot of butter
How did Chrissy Teigen's BTI (Better Than Ina's) Roast Chicken and Vegetables come to be? "When I first created this recipe, the title jokingly suggested that my chicken was better than a certain barefoot cooking goddess's version," Chrissy explains in the recipe notes (via Cravings). "A few years in, I think it's safe to say that both our chickens are legendary, so now I'm making the 'BTI' stand for 'But Then I made the best roast chicken,' or 'Best Thing In the cookbook.'"
There's one ingredient that makes all the difference between Chrissy's recipe and Ina's: butter. Or rather, the amount of butter. Chrissy's roast chicken calls for an entire of stick of butter — that's four times the two tablespoons that Ina's version requires (via Food Network). Chrissy spreads the butter inside the chicken skin and on the exterior for the juiciest bite. It might be worth trying for your own Thanksgiving feast this year.