GBBO Fans Love This Contestant So Much They'd Join A Fan Club
After Season 12, Episode 9 of the "Great British Bake Off," the three amateur baking talents who made it through to the championship round airing next week are Will Chirag "Chigs" Parmar, Giuseppe Dell'Anno, and Crystelle Pereira (via Birmingham Mail). All three have distinguished themselves with their frankly astonishing baking skills (they're amateurs, mind you, and Chigs, for his part, has been baking for less than two years, according to his Instagram account). But only 40-year old sales manager and self-taught baker Chigs has emerged as a major heartthrob. He's among the 25 sexiest men on television selected by People last week, not long after calling him a "fan favorite" with a "swoon-worthy smile." He's got Instagram users like @Alyssaalsbrooks professing their love to him in the comments on his posts, seemingly apropos of nothing (via Instagram). And he has at least one Twitter user referring to him (wishfully) as their "husband" (via Twitter).
But so far, nothing can quite compare to the stunning Chigs-stanning we've seen on the subreddit dedicated to everything related to the "Great British" show about baking (via Reddit). Indeed, it has become apparent over the last two days that GBBO fans are so over-the-moon about this particular contestant that they'd gladly join a fan club if someone put one together. 
'You are my bake off crush' — a besotted GBBO fan of Chigs Parmar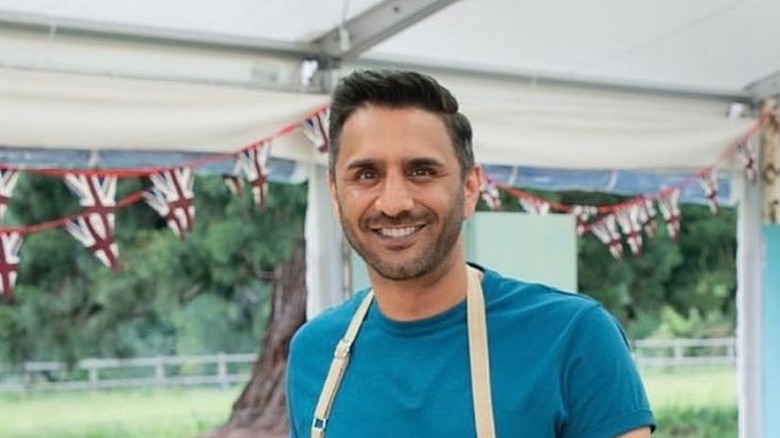 In starting a new post on Reddit's r/Bakeoff, user cupcake_dance extolled the GBBO contestant's many virtues and asked, "Is there a Chigs fan club somewhere?!" Well, cupcake_dance, it sounds as if you might be precisely the right person to get a Chigs fan club off the ground. However, if not you, then there are still roughly 47,000 other members of r/BakeOff who might be interested in organizing. For example, how about the Redditor u/TigerPaw317? They apparently felt love's first trembles as Chigs tried "desperately" (and fruitlessly, as history has now shown) to "help Amanda save her terrine pie." "There are no words for how much I love him," they added, just in case it wasn't clear.
By contrast, Chigs had the Redditor known as u/Element_Girl at his hipster vibe. "He was really doing it for me two weeks ago in that plaid shirt with his glasses," they commented. Other commenters were struck by how talented Chigs must be to be killing it on the GBBO with just two years of baking experience. Calling Chigs a "genuinely good human and an amazing baker," u/littleroseygirl noted that if someone does happen to start a fan club for this now three-to-one contestant, "I will 100% join it." But even if no one finds a way to put it all together, it appears that Reddit already has. As u/CJ_Jones noted, "I believe it's called r/BakeOff."