Dunkin' Is Celebrating National Espresso Day With This BOGO Deal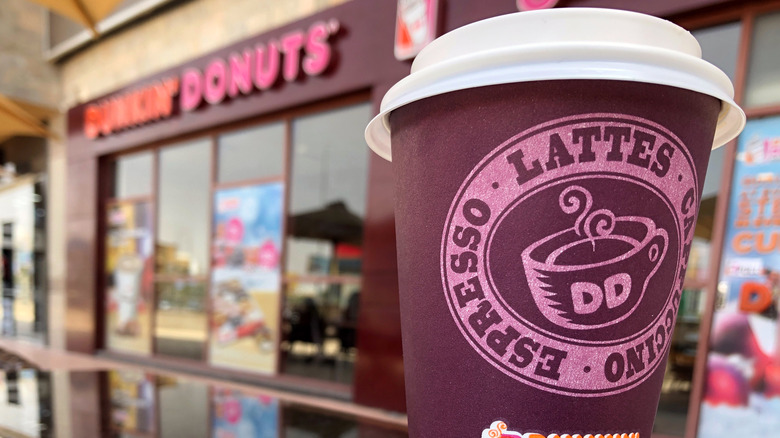 Moatassem/Shutterstock
It's not often that you meet a person that doesn't start their day with at least one cup of coffee. According to Brew Smartly, Americans alone guzzle down more than 400 million cups of the stuff every single day, making it the second most-consumed beverage in the country. The first? Good ol' H2O.
We're not just talking about plain coffee, either. Citing Statistic Brain, Spoon University says that 35% of java lovers in the U.S. enjoy the simplicity of a cup of black coffee in the morning. However, it turns out that most people actually prefer to sip on something a bit stronger to get their daily caffeine fix. Per Be Your Own Barista, espresso is actually the most popular coffee shop order in America, and in just a few short days, the highly-concentrated bean juice will be celebrated like the true star that it is. Coffee drinkers everywhere will come together next week to celebrate National Espresso Day on Tuesday, November 23 just in time for the marathon week of Thanksgiving cooking and Black Friday shopping. A number of coffee chains will be observing the holiday including Dunkin', where cappuccino and latte lovers alike can score an extra-sweet deal.
Dunkin' DD Perks members can score two espresso drinks for the price of one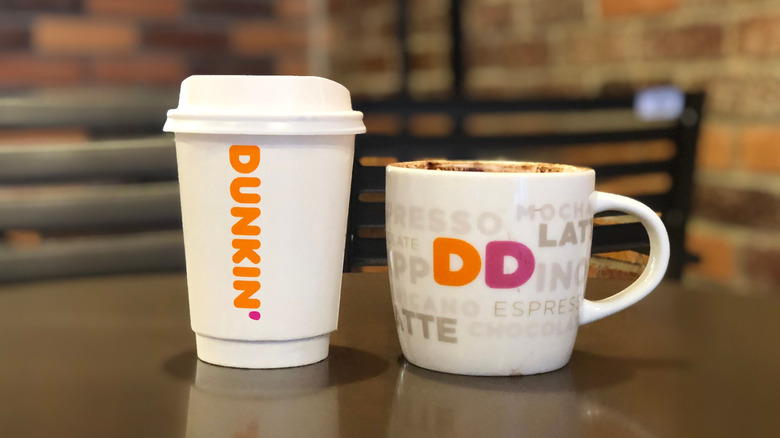 pancha.me/Shutterstock
There's only one thing better than a cup of coffee, and that's two cups of coffee, which is exactly what those belonging to Dunkin's loyal program will get when they head to the coffee shop next week on National Espresso Day. According to a press release from the coffee shop, DD Perks members that order a medium or large espresso drink from any one of the chain's locations on Tuesday, November 23 will be treated to a free hot or iced espresso drink on their next visit, which will be redeemable through December 7. Not yet a DD Perks member? The offer will be available for one day only and is available to existing DD Perks members as well as those that sign up before the holiday next week.
If you're not familiar with Dunkin's espresso, the chain uses high-quality Arabica beans that, once brewed, deliver a "smooth and bold flavor" that is a balance of sweet caramel and bittersweet chocolate (via the Dunkin' website). Dunkin' also has a number of espresso drinks like caramel macchiatos and the seasonal Peppermint Mocha Signature Latte, both of which you can get for free when you redeem your National Espresso Day prize. Make sure to mark your calendars and set your alarms for next Tuesday so you don't miss out on this amazing BOGO deal and risk having to pay for your favorite espresso drink at full price.