Why You Should Be Smoking Your Entire Thanksgiving Dinner, According To Pitmaster Diva Q - Exclusive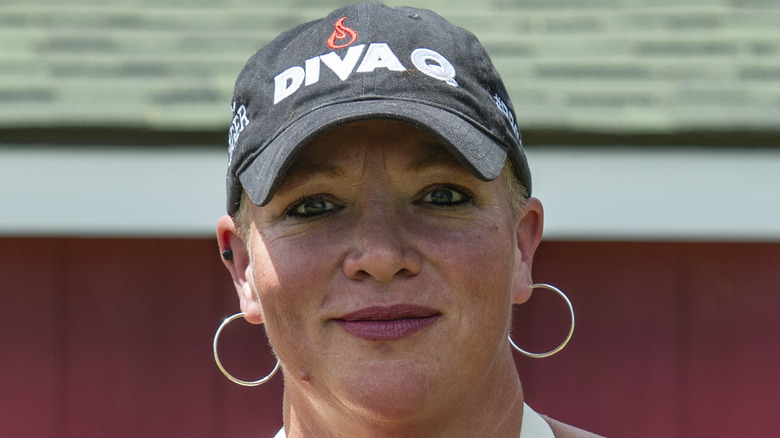 Traeger Grills
When it comes to barbecue, Danielle Bennett, otherwise known as "Diva Q," definitely knows a thing or two. She's a Pitmaster with multiple World Champion titles to her name. She hosted her own Travel Channel show "BBQ Crawl" for three seasons, in addition to serving as a judge for countless food competitions. And Bennett is also incredibly passionate about sharing her love for great food, particularly barbecue, by offering delicious recipes in her cookbook and as a Pitmaster for Traeger Grills (per her website).
And while Bennett is a master at cooking everything from brisket to ribs, she also has another favorite meal to cook on a Traeger Grill — Thanksgiving dinner.
But, how exactly can you pull that off? We went straight to the source. In an exclusive interview with Mashed, Bennett shared all about how to make the most flavorful turkey, along with your favorite sides and even dessert, all smoked on a Traeger.
Pitmaster Diva Q says the best turkey is smoked on a Traeger Grill
When it comes to cooking your Thanksgiving turkey, there are a large number of options for pulling it off. Of course, roasting it in the oven is common practice. Safely deep-frying your turkey, along with putting it on a gas grill, are possible options as well. But, according to Danielle Bennett, the absolute best way to cook a turkey is to smoke it on a Traeger Grill.
"It's all about the taste, all about the tenderness, all about the appearance, all about the juiciness," she said. "The problem is, with all of those [other cooking] methods, they don't give you flavor." Bennett notes that one of the benefits of smoking a turkey is the way it will help to maximize flavor, along with the tenderness. Because of the indirect heat, you'll have consistent cooking, which means you'll be able to pull off serving an incredible bird with the most delicious skin. 
"Above all, it's always got to come back to taste for me. ... When you spatchcock a turkey and you put it on the Traeger, even if you did a whole roast turkey, the fats render out of that skin. And that to me is a spectacular moment of turkey happiness," said Bennett. "That is gobble goodness. Because truly, yes, we love us some turkey, but if you don't get that lovely, gorgeous glistening turkey skin, it's game over for me."
You can smoke all of your Thanksgiving side dishes too
Once you've got the main part of your Thanksgiving meal planned out, you can still keep cooking on the Traeger. According to Bennett, you can actually make your entire Thanksgiving dinner all in the same place — sides and all.
Bennett said she's cooked appetizers such as homemade sausage rolls, along with crackers and hot smoked crab dip, on the Traeger. She's also done casseroles, soufflés, glazed maple carrots with bacon, and many other favorite holiday dishes on it. And of course, don't forget, the Thanksgiving pie.
"Your entire meal? Not a problem. ...I've done it many times," said Bennett. And according to her, the best part is that there's absolutely no need to babysit your food thanks to the indirect heat. "One of the great things that it enables you to do, because there's [no] direct [heat], is you actually get to talk to your family," she said. "It's not drying out your food and you get to go spend time with your family and do things you really want to do."
Learn more about cooking your Thanksgiving dinner with Traeger's Thanksgiving guide. For more recipes and ideas from Danielle "Diva Q" Bennett follow her on Instagram.