Why This Instagram Thanksgiving Pie Map Was So Controversial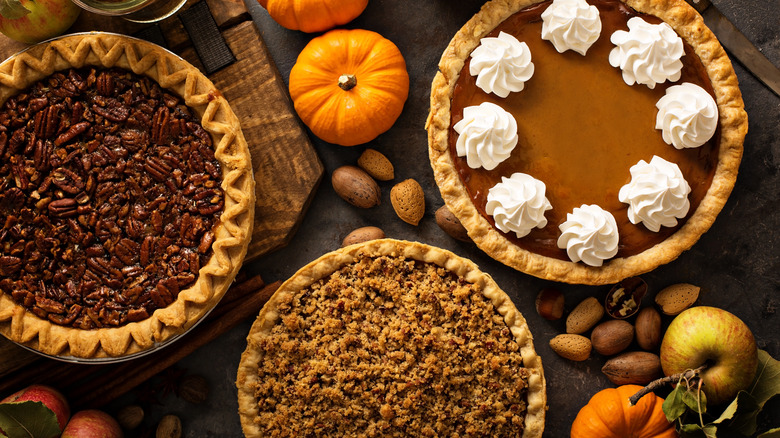 Elena Veselova/Shutterstock
There are people who look forward to Thanksgiving dinner for the turkey, the stuffing, and the mashed potatoes. And then there are people who look forward to the real highlight of the meal: the dessert. If you're like most Americans, the dessert spread includes a pie or two. Maybe it's classic pumpkin, maybe it's apple, maybe it's sweet potato, or maybe it's something else entirely. A recent Instacart survey reported that pumpkin is by far the go-to pie come Thanksgiving Day, which is no surprise (via Boston.com). Sales of the seasonal pie jumped over 300% the week before Thanksgiving, with apple and pecan ranking close behind in popularity.
But while pumpkin reigns supreme overall, which Thanksgiving pie is each state's favorite? Ahead of the holiday, Instagram shared a map of the United States on Facebook that revealed the most popular Thanksgiving pie by state. The chart was supposedly based on real data from Instagram stories and feeds, but people on social media had some strong opinions about the results — and they weren't positive. Here's why the map of pies turned into a hotly debated post.
People don't agree with their state's favorite Thanksgiving pie
While you might think pumpkin pie would be the overwhelming pick for most popular Thanksgiving pie, it only appeared as the favorite for three states on Instagram's map (via Facebook). That, combined with some of the other suspicious findings, had people up in arms, claiming that the results were inaccurate. Two of the pie options — cranberry and blueberry — caused the most distress, with many commenters saying they had never seen or heard of these varieties. "I grew up in Rhode Island, and I've never even heard of a cranberry pie," one person wrote. Another agreed, saying, "Doesn't check out. Oklahoma doesn't eat blueberry pie. Pecan all the way. I don't even know if I've ever seen a blueberry pie in my whole life."
Some people were especially angry about the map. "This seems to have been made up by someone in a country who is completely unaware of how American Thanksgiving works and is simply compiling 'pie favorites' from the various fruits they've heard are somehow involved with Thanksgiving," one Facebook user raged.