This Party Dish Combines Latkes And Nachos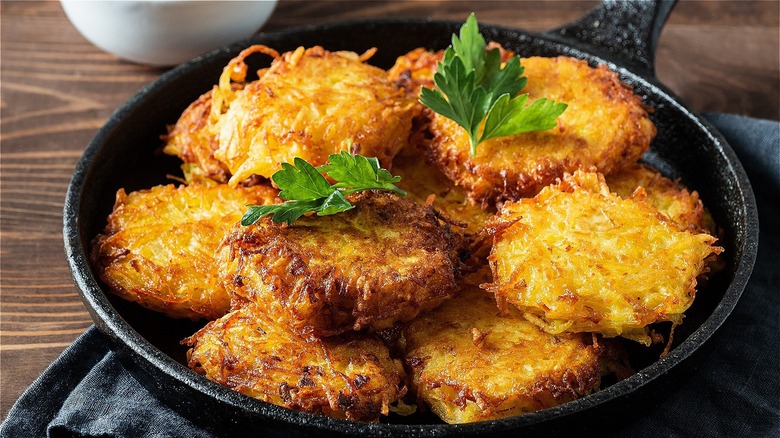 Fascinadora/Shutterstock
With Hanukkah quickly approaching, the time has come to start planning out meals for the festivities. According to Delish, you could opt to go a conventional route and serve up a beef brisket, kugel, challah, or matzo ball soup. On the other hand, you could also spruce up these time-tested recipes and opt to whip up some Manischewitz Braised Short Ribs With Horseradish Gremolata or Chocolate Chili Rugelach, per Brit+Co. While you have tons of options at your disposal, sometimes you need to cater your menu towards picky eaters or just want a kosher-friendly spread that you can share with friends.
Latkes present a great opportunity to tinker with flavors since these fried potatoes can take on any bold toppings you throw at them (via Food Network). While many choose to dress this fried potato dish with sour cream and applesauce, the sky's the limit when it comes to recipe twists, and you can even take inspiration from a Tex-Mex classic if you want to transform classic latkes into a party dish.
A Tex-Mex twist on a Hanukkah classic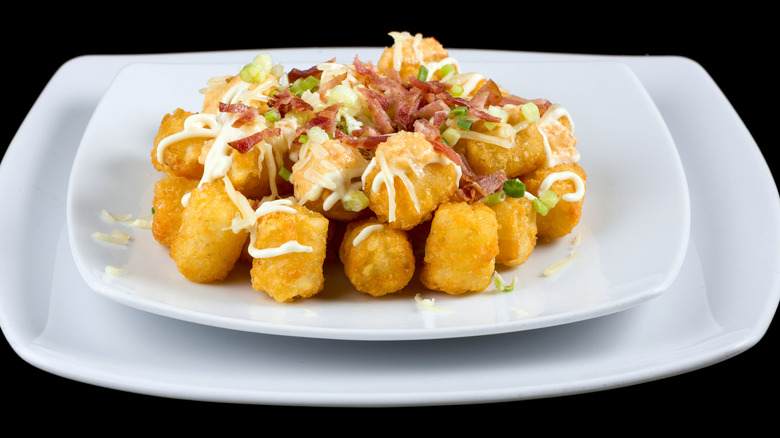 Dima Fadeev/Shutterstock
If you want to dress up your latkes, take a nod from totchos, aka nachos that use tater tots in place of tortilla chips, per Food Network. Instead of using tater tots, opt to use latkes and top them off with cheese and any other classic ingredient. Just make sure to avoid the meat if you need to keep the item kosher. With regular totchos, you typically bake the tater tots first, then load them up with meat and cheese before throwing them back in a hot oven to crisp up (via Just A Taste). Once they come out of the oven, you can load up the potatoes with lettuce, tomato, and anything else your heart desires. Feel free to experiment with the recipe to suit your taste and those you plan to entertain.
Next time you need to feed a crowd in a fun way, make sure to give this hybrid totcho recipe a shot for a dish no one will forget anytime soon. After tasting the flavors locked into this item, you might never go back to regular sour cream and applesauce ever again.