This Is The Best Way To Use Leftover Challah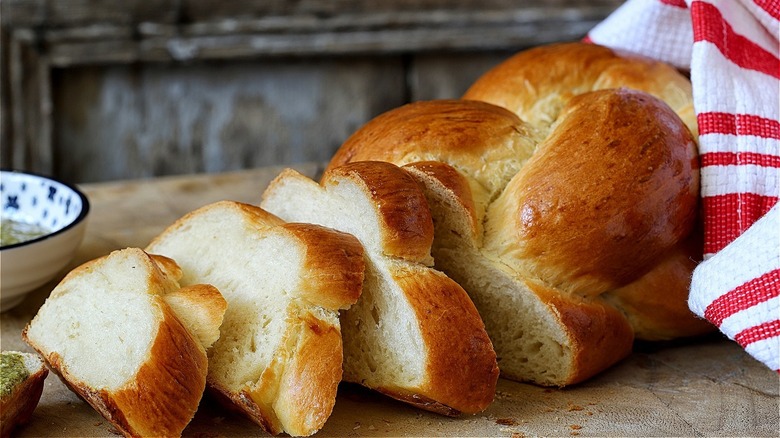 Neta Livne/Shutterstock
With the first day of Hanukkah just around the corner, there will soon be many loaves of challah bread on tables and shared with friends and family. According to Culinary Hill, the loaf made from a dough enriched by butter, sugar, and eggs is a traditional bread baked to celebrate Jewish holidays throughout the year, and also to serve on the Sabbath. With the potential for many loaves of challah, there comes the likelihood of lots of leftover challah that's starting to get too dry to eat. That's great news however, because there are fantastic ways to use up that leftover challah. 
While there are plenty of ideas out there for using up chunks of stale bread, like turning them into croutons or breadcrumbs (via Taste Of Home), we're here to make a case for the absolute best way to continue enjoying your beautiful challah bread: Turn it into French toast!
There's a reason why people love using challah for French toast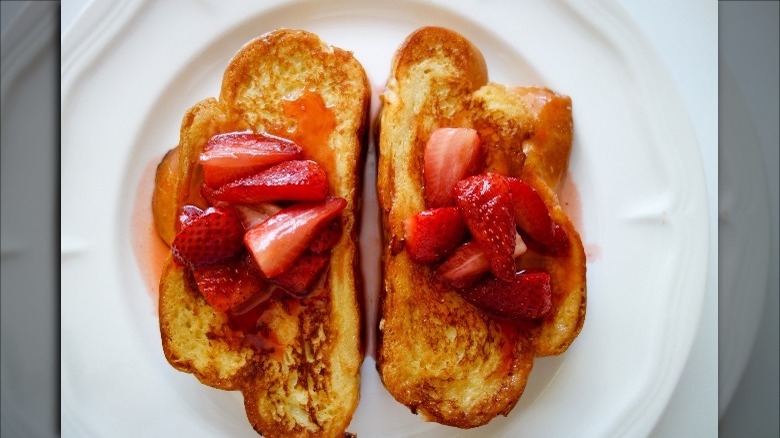 Neha Aurangabadkar/Shutterstock
French toast is wonderfully eggy and sweet — and that makes leftover slices of eggy, sweet Challah bread a perfect choice for making this favorite breakfast and brunch dish. According to TheKitchn the structure of challah is ideal for French toast because it can absorb the rich, custardy liquid without turning into mush. In a hot pan, the battered slices toast up with crisp edges and creamy centers. 
Food52 agrees: In their round-up of ways to use leftover challah, three of the suggestions are for French toast dishes. Their savory version, Crispy Salt & Pepper French Toast made with scallions and cilantro is really intriguing, as it would make an amazing breakfast or late-night nosh. "The Barefoot Contessa" star Ina Garten also loves challah for making French toast. Her recipe includes honey, vanilla, and orange zest to accentuate the sweetness of the bread (via Food Network). Serious Eats suggests making a boozy, spiced challah French toast with rum, star anise, and nutmeg. Meanwhile, Taste Of Home's Chocolate Challah French Toast with plenty of cocoa in the eggy batter is perfect for chocoholics. 
With this many possibilities, it's going to be hard to wait for leftover challah... We may just use the next, fresh loaf of challah we come across for nothing but indulgent batches of French Toast!