Best Homemade Croutons Recipe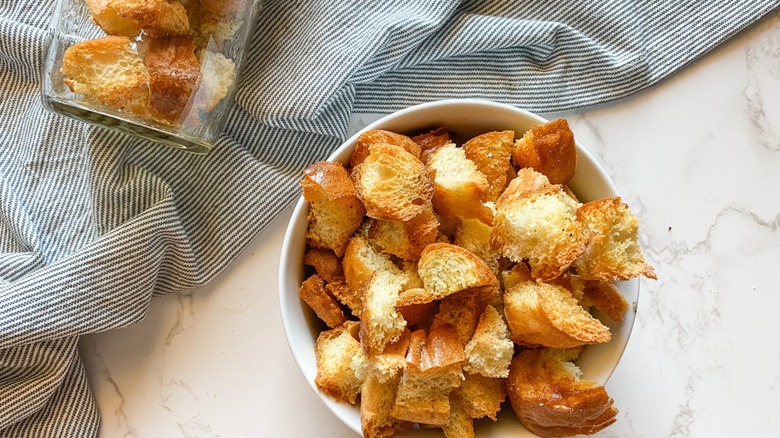 Kristen Carli/Mashed
Croutons may be one of the most underrated yet absolutely addictive little morsels of food. Dried bread on a salad? It seems like the perfect carb to pair with all the beautiful, fresh veggies you can find. Think you have to buy pre-made croutons at your local grocery store? Think again.
It's actually possible — and super easy — to make your own croutons at home. This recipe from developer Kristen Carli is so easy, you can enjoy it any day of the week. The best part about making your own homemade croutons instead of using the store-bought kind is that it's super thrifty, making use of any leftover bread you have on hand that's just starting to get stale. Carli tells us, "Croutons are so easy to make that they are always worth it to make on your own — saves money and helps reduce food waste." She also adds that, in her opinion, "Store-bought croutons are less fresh than the homemade version."
What is the best bread to use for homemade croutons?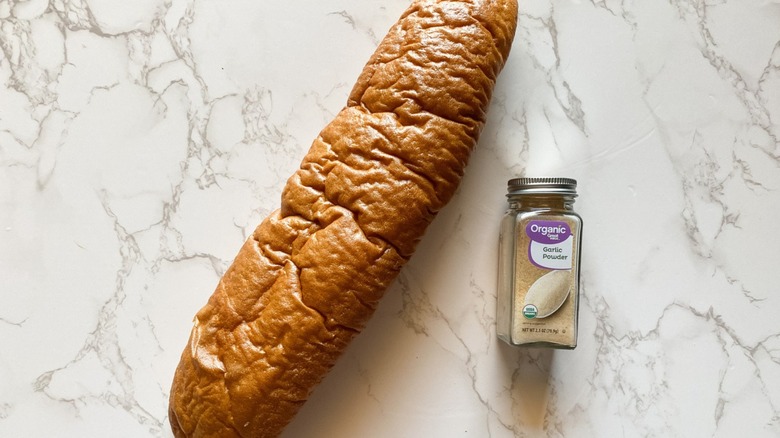 Kristen Carli/Mashed
 Croutons are actually best if they are made from bread that is just a little bit stale, perhaps a day or two past its prime. Carli used French bread, but tells us there are "no limits on types of bread — rye, sourdough, whole grain, etc. all works!" You will tend to get the best texture, though,  if you use a heartier, crustier loaf of bread than if you go with the pre-sliced Pepperidge Farm or Wonder Bread type of bread.
These are the other ingredients you'll need for homemade croutons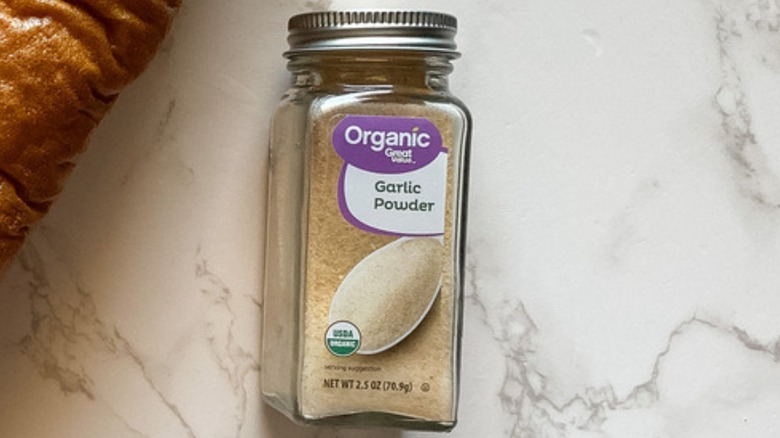 Kristen Carli/Mashed
To make these homemade croutons, you will also need olive oil, but there's no need for it to be the extra virgin type. While extra virgin olive oil is preferred by many people for salads where its flavor really comes to the forefront, the cheaper types of pure or just plain virgin olive oil can be used in cooking.
To season the croutons in this recipe, Carli went with the basics: just salt, pepper, and garlic powder. You can, of course, feel free to add in your own preferred seasonings. As Carli says, "Croutons lend themselves well to flavor versatility. You can season with paprika and cayenne for a bit of smoky heat, or you can season with rosemary and basil for an Italian herb version. " Cajun seasoning or chipotle croutons would also be awesome, and of course, Parmesan makes for a classic crouton flavoring.
Prepare the bread for making homemade croutons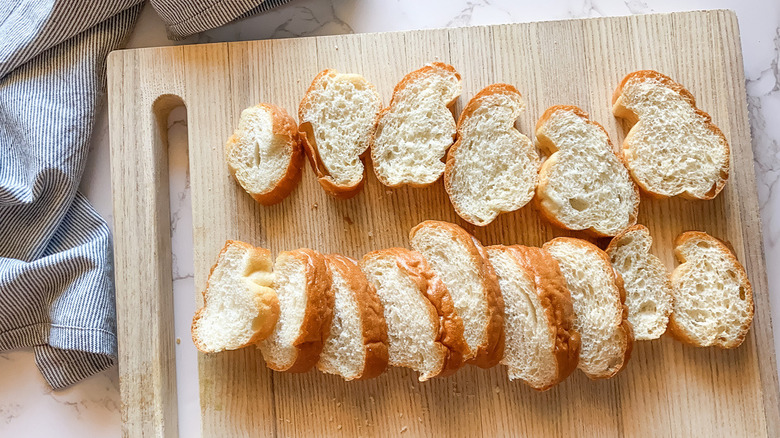 Kristen Carli/Mashed
Before you start preparing your croutons, go ahead and preheat the oven to 350 F. Then take a serrated knife and slice the loaf of bread into slices about three-quarters of an inch thick. Cut the slices (you may want to switch to a non-serrated knife) into three-quarter-inch cubes. 
"Alternatively," Carli tells us, "you can use your hands to tear pieces into roughly the same size cubes." Torn bread cubes will make for a more rustic type of crouton, although the ones you've cut with a knife will be evenly sized so they'll cook more uniformly.
Season and bake the homemade croutons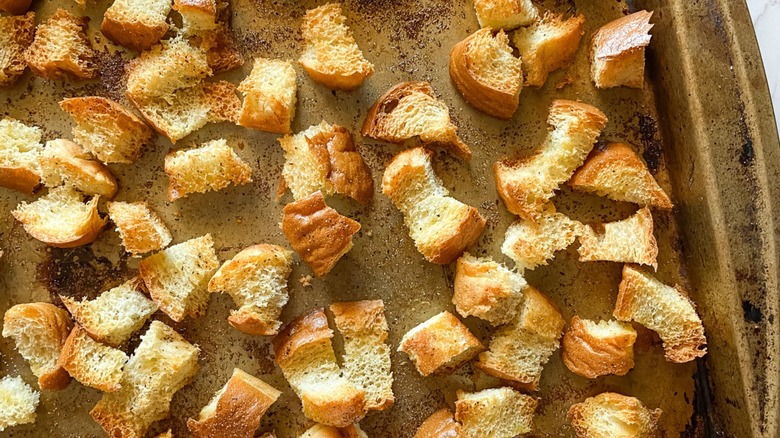 Kristen Carli/Mashed
Find a large baking sheet, and spread the bread cubes out over it in a single layer without crowding them too much. No need to grease the baking sheet since the next step will take care of that. Mix the olive oil with the seasonings in a small bowl, then drizzle the seasoned oil over the croutons. Mix them up with your hands or a spatula to ensure that the bread cubes are evenly coated. Bake the croutons for 15 minutes. Don't worry if they're not perfectly crunchy when they come out of the oven, as they will harden up a bit more as they cool.
Ways to use your homemade croutons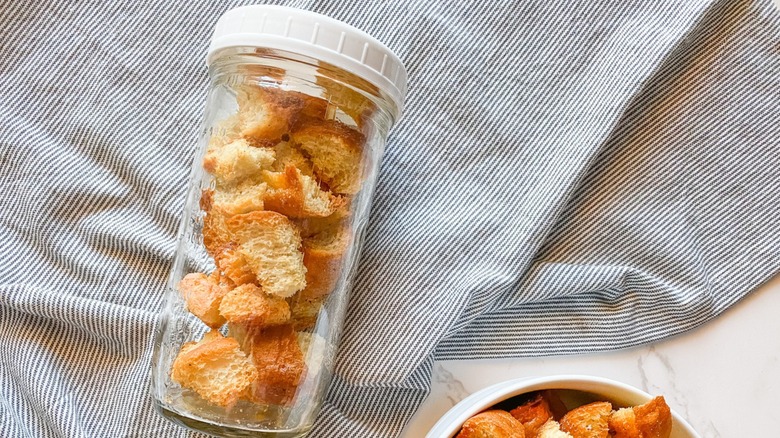 Kristen Carli/Mashed
These croutons should be good for some time after you make them. Carli tells us, "I store these in a large mason jar with a lid at room temp," but adds, "You can also use an airtight plastic bag." She says that at room temperature, the croutons ought to last for about 10 days.
While the most obvious way to use croutons is on top of a fresh green salad, Carli says, "I love croutons on any blended soups such as a roasted tomato soup." Other soups that go well with croutons include cheese soup, French onion soup, and gazpacho. Croutons also work great in stuffing since they get less soggy than fresh bread does. Croutons can also be crushed to top a casserole or to make for an already-seasoned crumb coating for fried fish or chicken. In fact, croutons all on their own make for a great snack!
Best Homemade Croutons Recipe
Dried bread on a salad? It seems like the perfect carb to pair with all the beautiful, fresh veggies you can find. Learn how to make your own croutons.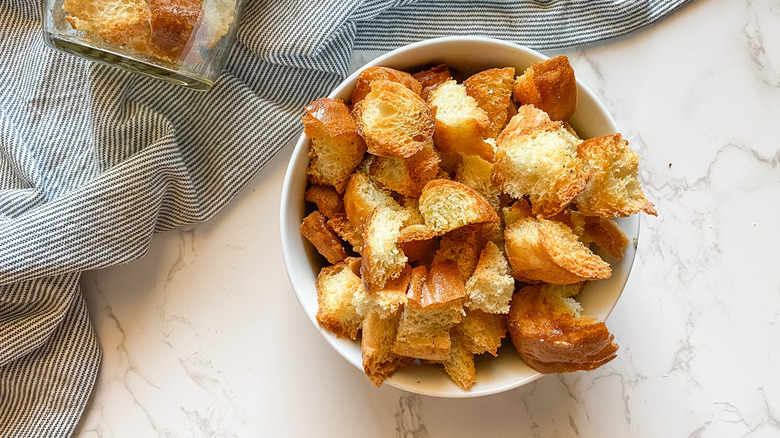 Ingredients
1 loaf French bread
¼ cup olive oil
½ teaspoon salt
¼ teaspoon pepper
½ teaspoon garlic powder
Directions
Preheat oven to 350 degrees F.
Using a serrated knife, cut bread into slices. Cut slices into cubes about ¾ inch thick.
Spread bread cubes over a large baking sheet.
Mix olive oil with salt, pepper, and garlic powder, and stir well to combine.
Drizzle seasoned oil over bread cubes.
Bake croutons for 15 minutes.
Serve and enjoy.
Nutrition
| | |
| --- | --- |
| Calories per Serving | 108 |
| Total Fat | 5.1 g |
| Saturated Fat | 0.8 g |
| Trans Fat | 0.0 g |
| Cholesterol | 0.0 mg |
| | |
| --- | --- |
| Total Carbohydrates | 13.1 g |
| Dietary Fiber | 0.6 g |
| Total Sugars | 1.2 g |
| Sodium | 150.7 mg |
| Protein | 2.7 g |