A Customer Threatened To Sue KFC Over 'Underwhelming' Sandwich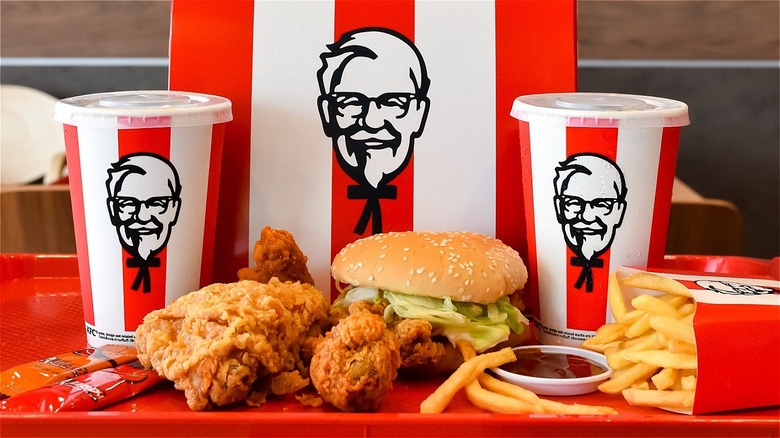 Patcharaporn Puttipon 636/Shutterstock
It's no secret that food styled for commercials, movies, network television, and menus can look drastically different from food encountered in everyday life — especially when it comes to floppy fast-food sandwiches. According to Vice, one KFC customer was so fed up with the misleading menu imagery at his local output of the fried chicken-centric chain that he threatened legal action against the company for its deceptive marketing tactics.
In a Facebook post shared on November 15, 2021, Erwin Sandi, a resident of Palopo, Indonesia, shared an image of an underwhelming Krunchy Burger sandwich from KFC contrasted with the image of the sandwich featured on the menu. Sandi ordered the chicken sandwich from his local KFC via a food delivery app and wrote that the dish "didn't look like the picture at all" and was deeply "disappointing." In the scathing post, which was quickly picked up by local media outlets, the disappointed diner posted that his lackluster sandwich proved that "KFC is good at deceiving their customers." In comparison to the sandwich pictured on the menu — which had a plump chicken patty topped with cheese, lettuce, and sauce — Sandi's featured a limp patty, dry bun, and no additional toppings.
The diner came to an agreement with the KFC
After his relatable post took off online, Erwin Sandi shared that he had attempted to reach his local KFC by phone about the topping-less sandwich to no avail. The disappointed customer noted that he had received numerous incomplete sandwiches from the KFC in question in the past and was even planning on filing a lawsuit against the company for the continued use of misleading product images. The manager of Sandi's local KFC told the regional Pikiran Rakyat newspaper that the "customer didn't receive a burger with vegetables because we didn't have any more." According to Fajar, the manager later met with the disgruntled diner to resolve the issue without legal intervention, vowing to improve their level of service in the future or face potential litigation.
The fried chicken company, which has withstood its fair share of scandals over the years, faced another deception-based lawsuit in 2016, brought by a customer who accused the chain of under-filling their trademark buckets of fried chicken (via Grub Street). The New York-based customer attempted to sue KFC to the tune of $20 million for failing to actually fill up their $20 Fill Up buckets.
While it's unlikely that Sandi's hypothetical lawsuit would have won him any substantial settlement from the global fast food chain, the Indonesian native did have the opportunity to speak for all who have ever been let down by an underwhelming fast food item — aka just about everyone.