Why Kelly Ripa Keeps A Spare Turkey Breast On Hand For Thanksgiving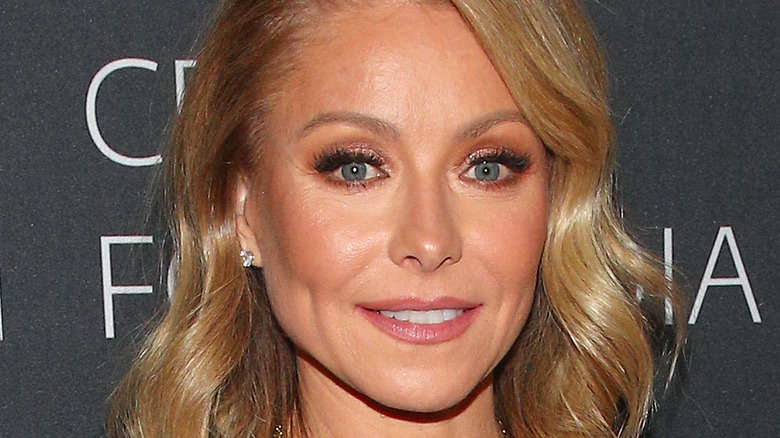 Astrid Stawiarz/Getty Images
Kelly Ripa is known for her witty rapport with co-host Ryan Seacrest on their show "Live with Kelly and Ryan" and recently made headlines for her strong opinions about what time Thanksgiving dinner should be served (via Good Housekeeping). According to People, Ripa's son, 24-year-old Michael Consuelos, recently joined her on the show for a special Thanksgiving cooking segment during which they prepared crispy Hasselback potatoes au gratin based on a recipe from The New York Times. 
"It's a creamy, cheesy potato that's thinly sliced and crispy on top that my kids for years and years have begged me to make," Ripa explained on the show. The pair made the dish together, even though Consuelos had earlier posted on his Instagram Story, "Should I tell her I nearly set my kitchen on fire last week?" But Ripa knows a thing or two about things going sideways in the kitchen, as she revealed to the audience at the end of the segment. 
Kelly Ripa's malfunctioning oven couldn't fully cook the turkey
One fateful Thanksgiving years ago, Kelly Ripa decided to brine a turkey Martha Stewart-style. She noted that after rotating the bird in the oven and covering it with juice, it just didn't look quite right. "I assumed it was the brine and I was a novice," Ripa said. Turns out, one side of the oven had stopped working, and the turkey ended up being only half-cooked (via Hello!). As for Ripa's children, she said, "They never knew. They were young and I always keep a spare turkey breast on hand, just in case" (via People).
Ripa may wisely keep a plan B in the wings, but perhaps she could also ask co-host Ryan Seacrest to bring a backup bird from his place. He took private cooking lessons at the Culinary Institute of America in October (via Poughkeepsie Journal), and, if CIA's comment on Seacrest's Instagram post means anything, it seems like he's doing pretty well. "Great work yesterday. Keep practicing those knife skills and come back anytime," the school commented. And since Seacrest prefers to eat early while Ripa insists Thanksgiving dinner must be late, the timing could work out great.