Potatoes Au Gratin Recipe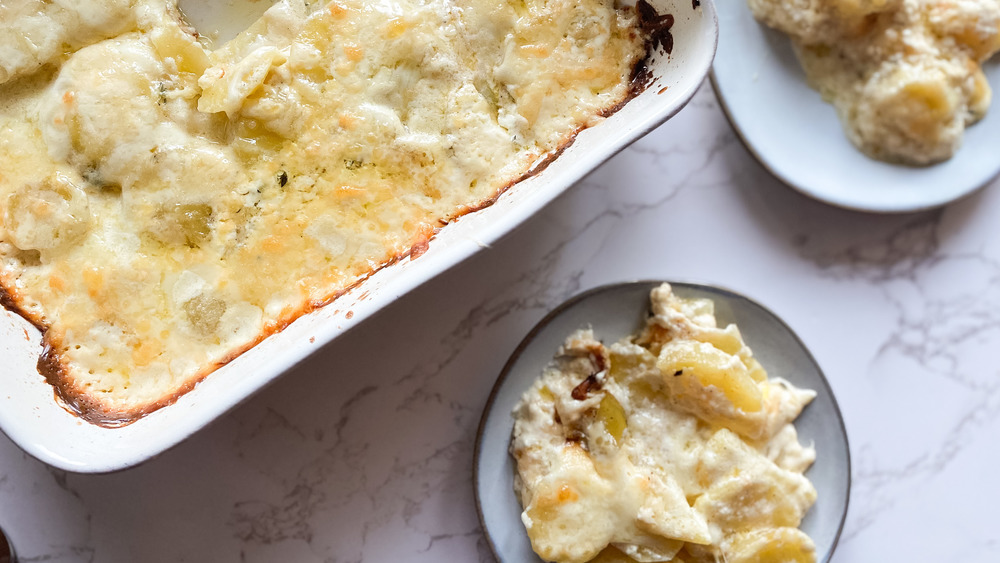 Kristen Carli/Mashed
For health's sake, it's best to have something like a salad, some brown rice, and a portion of tofu or chicken for dinner. Or go with a healthy lentil stew and some rich rye bread on the side. You get the point: most days, it's best to eat on the lighter, healthier side. But on some days, it's best to go for it and serve potatoes au gratin. Chef, food writer, and registered dietician Kristen Carli of Camelback Nutrition & Wellness says: "This dish is great to make ahead and pop in the oven before dinner. It's ideal for celebrations and holidays because it is so very rich!"
And while this dish may seem a challenge to those who have never tried their hand at it, the fact is potatoes au gratin is actually pretty simple, it just requires a lot of hands-on work, most of which consists of slicing. (Sharp knives are always safer, folks! Take care of your kitchen tools and they will take care of you.)
As for serving this semi-decadent side dish, Carli says: "This recipe goes great with your favorite protein, but especially steak. I like to serve with a bright and vinegar-y salad like caprese to brighten up the richness of this dish."
Gather your potatoes au gratin ingredients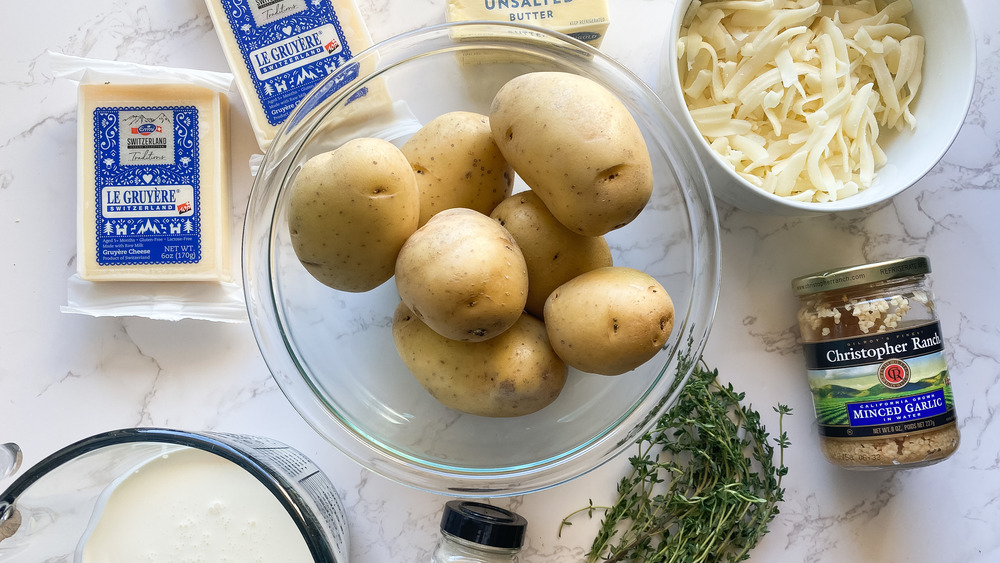 Kristen Carli/Mashed
Lots of cream, lots of butter, and lots of cheese. Is it any wonder this dish is sublime? To make your pan of potatoes au gratin, you'll need 1 and a 1/2 cups of cream, 2 teaspoons of minced garlic, 2 tablespoons of unsalted butter, melted, 2 pounds of yellow potatoes, 2 teaspoons of salt, 1 teaspoon of pepper, 1 teaspoon of onion powder, 1 and a 1/2 cups of shredded gruyere cheese, 1 and a 1/2 cups of shredded mozzarella cheese, and 2 teaspoons of thyme leaves.
Of the ingredients, Carli says: "I love using gruyere cheese here but it can be pricey. You can sub [in] all mozzarella cheese if you would like, just be sure to add a few extra pinches of salt."
Pre-heat, prep your pan, and get slicing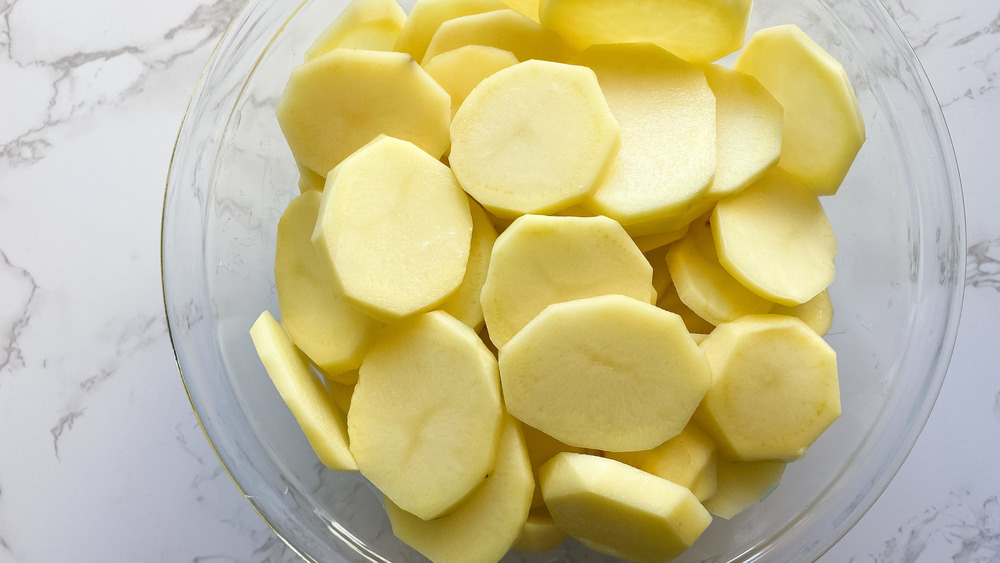 Kristen Carli/Mashed
First things first: preheat your oven to 350º F, and prep an 11-inch by 7-inch (or as close as possible to that) baking dish by spraying it with a nonstick cooking spray. 
Next, in a medium bowl, place the melted butter, the cream and the minced garlic. (Now is the time to mince if you have not yet minced.) Stir to combine that stuff well. Now it's time to peel the potatoes, then get slicing. Slice discs of potato that measure about 1/4" thick each, keeping them as uniform in thickness as you can.
Begin layering your potatoes au gratin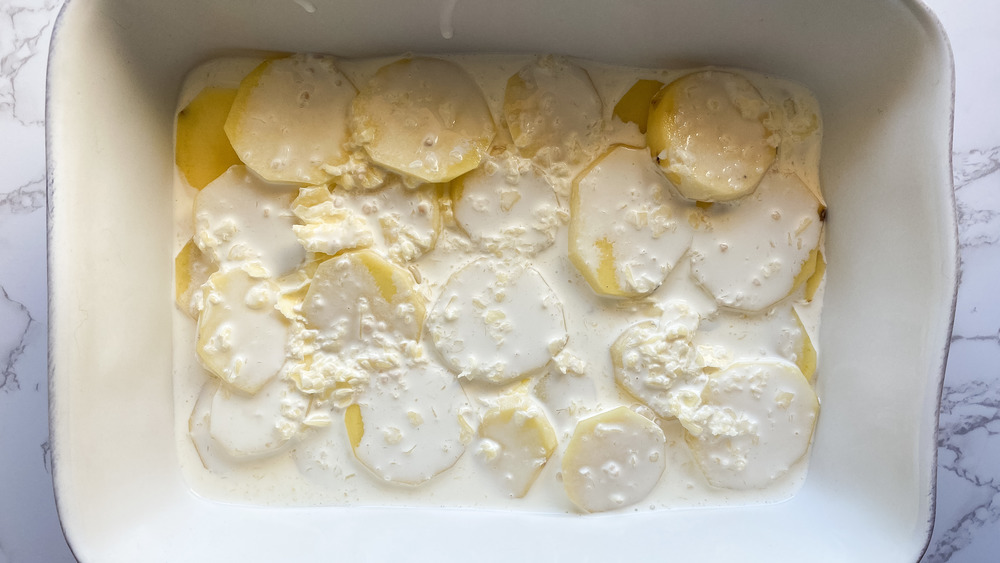 Kristen Carli/Mashed
Now we get to the fun part (because let's be honest, slicing up two pounds of potatoes isn't much fun): the layering. Start by adding 1/3 of the potato slices to the bottom of the baking dish so they form an even layer.
Next pour 1/3 of the cream mixture atop of the potatoes, making sure it spreads out evenly. Then add 1/3 of the cheeses on top of the cream mixture. Next, add 1/3 of the salt, pepper, onion powder, and thyme. (Seeing the one third pattern here?)
Now repeat potato and cream layering, but reserve the last third of the cheese.
Bake then top, then bake this potatoes au gratin dish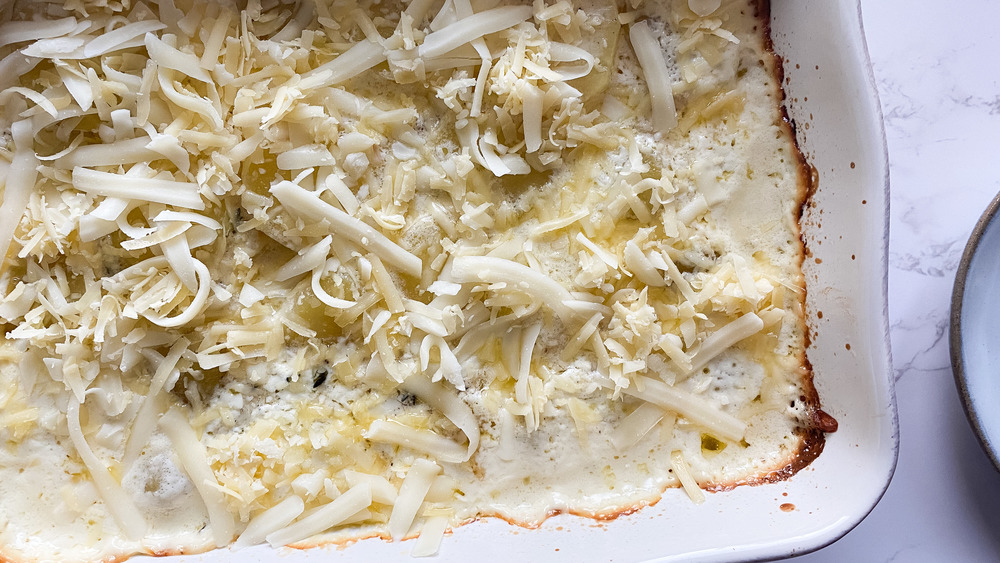 Kristen Carli/Mashed
Cover the layered potato dish with foil and then pop it in the oven on a center rack. Bake it for 1 hour and 15 minutes, and then pull the pan out of the oven.
Now remove the foil and top the dish with the remaining cheese, then pop it back in the oven and bake your potatoes au gratin for another 15 minutes. Now serve it to your very lucky guests, ideally by setting the baking pan right on the table (well, on top of a hot plate) so people can admire the full effect, which is visual, aromatic, and of course delicious.
A question of leftovers ... assuming there are some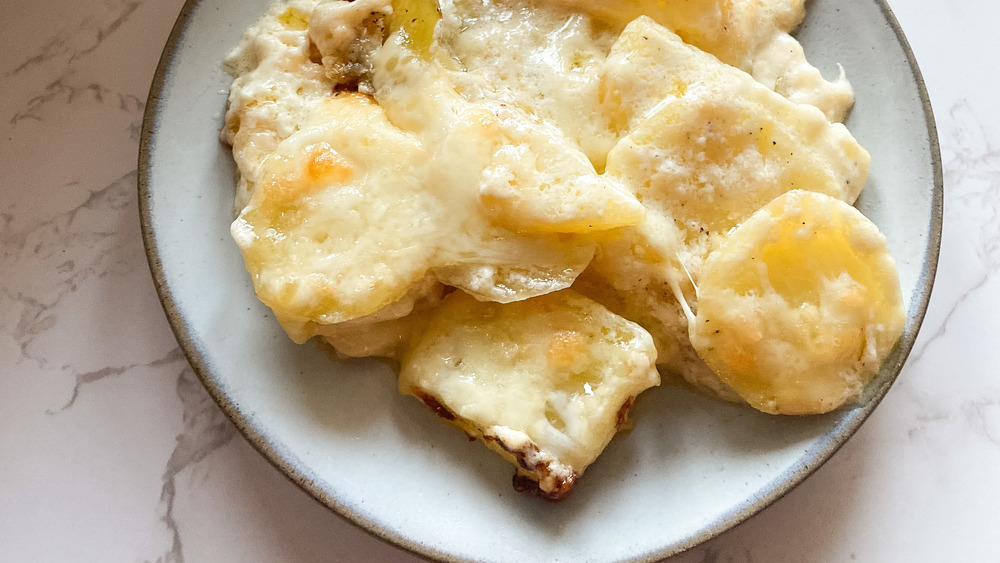 Kristen Carli/Mashed
In the relatively unlikely event that you end up with leftover potatoes au gratin, you'll be pleased to know that, as Carli says, "this [dish] stores in an airtight container for up to four days in the fridge [and] it reheats easily in the microwave."
In the even less likely event that you end up with a significant portion of leftovers, you can also reheat them in the oven with a tablespoon of cream drizzled over and a few pinches of cheese for an almost just-like-fresh serving.
Potatoes Au Gratin Recipe
Potatoes au gratin may just be the most decadent way to serve potatoes. This recipe combines heavy cream, butter, and cheese to create a simply delicious dish.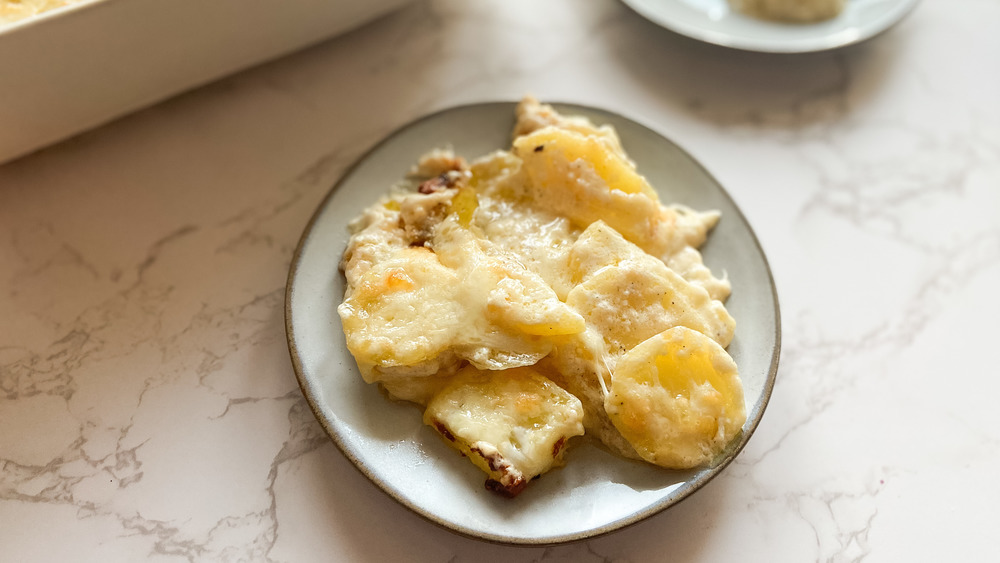 Ingredients
1 ½ cups cream
2 teaspoons minced garlic
2 teaspoons unsalted butter, melted
2 lbs yellow potatoes
2 teaspoons salt
1 teaspoon pepper
1 teaspoon onion powder
1 ½ cups shredded gruyere cheese
1 ½ cups shredded mozzarella cheese
2 teaspoons thyme leaves
Directions
Preheat oven to 350º F and spray an 11" x 7" baking dish with nonstick cooking spray.
In a medium bowl, add melted butter, cream, and garlic. Stir to combine.
Peel the potatoes, then slice into discs about ¼" thick.
Layer ⅓ of the potato slices to the bottom of the baking dish and pour ⅓ of the cream mixture on top of the potatoes.
Add ⅓ of the cheeses on top of the cream mixture and sprinkle on ⅓ of the salt, pepper, onion powder, and thyme. Repeat with additional potato and cream layers, saving last ⅓ of cheese.
Cover with foil and bake for 1 hour and 15 minutes.
Remove dish from oven, remove the foil, and top with remaining cheese. Bake for 15 more minutes uncovered.
Nutrition
| | |
| --- | --- |
| Calories per Serving | 393 |
| Total Fat | 28.9 g |
| Saturated Fat | 17.9 g |
| Trans Fat | 0.0 g |
| Cholesterol | 103.5 mg |
| | |
| --- | --- |
| Total Carbohydrates | 18.5 g |
| Dietary Fiber | 2.1 g |
| Total Sugars | 2.2 g |
| Sodium | 427.4 mg |
| Protein | 15.9 g |