Reddit Is Impressed By This Vegetarian Thanksgiving Meal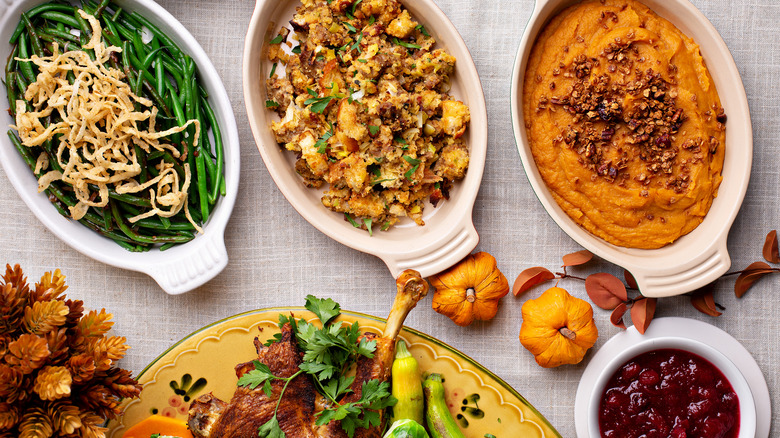 Elena Veselova/Shutterstock
With Thanksgiving just around the corner, we can't help but start daydreaming about all the incredible food we love to eat on the holiday. Like warm mashed potatoes drizzled with rich gravy, savory stuffing, or turkey that's been roasted to perfection. But if you're vegetarian, you might not be as excited about this glutinous celebration every year, since you're more limited with what you can indulge in. Thankfully, many chefs and home cooks have come up with animal-free options that will still leave you craving leftovers the next day.
To help in this quest for better alternatives, a Reddit user recently posted their decadent Thanksgiving spread that included several entrees that are ideal for vegetarians, along with their recipes. The photos showcase a beautiful spread of food with the caption, "Complete Plant Based Thanksgiving Meal – Hasselback Butternut Squash Tray Bake, Spinach & Ricotta Puff Pastry Pockets, & Pumpkin Pie Parfaits." Redditors were excited to see the delicious offerings and quickly weighed in with their own thoughts.
Some users were skeptical about the meat alternative options
A fan on Reddit said they thought the photos were beautiful, but couldn't imagine cutting their squash so perfectly. The original poster replied, "Haha – that's fair! It is pretty delicate. I use chopsticks to try and not cut it all the way through. Definitely a "once-a-year" or special occasion kind of cut!" Another user thanked the home cook for including puff pastry in their alternatives, writing, "I never realized there were vegan versions at the store before. I mistakenly thought they were all butter. Now to only convince my kids squash is delicious!"
The original poster's vegan puff pastry recipe features ingredients like garlic, onion, spinach, tofu ricotta, and cremini mushrooms, to name just a few. Her pumpkin pie parfait was also a hit on the platform, which includes items like walnuts, pecan, pumpkin puree, maple syrup, and vegan butter. Apparently the food looked so good, it even seemed to have convinced a meat-eater to make the swap. They commented on the post, "Not a vegetarian but this looks like it would be my favorite thanksgiving dinner ever!"