This Wisconsin Castle Is Actually A Cheese Store
You don't come across many castles in the United States. But if you ever find yourself driving on Interstate 94 in the town of Kenosha, Wisconsin, you'll see a landmark just off the highway with towers, pinnacles, turrets, flags, and many of the other architectural elements of the castles you've seen in history books. However, this isn't your typical fortified mansion with a royal family living inside. In fact, the building is completely accessible to the public — and contains all the cheese products you could ever imagine.
Mars Cheese Castle is a tourism staple of America's Dairyland. The famous establishment sells hundreds of varieties of cheese, plus a slew of meats, wine, beer, hot sauces, popcorn, novelties, and tasty treats such as cheddar jalapeño bread and kringle, the state's signature pastry, according to Travel Wisconsin. Over the years, the legendary roadside gem has attracted millions of visitors from near and far, including rock band Weezer in 2001 (per Facebook) and then-Vice President Joe Biden in 2012 (per Politico). As shown in season 3, episode 12 of Food Network's "The Sandwich King," Jeff Mauro and his son Lorenzo took a trip to the Castle in search of their favorite fromage.
Mars Cheese Castle is a beer and dairy lover's dream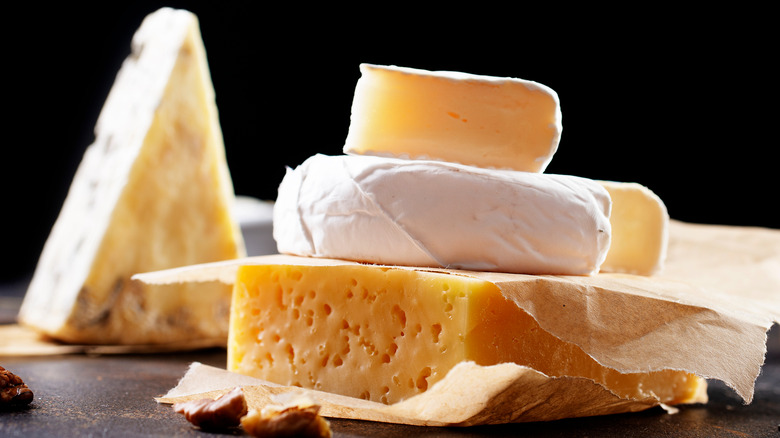 Gayvoronskaya Yana/Shutterstock
Mars Cheese Castle has a history as rich as gouda. It's the home of a grocery store with all your game day needs, and the shop also has a restaurant and taproom with a menu full of indulgent fare. Hungry? Try a cheeseburger, a bratwurst, a chili cheese dog, or a deli sandwich piled high with meats and cheeses. Thirsty? You simply can't leave the joint without sipping on a frothy pint of beer or a spicy Bloody Mary – which, of course, comes with a traditional beer "chaser" (per Tripadvisor).
Mars Cheese Castle was founded in 1947 by Mario and Martha Ventura, the grandparents of current co-owner Michael Ventura. Ventura essentially grew up at his grandparents' popular shop and eventually ended up the reigning heir of the turnpike kingdom. "We are literally world famous. The castle idea came from our history. If you go to Europe, you see actual castles all over the place," Ventura told Eater in an interview about the roots and future plans of the iconic attraction. "I think tourists, especially those from overseas, get it immediately that there's a European influence mixing and melding beautifully with the Wisconsin scene. When they see our products, it's a reflection of that, as well. There's a beautiful tie-in there. When tourists come here, they no longer feel like tourists because we're treating them like they're one of us."