This Is Where The Bloody Mary Got Its Name From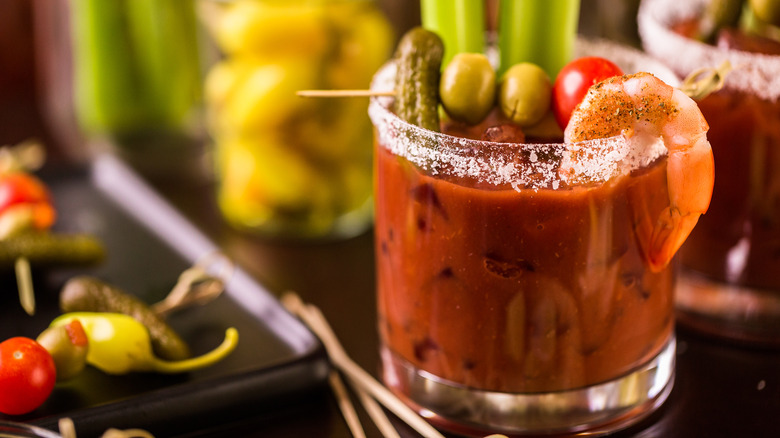 Shutterstock
Bloody Mary! Bloody Mary! Bloody Mary! The tomato juice-and-vodka-based cocktail has been around since the Roaring Twenties and has gained massive popularity in recent decades. It's commonly ordered by brunch-goers as a "hair of the dog" savory libation and includes the basic ingredients of spicy tomato juice, Worcestershire sauce, hot sauce, and of course, vodka. (To make the drink "virgin," simply omit the booze.)
To add some flavorful substance, the drink is often topped with hearty garnishes to munch on between sips, such as celery stalks, beef sticks, stuffed olives, pickle spears, shrimp, bacon strips, and cheese cubes. Many restaurants around the world have even put their own unique spins on the signature fixings to seemingly one-up each other. And with that, the toppings have become pretty dang clever and outrageous. For example, Sobelmans Pub and Grill, a burger bar in Milwaukee, offers "The Bloody Beast," which includes an entire fried chicken atop the actual liquid (via Food Network)!
And now, to address the epic brunch beverage's gory name, there are a few different origin stories that have been retold over the years.
The origin of the Bloody Mary's name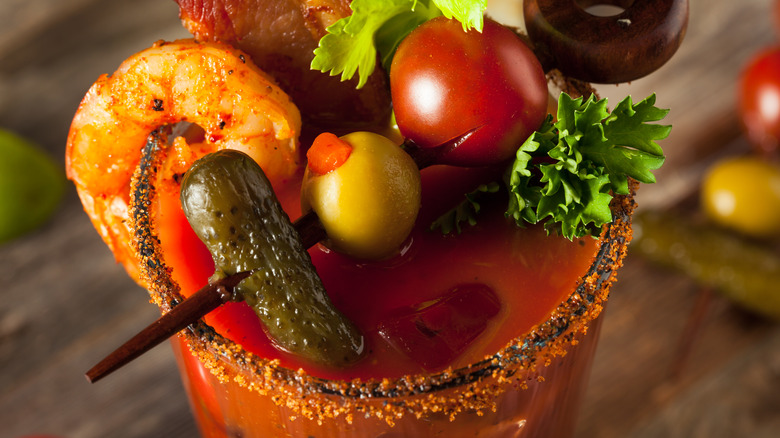 Shutterstock
Let's start from the beginning, shall we? The first-ever Bloody Mary was concocted by Ferdinand "Pete" Petiot, an American bartender at Harry's New York Bar in Paris (via Travel + Leisure). He invented the cocktail to cater to the revolution-escaping Russians who would frequent the tavern and decided to spruce up the "bland" taste of vodka by mixing it with tomato juice. (Another frequent patron of Harry's? Ernest Hemingway, according to Esquire.)
As far as namesakes go, the Bloody Mary origin story has been up for debate for quite some time. Arguably the most common narrative is that "Bloody Mary" is a reference to the controversial Queen Mary I, the first woman ruler of England who was infamous for burning Protestants at the stake with no remorse for her directive — hence her grisly nickname (via Eat This! Not That).
Others claim that the peppery, zesty drink was named after a woman named Mary who worked at the Bucket of Blood Club in Chicago, according to Best Bloody Mary. There's yet another group of connoisseurs who swear the drink was named after American socialite Mary Brown Warburton. As the story goes, during one particular imbibement, she accidentally spilled some of the red drink on her white dress. The humble celebrity just laughed at her blunder and said, "Now you can call me Bloody Mary!" (via Eat This! Not That)
So, next time you order a Bloody Mary to either cure your hangover or simply drink your breakfast because you can't decide what entrée to order, you'll be aware of its namesake — whichever one you decide to believe, at least. Cheers!