Aldi's Mini Meat And Cheese Trays Are A Total Steal
Anyone who's ever shopped at Aldi is all too familiar with the magic that is Aldi Finds. Occasionally referred to as a Special Buy, an Aldi Find is a limited-edition product that's only available at the national grocery retailer for a short period of time while supplies last (via Aldi Reviewer). They're often in high demand and sell out quickly — there are even entire Instagram accounts dedicated solely to hunting down the latest Aldi Finds everyone wants to get their hands on.
Some of the most sought-after Aldi Finds recently hit shelves across the country just in time for the holiday season. There's the Christmas tree-shaped pizza dotted with festive red and green peppers and gingerbread mulled wine to get the festivities started. And now, there's a snack-sized meat and cheese tray perfect for the charcuterie fans among us. Here's what you need to know about this meaty Find, which was just spotted on Instagram.
The packs make for great low-carb snacks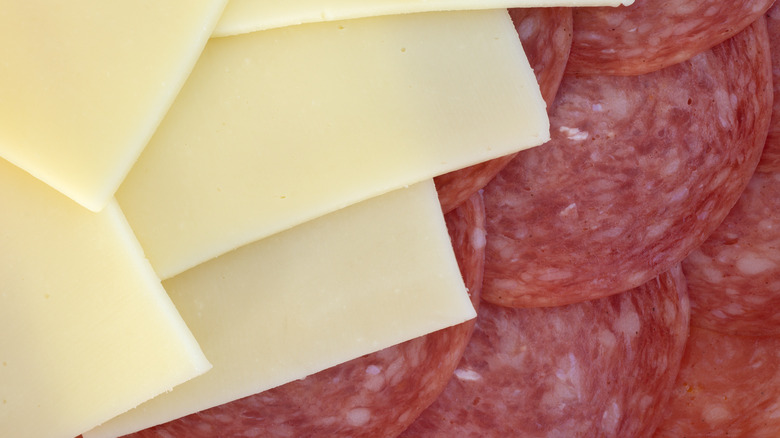 BW Folsom/Shutterstock
If you're in search of a snack that's low in carbs, high in protein, and ideal for anyone on the keto diet, Aldi fan account @adventuresinaldi recently shared a photo to Instagram of an Aldi Find you'll love: Priano Italian meat and cheese trays. They come in three flavor combinations: Parma Salami and Smoked Provolone, Hot Genoa Salami and Hot Provolone, and Mild Genoa Salami and Provolone. Each tray costs just $2.99. "The smoked provolone one is sooo good," one commenter raves. "Perfect on the go low carb snack!" Others agree, loving how portable the packs are and that they're packed with protein for all-day energy. 
They'd be great as a mid-day pickup while you're working or running errands or to toss in lunchboxes for both kids and adults alike. You could even mix and match multiple packs to create a crowd-pleasing charcuterie board for holiday parties. If you can't find the meat and cheese trays at your local Aldi, the packs are also sold at Kroger, according to one Instagram commenter.