This Is What Panera's Redesigned Restaurants Will Look Like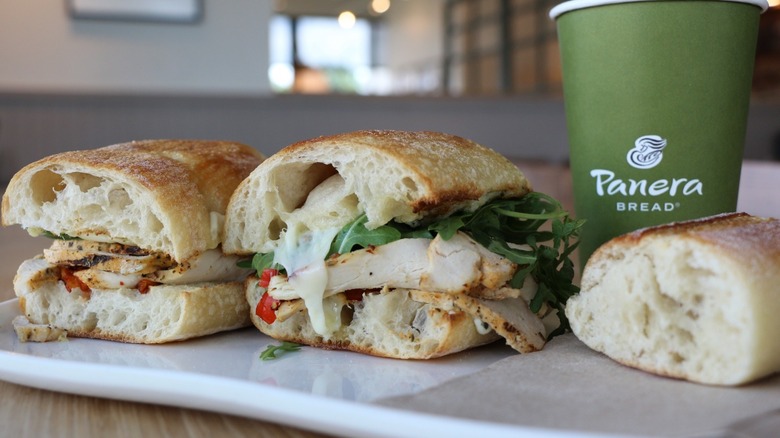 Deutschlandreform/Shutterstock
Over the summer, Panera Bread announced big plans to revamp its restaurants, and these changes have finally come to fruition with the opening of its newest location. The fast-casual chain just opened its first next-generation bakery-cafe in Ballwin, Missouri, which features all-new updates designed specifically to enhance the guest experience. The next-generation Panera Bread features new drive-throughs, contactless ordering, and an enhanced digital experience for optimal guest satisfaction and convenience. 
At the location, customers will now be able to minimize physical contact by placing all their orders for dine-in, Rapid Pick-up, drive-thru, or delivery service through their phone and receiving a mobile notification as soon as their food is ready. The new Panera Bread restaurant also boasts brand-new ordering kiosks, automatic identification for loyalty members, and a digital menu both in-store and outside at the new double-lane drive-thru. Oh, and that drive-thru will have one lane dedicated exclusively to Rapid Pick-Up orders, according to QSR. 
"We undertook the development of the next generation Panera bakery-cafe with a relentless focus on guest experience. Every step of the guest journey was scrutinized to find ways to make it more intuitive and convenient, and the result represents the very best of our design and development teams that we are proud to open today," said Rob Sopkin, Panera Bread's SVP and chief development officer (via Baking Business).
Panera Bread's new design focuses on guest convenience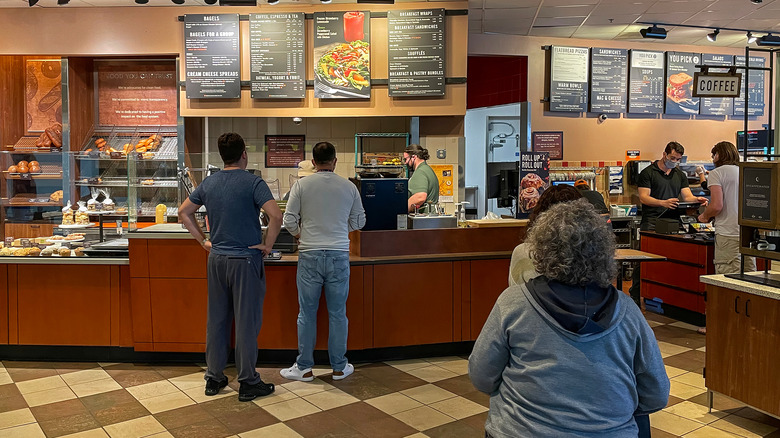 QualityHD/Shutterstock
While many areas of the redesign are focused on quick customer take-away convenience, the newest Panera Bread is also looking to enhance its guests' dine-in experience, as well. The redesigned location will offer guests a new, immersive craft bakery experience. It will accomplish that by moving bakery-cafe ovens to the front so guests can watch their items being baked fresh every day, according to Business Wire. 
The new location also features a complete redesign of the entrance, exits, and guest routes throughout the cafe, all intended to boost customer convenience while ordering and picking up in-store. Finally, the company is also revamping its logo and brand identity, launching an updated Panera "Mother Bread" logo to go along with its newly redesigned restaurant concept.
"Our new bakery-cafe is designed with the best of what makes Panera unique — a warm, inviting environment that delights our guests, and the smell of freshly baked bread coupled with tech-enabled convenience," Eduardo Luz, Chief Brand & Concept Officer, Panera Bread, said of the new redesign (via Business Wire).