Aldi Fans Are Psyched For These Gingerbread-Inspired Mug Toppers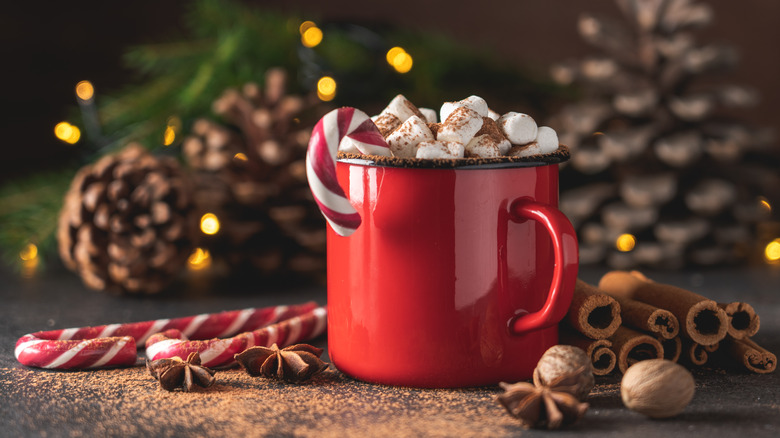 Anna Puzatykh/Shutterstock
As the winter months get closer, many people are saying a temporary goodbye to their favorite iced beverages in order to sip on something warm. Gingerbread lattes and apple cider are all staples of the season that are perfect to combat the temperatures as they start to dip below freezing, and can typically be found at your local coffee shop during this time of the year. However, while we can't deny the beauty of Starbucks' holiday coffee cups, something about drinking coffee, tea, or hot chocolate from our favorite Christmas mug just feels right. In fact, My Recipes reports that one gastrophysics specialist believes sipping a beverage from your preferred cup actually improves its taste. Even if you are a fan of the holiday drinks at Dunkin' or Starbucks, there's no shame in dumping them into your beloved mug.
Don't be afraid to doctor your peppermint mocha up a bit with whipped cream and sprinkles, and if you shop at Aldi, one of their new mug toppers is the perfect thing to give your favorite hot beverage a festive twist. Aldi fan Instagram account @aldi.mademedoit was one of the first to spot the adorable treats at their local store, sharing a photo of the snowflake-covered package on Wednesday, November 24. Several others have found them in the days since, leading many Aldi shoppers on social media to get psyched for their next trip to the grocery store.
Aldi's cookie mug toppers will give your favorite hot beverage a festive twist
'Tis the season to sit by the fire with a mug of delicious hot chocolate in your hands, and what better way to give the experience a festive upgrade than with Benton's Cookie Mug Toppers that Aldi is currently selling for the holiday season. Described on the package as "crunchy butter cookies designed to fit on the rim of your mug," the chain's website states that these gingerbread man-shaped snacks run for just $1.99 per box, and are gaining serious hype amongst Aldi's fans. "These are adorable!!! I need them!!" one person commented on Aldi fan Instagram account @aldi.mademedoit's post about the seasonal Aldi find. "This is genius," said another Instagrammer, while a third shared that they planned to dip them in chocolate and sprinkles for Christmas Eve cocktails.
As far as taste goes, one Redditor who recently indulged in the tiny holiday treat gave them a positive review, noting that they were "really crunchy and buttery" and definitely worthy of a second buy — if, that is, they're able to find them during their next Aldi run. As Mashup Mom notes, Benton's Cookie Mug Toppers are a categorized as an "Aldi Find," meaning they are only available for a limited time. Therefore, you'll want to make sure you stock up on the holiday treat the first time you run into them at the store to ensure you can enjoy them with your hot chocolate or coffee all winter long.