Homemade Gingerbread Latte Recipe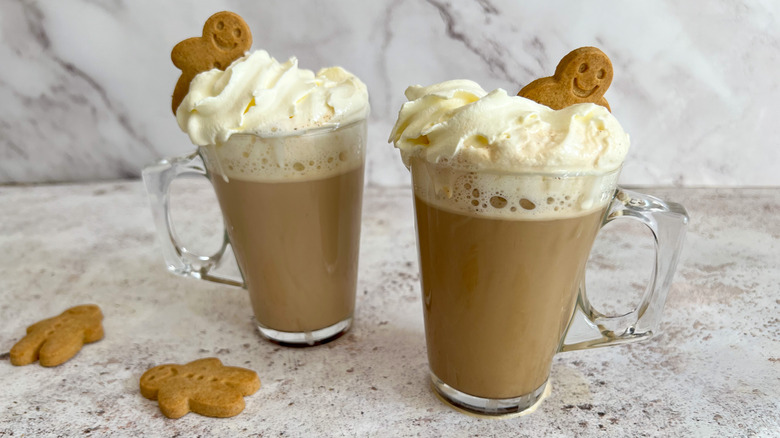 Ting Dalton/Mashed
If you ask us, there's nothing better than a hand-crafted latte. When most people think of a hot coffee, they can't help but smile, and that's certainly the case here at Mashed. The great thing about a latte is that it gives you that nice kick of caffeine, some creamy milk, and, often, a sweet topping that takes it to a whole new level. Recipe developer Ting Dalton of Cook Simply is the brains behind this wonderful latte that tastes just as fantastic as it looks. "You can buy this from Starbucks, but it's so much more satisfying to make it at home with just a few ingredients," Dalton raves. "It's my husband's favorite festive coffee."
There's so much to love about this latte, but it especially hits the spot when the weather turns cold. "When the weather becomes colder, this is my favorite warming drink," Dalton says. "The spices, the sweetness — it makes me think of warm fires and the Christmas season."
Keep reading to find out how to make this fantastic drink.
Gather the ingredients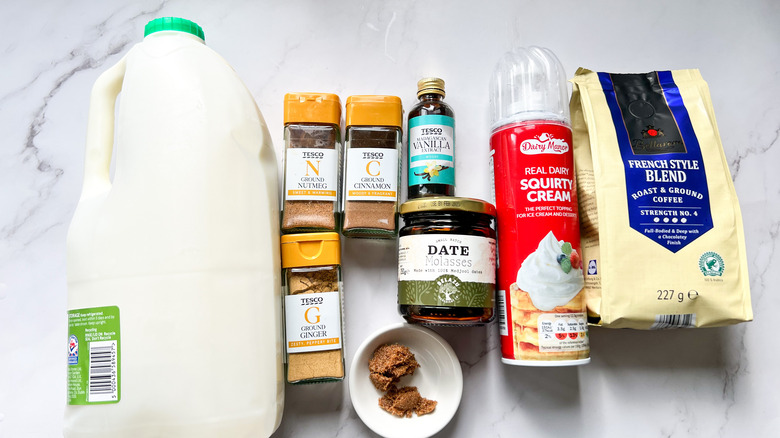 Ting Dalton/Mashed
To start, throw together a grocery list with all of the items you need to get at the store. But first, check to see which ingredients you already have at home. You will need to pop by the spice aisle and grab some ground ginger, nutmeg, cinnamon, and vanilla extract. This is where all the flavor in your latte is coming from. In addition, you will need to get some molasses and soft brown sugar.
To complete the recipe, remember to pick up some milk, espresso, and aerosol cream. Luckily, that's the entire list, so this recipe is super easy and affordable.
Mix the spices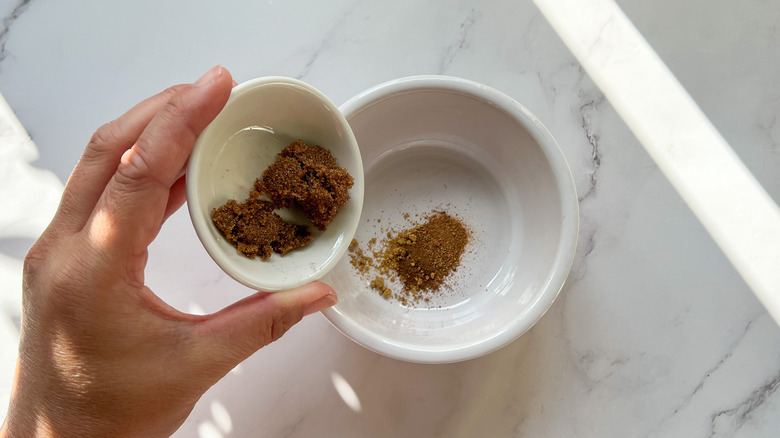 Ting Dalton/Mashed
Are you ready to get this coffee party started? The first thing you need to do is grab a bowl and start adding the ingredients. First, throw in the spices, followed by the molasses. "You can find it in the baking section or near the maple syrup. If you struggle to get it, you can leave it out," Dalton notes of the molasses. The last thing to add during this step is the vanilla extract.
Heat the milk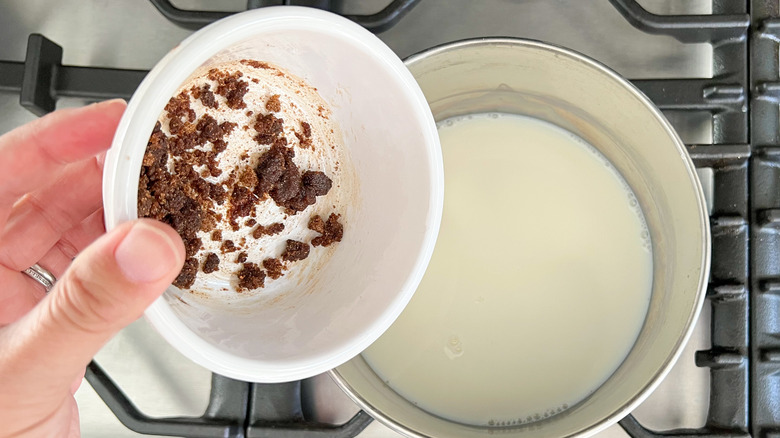 Ting Dalton/Mashed
Once you have your spices set, you can move on to the next step. Grab a pan and put it on your stove. Then, crank up the heat and warm the milk over the flame. Next, add the spice and sugar mixture to the milk. Using a whisk, keep stirring the ingredients into the milk. Continue whisking until the spices fully dissolve. Take your time with this step, as you're definitely not going to want to get clumps of spices in your latte.
Add the espresso and enjoy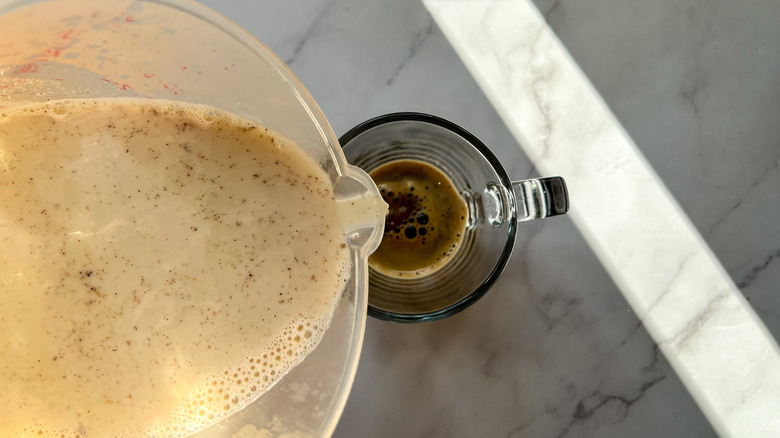 Ting Dalton/Mashed
Now, grab a mug of your choosing and put one single shot of espresso in it. If you want to add a bit more coffee flavor, you could add an extra shot to it. "You can make this without the coffee or with decaffeinated coffee," Dalton says.
Then, grab the spiced milk and pour it over the espresso. The next thing you'll want to add is some whipped cream on top, and then sprinkle a little bit of extra nutmeg if you wish. "Add a drizzle of caramel or chocolate sauce to make it even more decadent," Dalton suggests. You can also add a little gingerbread man on top.
"This is best served straight away. The warming milk and coffee is very comforting and a real treat on a cold day," Dalton shares. Happy sipping!
Homemade Gingerbread Latte Recipe
The great thing about a latte is that it gives you that nice kick of caffeine, some creamy milk, and, often, a sweet topping that takes it to a whole new level.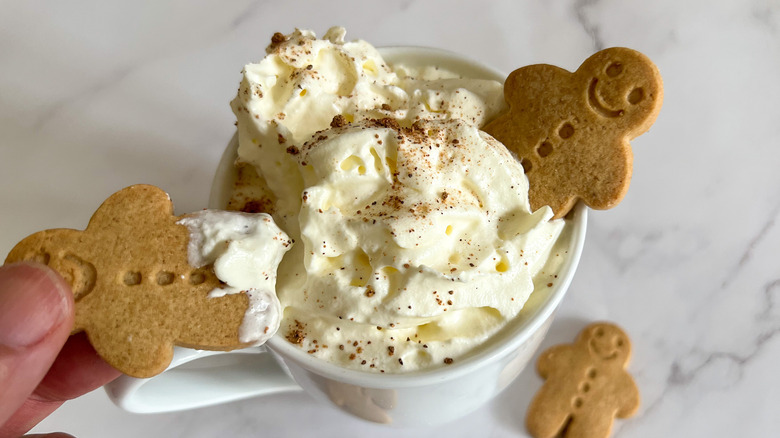 Ingredients
⅛ teaspoon ground ginger
⅛ teaspoon nutmeg, plus extra for dusting
¼ teaspoon cinnamon, extra for dusting
1 teaspoon soft brown sugar
⅛ teaspoon molasses
¼ teaspoon vanilla extract
2 cups milk
2 shots hot espresso
Aerosol cream
Optional Ingredients
Directions
In a bowl, mix together the spices, sugar, molasses, and vanilla extract. Heat the milk in a pan with the spice and sugar mix, whisking until the sugar has dissolved. Whisk well until the milk is steaming hot.
Put a shot of espresso in a glass, mug, or cup and top up with the spiced milk. Top with whipped cream, and dust with extra nutmeg and mini gingerbread if you'd like.
Nutrition
| | |
| --- | --- |
| Calories per Serving | 191 |
| Total Fat | 11.1 g |
| Saturated Fat | 6.5 g |
| Trans Fat | 0.0 g |
| Cholesterol | 35.8 mg |
| | |
| --- | --- |
| Total Carbohydrates | 14.7 g |
| Dietary Fiber | 0.2 g |
| Total Sugars | 14.4 g |
| Sodium | 113.0 mg |
| Protein | 7.9 g |