Aldi Shoppers Are Applauding This Holiday Dessert Haul
While Aldi has great prices on many everyday grocery staples, the store's Aldi Finds also offer great deals on unique items that are only available for a limited time. While these deals are a treat any time of year, Aldi has a huge and varied selection of sweet holiday releases, from drinks and desserts to perfect sides and tasty seasonal snacks, that make their Finds extra festive this season (via Aldi).
In fact, the only downside to Aldi's wide variety of winter finds is the struggle that comes with trying to decide which delicious holiday treat to try next. One Aldi shopper was so overwhelmed with all the great holiday offers at their local Aldi, they just couldn't choose, opting instead to purchase one of everything. The satisfied shopper posted a photo their delicious Aldi haul on the r/aldi subreddit, which included a sweet Gelato Flight with flavors like pumpkin pie, candy cane, and eggnog; a box of decadent mini dark chocolate Lava Cakes; and all three varieties of adorable, Christmas-themed Ice Cream Pops. "When you're undecided so you take all!!!" they captioned the post (via Reddit).
Fans raved about Aldi's holiday finds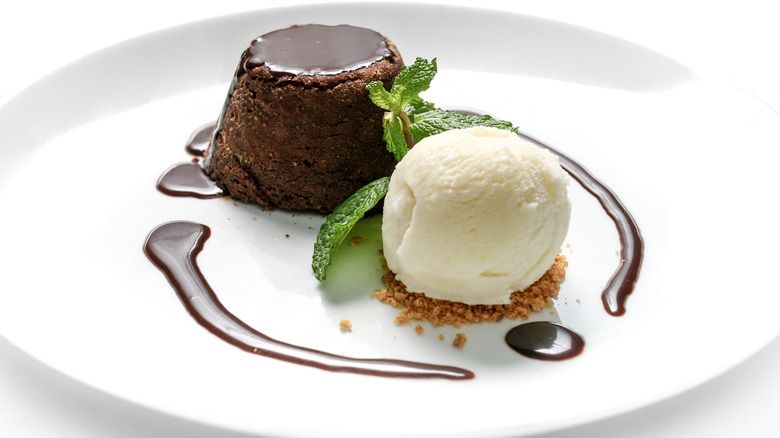 PARALAXIS/Shutterstock
Many of the Reddit user's fellow Aldi shoppers could definitely relate to their post, and quite a few people agreed that Aldi's wide selection of holiday snacks are simply too good to pass up. "Yep, that was me tonight with the mini waffle roll things, the Winternacht cookies, cocoa powder truffles, and apple stollen. Almost plopped the chocolate chip brioche on top of that," u/xmarketladyx replied, while another commenter simply agreed "this is the way."
Other Aldi fans just couldn't resist raving about the items in the original poster's haul. "I picked up the Christmas trees last week, and my niece loved them. She had one everyday during her Thanksgiving visit," u/notsodarling786 wrote, while another user remarked that "those gelatos are incredible." "And it all probably cost under $10," another user added. So if you're looking for snacks for a holiday party, stocking stuffers for the kids, or simply want to try out a lot of delicious snacks without breaking the bank, you might want to purchase an Aldi dessert haul of your own this holiday season.