Aldi Fans Can't Wait To Try Its New Holiday Gelato Flight
With the temperatures dropping, just the idea of digging into some gelato might get you shivering. Even if it seems counterintuitive, you might actually enjoy frozen desserts that much more during the fall and winter. You never have to worry about your dessert melting in your hands, and you can load your treats up with hot caramel or fudge without worrying about extra drippage, per Carpigiani. If cold weather doesn't have any effect on your sweet tooth, Aldi might just have something that can get you ready to indulge all winter long.
Instagrammer @aldifavoritefinds recently discovered that the grocery chain now carries sets of gelato flights. They couldn't hold back their excitement and posted a photo of the product alongside a caption reading, "Holiday Gelato Flights! Normally I try not to post about items early but I found these last night (supposed to come out Wednesday 11/17). My guess is these may be the hot item of the week and will sell super quick. Swipe the photos to see the cute cups when I opened them at home. Will you be trying these? Which flavor has you the most excited? My kids were happy for the eggnog one until we opened it and they saw it covered in spices. It seemed a bit much."
A gelato flight worth cheering about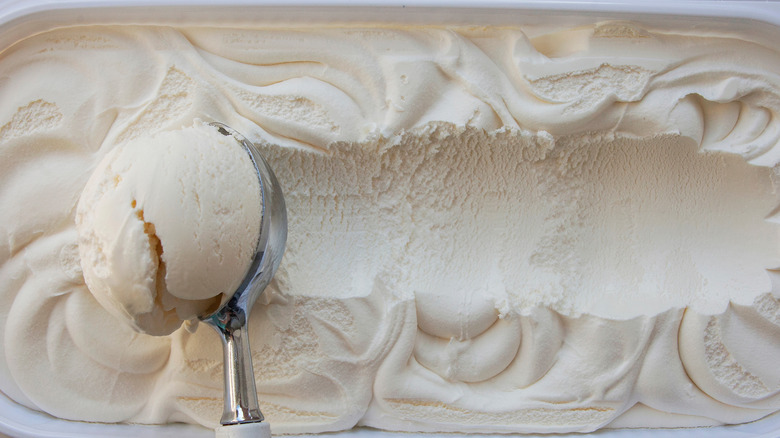 Eva Orlova/Shutterstock
Instagram followers flocked to the post and couldn't wait to share their thoughts on the new product. Replies ranged from, "I picked these up yesterday (Sunday). Can't wait to try them," all the way to, "I need these in my life!" Many haven't had the chance to pick up the gelato flight yet, but if responses like, "I may have to grab this for a fun little date night at home, Gelato tasting," can predict anything, expect these new frozen desserts to get very popular. The gelatos come in pumpkin pie, eggnog, and candy cane flavors, and their seasonal flavors can easily get you excited. According to Aldi, the pack retails at $3.99, but make sure to act fast as the product might not make it to every store and Aldi only plans to keep the gelato around while supplies last.
If you feel tempted by a seasonal gelato flight, make sure to try this product next time you make an Aldi run. With any luck, you might just discover your new favorite frozen dessert flavor, or at least find a new reason to enjoy some gelato as the weather continues to get colder.