Aldi Fans Are Melting Over These Adorable Holiday Ice Cream Pops
The holiday season is almost here, and while there is a lot to love about this time of year, one of the most enjoyable parts is getting to enjoy all the delicious, festive snacks and treats. And as every loyal shopper probably already knows, Aldi is one of the best places to find all different kinds of delightfully fun and seasonal items at great prices. The store certainly isn't disappointing shoppers this year, releasing brand new holiday items and bringing back fan favorites from years past.
The store has just announced that one of its most popular holiday items — assorted holiday ice cream pops — will be returning to shelves for the 2021 holiday season. These Sundae Shoppe desserts feature three holiday-themed characters: an adorable Snowman, a festive Reindeer, and a colorful Christmas Tree, each with its own delicious flavor. According to Aldi, it costs just $1.79 per box of four. Last year, fans raved about Aldi's lineup of cute frozen treats, and shoppers couldn't be more delighted about their return.
All three ice cream pop varieties were a hit with Aldi fans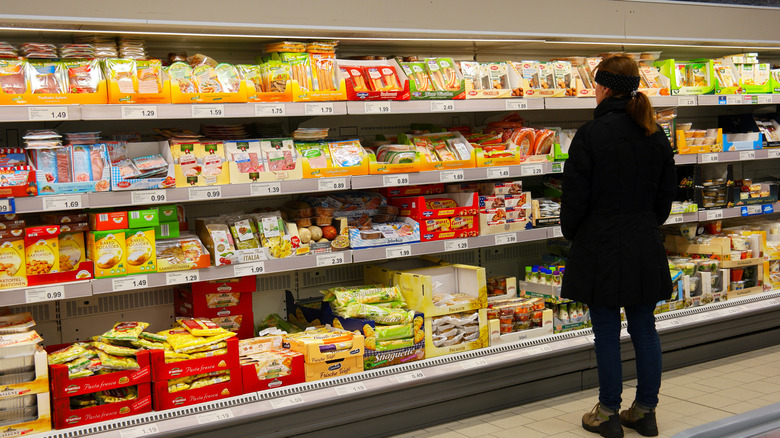 defotoberg/Shutterstock
One Aldi shopper who spotted these pops at their local store couldn't resist making an Instagram post telling their followers about the find. "My kids loved these last year, so we definitely grabbed a pack today! I love how festive it is!" @aldi.mademedoit wrote, adding, "Are you going to grab these and which ones?!" Many followers were quick to express their excitement over the return of these festive treats, and based on the responses, all three of the characters are a hit with shoppers.
Each variety features its own unique flavor in addition to its cute character design. The Snowman is vanilla and strawberry flavored, while the Christmas Tree is made up of vanilla ice cream, sprinkled with sweet drops of white chocolate colored red to look like ornaments. Meanwhile, the Reindeer character features a decadent blend of caramel, chocolate, and strawberry ice cream, decorated with rich chocolate drops. "My son loved all of them!" @signgypsiesboonville raved, while another user said, "The snowman was a hit last year in my house." "Yes, I will be grabbing multiple of all of them lol I love these. I mean, my kids love these...." @tiffany_m09 joked. So no matter which flavor you're craving this holiday season, it seems you can't go wrong with any one of these three adorable holiday treats.