Nearly 20% Agree This Is The Worst Store Bought Ice Cream Brand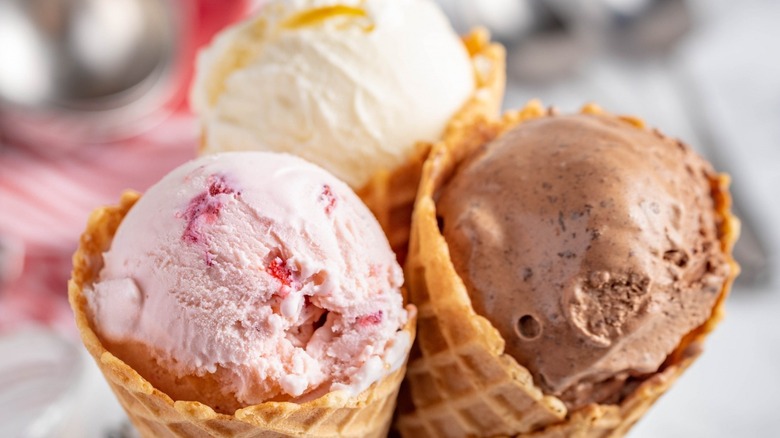 Atsushi Hirao/Shutterstock
How much do you love ice cream? If you're a fan of desserts in general, chances are you routinely crave this sweet, rich, frozen treat that always seems to hit the spot — whether it's enjoyed piled high on a waffle cone, buried under an avalanche of sundae toppings, or eaten straight from the pint. And while it's great fun to make your own ice cream or grab some at your local scoop shop, virtually every supermarket in the U.S. features freezer cases chock full of an almost staggering variety of brands and flavors to enjoy at home.
Which brand comes to mind when you think of supermarket ice cream? Maybe it's Ben & Jerry's, the Vermont-born company known for its toppings-packed pints like Chubby Hubby, Chunky Monkey, and Half Baked. (If this is the case, you're not alone. Ben & Jerry's was the top-selling supermarket ice cream brand of 2019, according to Statista.) Or perhaps it's Ben & Jerry's closest competitor from that same year, Häagen-Dazs? The European-sounding, but Bronx-born, maker of classic flavors including dulce de leche, cherry vanilla, and chocolate chip cookie dough (via the Häagen-Dazs website) is another long-time favorite. How about Talenti? In a ranking of store bought ice creams, the gelato brand was among Mashed's very favorites.
Lots of ice cream lovers rank these three brands highly — but what about the less desirable supermarket brands?
Last place goes to Blue Bell ice cream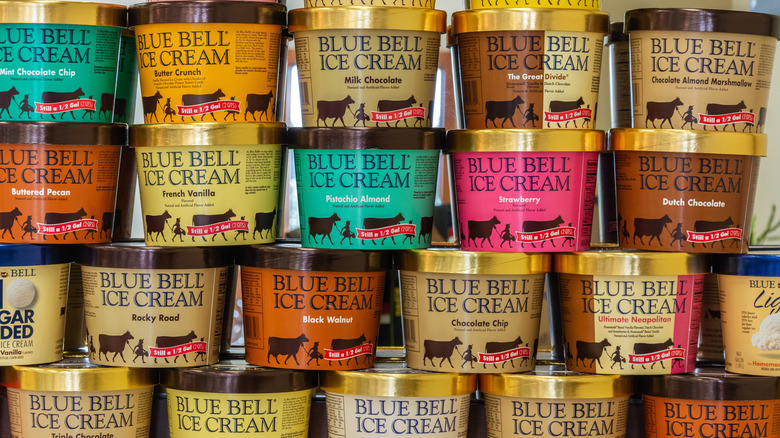 Alizada Studios/Shutterstock
Have you ever come across the ice cream brand Blue Bell in your supermarket's freezer case? If so, you might want to avoid it: in a Mashed survey of 618 people living in the U.S., 19.74% of participants cited this brand as their least favorite grocery store ice cream option. Founded in Texas in the early 1900s, Blue Bell ice cream is sold in 22 states and is available in unique flavors like Cookie Two Step, vanilla ice cream with "hints of brown sugar," packed with chocolate sandwich cookies and chocolate chip cookie dough; and Moo-llennium Crunch, vanilla ice cream studded with chunks of dark chocolate and creamy caramel, plus roasted pecans, chopped almonds, and walnut pieces (via the official website). The company is an ice cream behemoth, raking in about $671 million in sales annually, and enjoying a whopping 52% of the ice cream market in its home state (via Zippia).
So what's the deal with Blue Bell? While the Mashed survey respondents might not like this brand, a lot of supermarket shoppers do: it consistently ranks among the top-selling ice creams available in stores (via Statista). It's a decent value as well — at least, as far as premium ice cream brands go. Blue Bell's signature ½ gallons retail for about $7 at Walmart. And its other flavors, (like Dutch Chocolate, Cherry Vanilla, and Buttered Pecan) sound tasty, too. It's possible, however, that Mashed survey participants were thinking of a 2015 Blue Bell scandal when selecting the brand as their least favorite.
The Blue Bell Listeria debacle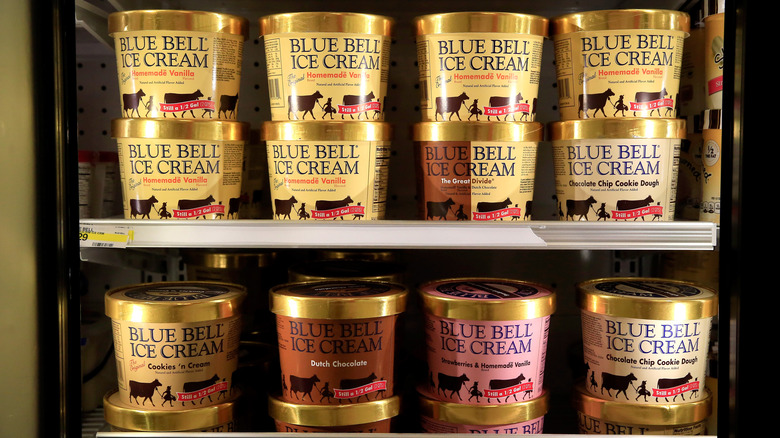 Jamie Squire/Getty Images
Mashed survey participants might have been thinking back to 2015 when choosing their least favorite ice cream brand, when some Blue Bell products were contaminated with Listeria (via FDA). According to the U.S. Food & Drug Administration (FDA), Blue Bell's then president, Paul Kruse, was informed by Texas state officials about the contamination in one of the company's plants. But instead of taking prompt action to contain the outbreak, Kruse tried to cover it up. Kruse decided against issuing an official recall of the contaminated products, and instructed store employees to pull the "Listeria-tainted" products from freezers without telling customers. Blue Bell didn't issue a recall of the products until five people living in Kansas, who had eaten the tainted ice cream, fell ill with listeriosis. So those ranking Blue Bell low on the list might be recalling this unsavory event.
What other ice cream brands fall short in the survey? The similarly named Blue Bunny, which got its start way back in 1913 (via the official website) was chosen as least favorite by 18.12% of respondents. Next up is Edy's (known as Dreyer's in the West and in Texas, according to parent company Nestlé) at 16.5%. Breyers faired only slightly better on the results at 16.18%. The losers, (or in this case, winners, since we're ranking the worst brand) are Baskin-Robbins and Haagen-Dazs. 11.17% and 7.77% of survey respondents chose these two, respectively, as their least favorite brands, meaning that plenty of folks out there enjoy a classic scoop of Pralines 'n Cream or Caramel Cone every once in a while.