The Reason Cardi B Just Spent A Day Working At A Grocery Store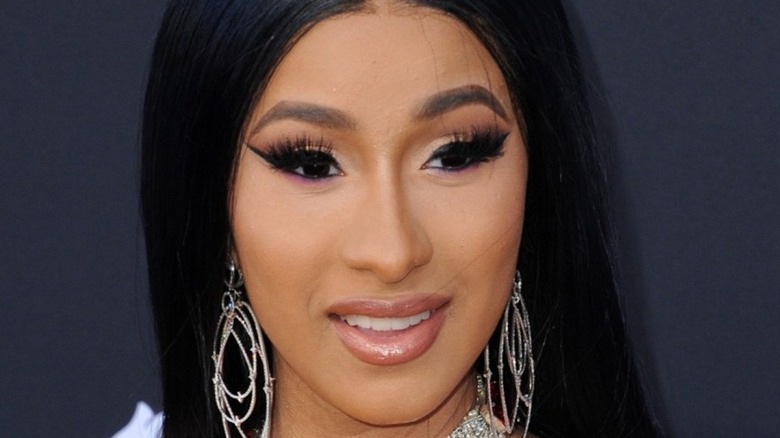 Tinseltown/Shutterstock
While we've all seen photos of celebrities shopping the grocery store aisles during "stars like us" moments, recently Cardi B did more than just hunt for the best food deals. During an episode of "Cardi Tries," she was joined by Karrueche Tran, and the pair got right to work (via Facebook). While each episode of "Cardi Tries" is intended to have the popular entertainer "try" an activity with a friend, viewers are often more engaged with the stories told during the events and a few humorous moments along the way.
For this recent episode, Cardi B and Karrueche Tran headed to Fields Market in Canoga Park, California to try their hand as grocery store clerks, as Billboard reported. While the pair might not have been that successful at stacking apples, the spirited conversation during the experience made it worth the watch. Although Cardi admitted that running the register, like she used to do when she was younger, might have given her "PTSD," the little adventure showed that sometimes a little "fun" with a job can make it a little more bearable. Even if the majority of store clerks may not be twerking during an aisle clean-up, the episode is another example of celebrities sharing their humble backgrounds. From the popular restaurant chains to this grocery store connection, those pre-fame jobs can make celebrities a little more generous during the holiday season. While there might have been a few deals in those grocery store aisles, Cardi B had another special item to reveal at the end of her grocery store shift.
Cardi B fills more than grocery bags on a special episode of 'Cardi Tries'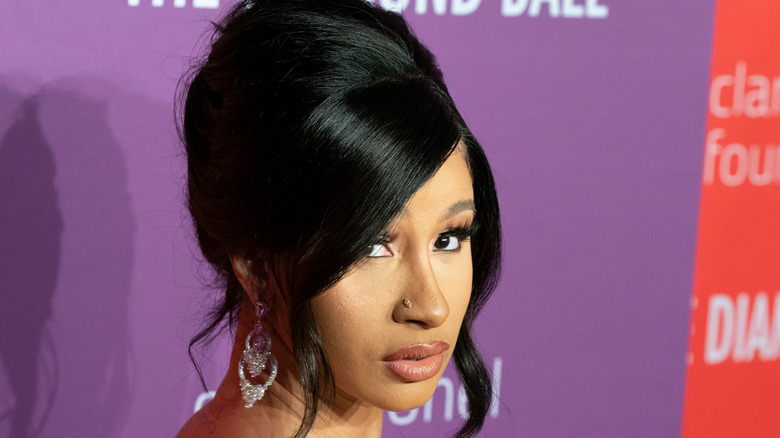 lev radin/Shutterstock
When Cardi B asks a friend to join her on an episode of "Cardi Tries," things might not always go as they plan. From cooking a turkey with Ciara to the most recent episode with Karrueche Tran at Fields Market, there is usually a little more to each episode than just pushing the popular entertainer outside of her comfort zone. Since the most recent episode debuted on Giving Tuesday, the grocery store employees were surprised with a gift to make their holiday season merry and bright.
According to Billboard, the grocery store employees received "two weeks' worth of paychecks." In addition, they were presented with a card that expressed gratitude for their role as essential workers. Appreciating the struggles and hard work of the grocery store workers, that monetary gift is their way of giving back to many people who endured a lot in the past year. This Giving Tuesday gift isn't the first time that Cardi B helped others. According to People.com, the entertainer donated $2 million to charity in 2020. While many people will focus on the humor in the "Cardi Tries" episode, this episode's holiday gift might serve as a bigger message.