The Jerry Lewis And Dean Martin Restaurant War You Never Knew About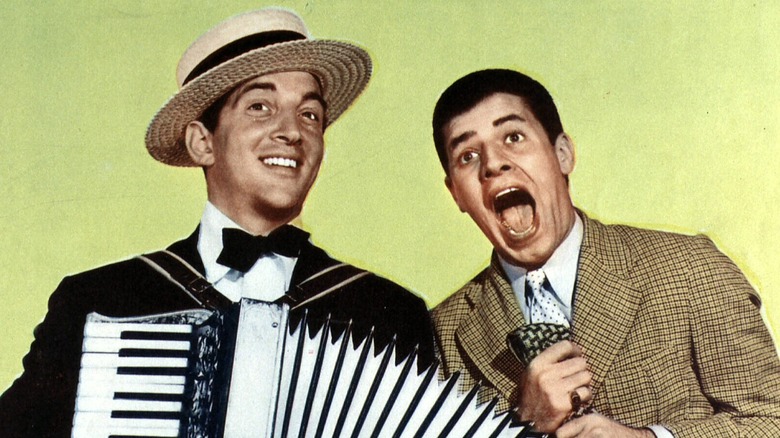 United Archives/Getty
Famed comedian, actor, singer, and director Jerry Lewis appeared in more than 60 movies throughout his career in the entertainment industry. And in 17 of those films, he starred alongside his comedy partner Dean Martin. Their act, a legendary combination of music and slapstick, was performed at nightclubs across the country. Later, they then went on to dominate the radio airwaves and the silver screen. Martin and Lewis were the top box-office earners in the world from 1950 to 1956, per IMDb.
However, many may have forgotten that Martin and Lewis also had brief stints as restaurateurs on West Hollywood's Sunset Strip during the mid-1900s. In 1958, Martin opened a restaurant called Dino's Lodge. Fellow bigwigs like Frank Sinatra, Shirley MacLaine, and Sammy Davis Jr. were Dino's regulars. A few years later, in 1961, Lewis opened his own eatery, Jerry's, a mere three blocks from Dino's. Jazz singer Peggy Lee and actor Steve McQueen were some of the household names who loved to grab a bite at Jerry's. As a form of revenge, and perhaps out of jealousy, Lewis even hired two chefs and a maître d' from Dino's Lodge (via Fox News). That's when the celebrity restaurant war began.
Why did Martin and Lewis open competing restaurants?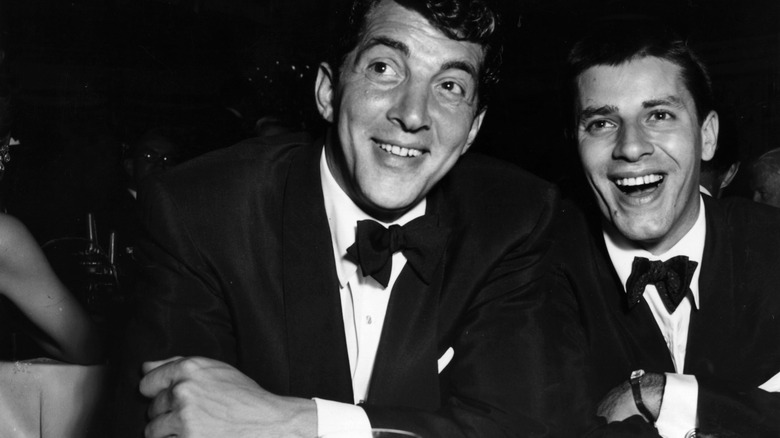 Express Newspapers/Getty Images
Dean Martin and Jerry Lewis were stars like no other. From 1946 to 1956, they were considered the kings of show biz and adored by people worldwide. But after some time, tensions rose between them. The pair called it quits and parted ways in 1956. Shortly after, they each entered the restaurant business to continue making names for themselves and to go head to head in a new industry, as per Mental Floss.
Martin opened his joint, Dino's Lodge, first. The restaurant served homestyle Italian food, steaks, and breakfast that began at 1 a.m. in a cozy, wood-paneled room that resembled his home den. Martin would often pay visits to his own establishment as a marketing ploy to get fans through the doors. In late 1961, Lewis opened his own restaurant three blocks down. To contrast Dino's Italian menu, Jerry's served American and Hebrew dishes.
The last time Martin and Lewis were ever in each other's presence was in 1976 when Frank Sinatra reunited the two during The Jerry Lewis Telethon (via The Hollywood Reporter). Martin passed away from acute respiratory failure on Christmas Day 1995 at 78 (via Biography). Lewis died in August 2017 (via IMDb). Despite their unfortunate strained relations, the duo's legacy lives on in the hearts of film and comedy buffs everywhere.