Trader Joe's Jingle Jangle Is Back For 2021 And Fans Are Freaking Out
If you love holiday treats, there's no better grocery store to head to than Trader Joe's. There are already plenty of Trader Joe's items that you absolutely need to try. Some of the limited-time holiday products Trader Joe's customers are enthusiastic about include the Winter Wassail Punch and vegan gingerbread loaf, but we're excited to report that the chain's Jingle Jangle mix is also returning for the 2021 season!
Instagram user @traderjoesobsessed recently posted a photo of Jingle Jangle, and the excitement was clear in the caption and comments. Based on the caption, you can purchase Jingle Jangle for $8.99 a container, and @traderjoesobsessed recommended buying one container for you and another one as a gift.
Here's a glimpse at what Trader Joe's customers had to say about Jingle Jangle in the comment section of @traderjoeobsessed's Instagram post: "WE NEED TO STOCK UP," "our obsession," and "our weakness." Many commenters were also tagging friends to make sure that everyone knows that this treat is back in stores. 
What's in Trader Joe's Jingle Jangle?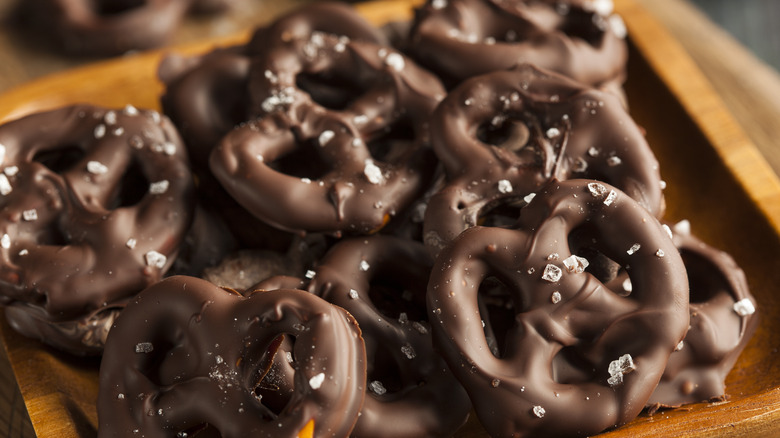 Brent Hofacker/Shutterstock
Last year, Trader Joe's fans were also psyched about the return of Jingle Jangle, but for any new customers, this might be an unfamiliar product. So what exactly is in this holiday snack mix? Based on the photo that @traderjoesobsessed posted on Instagram, there are plenty of pretzels in the mix, and everything's covered in chocolate. If you have a sweet tooth, then this is absolutely something that you should have in your kitchen pantry.
The blog Cheapism included Jingle Jangle in a list of Trader Joe's holidays products that shoppers should check out, and they write that the mix includes chocolate-covered mini pretzels, chocolate-covered caramel popcorn, mini peanut butter cups, chocolate-covered bits of Joe Joe's, and bits of candy. Chocoholics, this is the dream holiday treat.
Need even more seasonal products to snag at Trader Joe's? Coffee lovers can look for the Wintry Blend coffee, and Trader Joe's shoppers are also pumped for a new vegan eggnog that's an oat-based drink.