Last-Minute Gifts You Can Buy At The Grocery Store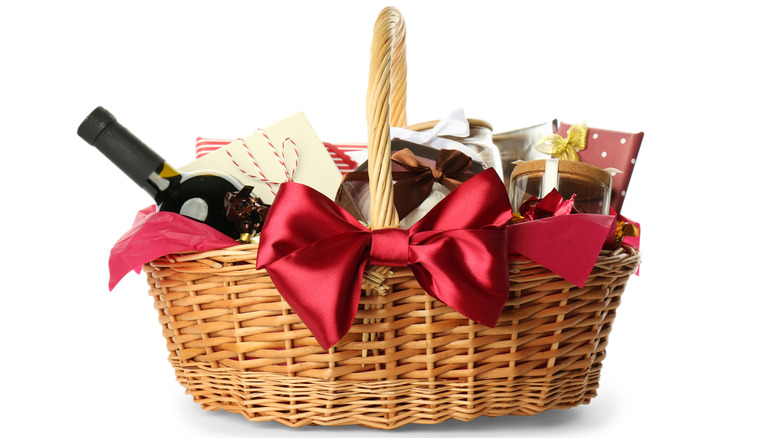 New Africa/Shutterstock
With the holiday season underway, it's easy to get overwhelmed with events and daily tasks. Maybe you have your calendar of plans carefully organized, but unexpected invitations are bound to take you by surprise. It's always a good idea to show up with something in hand, but you might not have the time to prepare. While there are those who spend all year collecting the perfect items for the people in their lives, others take a decidedly last-minute approach. There's no need to change whatever method works for you, but for those impromptu or forgotten invites, there are simple ways to improvise.
Grocery stores come in all shapes and sizes, so depending on where you live, availability may vary. Nevertheless, although food is a necessity, the right supermarket purchase can be a source of joy when you give it as a gift. We're not talking about handing out bags of onions or jars of mayonnaise, but rather, there are tons of options to choose from that may not end up on your weekly shopping list. Read on for a simple selection of grocery store items that make pretty solid last-minute gift ideas.
Chef knives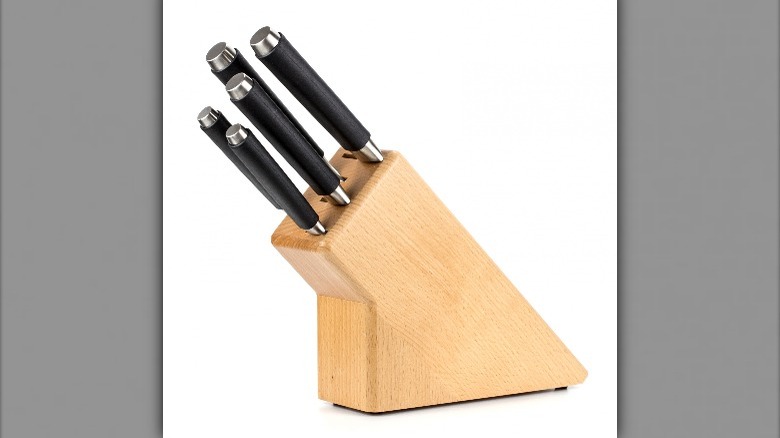 M Kunz/Shutterstock
There are arguably two types of people: those who take pride in their sharp set of cooking knives and those who have, at best, a couple of blunt knives in the kitchen. If you're dealing with someone who has very specific needs when it comes to their kitchen utensils, you might want to skip over this idea. However, for anyone else, a brand new kitchen knife is always appreciated.
If you have access to a grocery store with a home and kitchen department, then you should be able to find at least a couple of good options. It could be a single chef's knife, a butcher's block, or perhaps a nice set of steak knives. Choosing the right knife for the giftee will be easier if you've had the chance to eat or cook at their house. It's hard to forget trying to cut through a steak with a butter knife or turning tomatoes into pulp while attempting to slice them. Although Knife Wear says that certain superstitions warn against gifting knives, most people will be glad to receive the useful piece of kitchenware.
Wooden cutting boards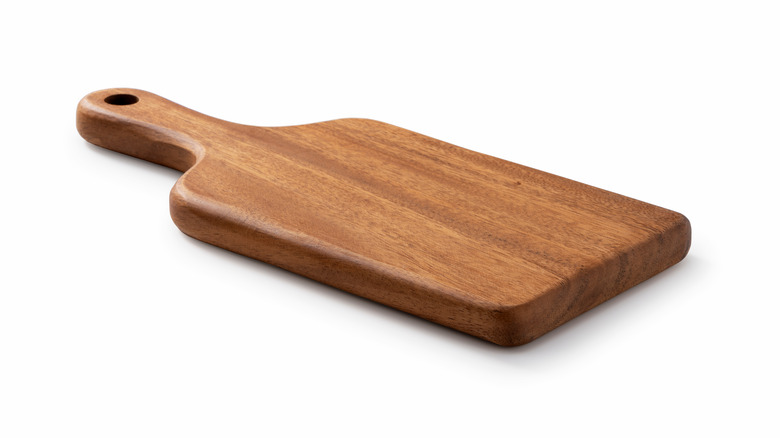 masa44/Shutterstock
Again, as long as you are shopping in a grocery store with a wider range of kitchenware articles, you should be able to find a stylish and practical wooden cutting board to gift. Even when someone already owns one, an extra board is always practical since it can be used in a multitude of ways. Turn it into a gourmet snack board by adding a few blocks of cheese or cured meats to the gift.
If you want to skip the standard rectangular cutting board, look for a round shape or one made in a unique size. Take a look at different features of different boards — perhaps your loved one wants one with a groove for catching juices. Wondering what type of wood to choose? Bamboo and acacia can be more affordable options, but a wood like teak is just as pretty as it is durable — perfect for serving charcuterie.
Quality olive oil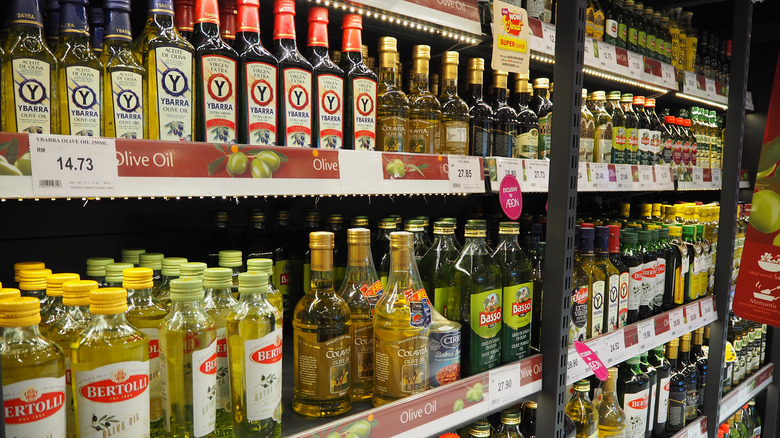 IZWAN IS/Shutterstock
For many people, olive oil is a staple in the kitchen, while other home cooks may avoid it due to its elevated cost. Both will be pleased to receive a quality bottle of olive oil, and you can be sure that they will use it. Though it might feel like a basic ingredient, opting for the best product your grocery store stocks can be a huge upgrade. Unless you're shopping at a high-end gourmet shop, you won't break the bank, yet you will be gifting something that most people appreciate but don't buy for themselves.
Whether you choose an oil that works well for finishing a dish or for cooking it, a high-quality bottle of olive oil is sure to put a smile on your loved one's face. Plus, olive oil comes in a wide variety of styles, so you can choose a unique offering. If you want to add something extra to complete the gift, a crusty baguette or other bakery bread is the perfect complement to sample the flavors of the olive oil.
Artisanal vinegar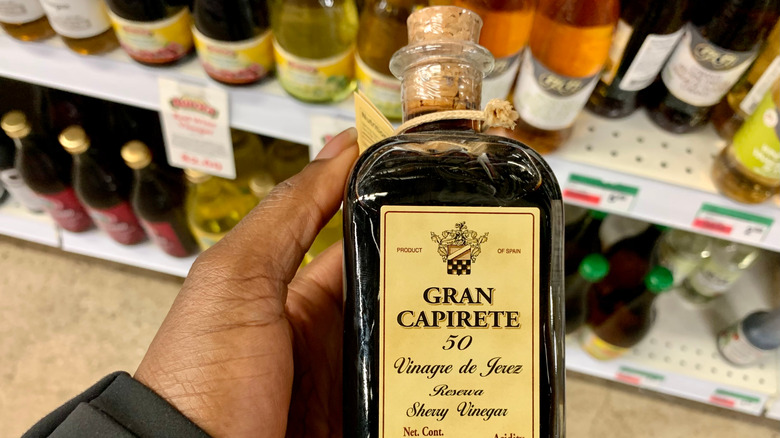 Velour Noire/Shutterstock
Similarly, vinegar comes in all shapes and sizes, ranging from highly acidic to fruity, sweeter products. Some vinegars serve multiple uses — plain white vinegar doubles as a cleaning supply. On the flip side, there's nothing more indulgent than having a bottle of vinegar that is only intended for a handful of select dishes. Acid is an essential element in any dish, and there are endless ways to incorporate vinegar into your cooking.
Most grocery stores sell at least a few finer vinegar options. Step outside the box and choose a vinegar that piques your interest — whoever you gift it to will surely be equally curious to try it out. Skip the bottle of Sherry or Champagne and opt for the same style of vinegar. If you choose a vinegar that is especially well-suited for salad dressing, you might consider pairing it with a bottle of olive oil for a complete set.
Spice mixes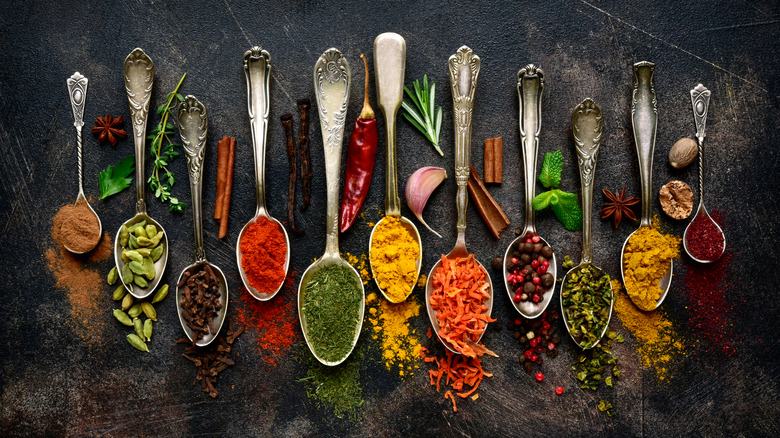 Liliya Kandrashevich/Shutterstock
The delicious flavor in many recipes often comes down to a carefully crafted balance of spices. Pre-made packets of artisanal spice blends are a great idea to gift to people who love cooking, and they're easy enough to use for those who are less motivated. Although spices can be intimidating for beginner home cooks, receiving a mixed blend made for certain dishes or cooking styles may result in inspiration to try something new. Alternatively, you could choose a handful of your favorite spices and gift them along with a few recipe ideas to put them to good use.
You may want to try selecting less familiar blends such as furikake, a sweet and salty Japanese blend, za'atar, which is common in Middle Eastern cuisine, or ras el hanout, an earthy blend from North Africa. Or, if you're gifting spices to an individual only just beginning their foray into the world of cooking, a basic set of elemental spices such as ground cumin, coriander, cinnamon, black peppercorns, or chili powder is a great place to start.
Gourmet salt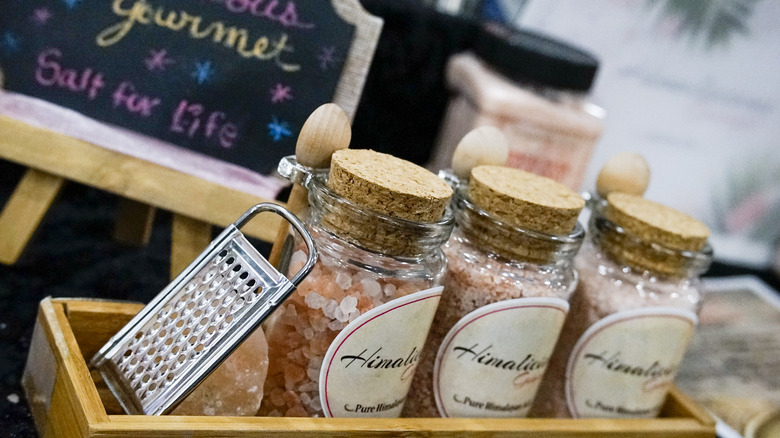 View Press/Getty Images
Whether a dish has the right level of salt or not can entirely change your perception of it. As you might already know, chefs have specific types of salt for different purposes, and there's no reason why home cooks shouldn't either. While this might not be the right gift for someone whose primary kitchen appliance is a microwave, anyone who enjoys cooking will be able to use novel salts to add flavor to a dish.
There are endless options to choose from, but if you want to start with some basics, Maldon sea salt is a great finishing salt thanks to its crunchy pyramid shape. Fleur de sel, a hand-harvested salt from Brittany, France (per Cook's Info) enhances any dish with a light sprinkle. Other unique options include Hawaiian volcano salt, Himalayan pink salt, or flavored salts. Look for those infused with lemon, herbs, garlic, or seaweed, and don't forget to sample the smoked varieties.
Cheese board selection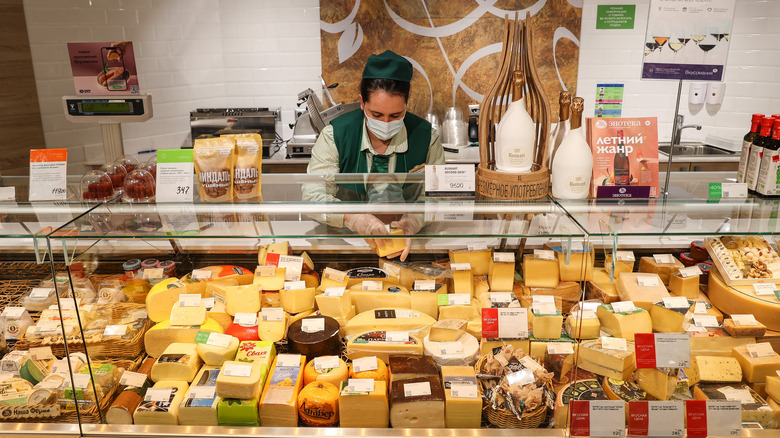 Bloomberg/Getty Images
Whether you choose to include a wooden cutting board or not, gifting the makings of a cheese board will be well-received by most people (aside from those following a vegan or dairy-free diet). While you won't have quite the same selection as you would at a gourmet cheese shop, grocery store cheese can take you far. You'll want to follow a few basic guidelines, such as choosing different textures (creamy, firm, crumbly), intensities (mild or sharp), and varying flavor profiles (classics mixed with funky options).
With as little as three types of cheese, you already have a decent selection. Adjust the quantities depending on whether you are bringing the cheese to consume immediately or as a gift for later. Sticking to a few nice wedges is already a lovely gift, but if you want to take it up a notch, throw in a loaf of bread or a box of fancy crackers. You can also add extra items, such as marinated olives, pickles, nuts, dried and fresh fruit, and jellies, to the board. Depending on the size of the gift, you may want to throw in a bottle of wine for the ultimate gourmet spread.
Preserves and jams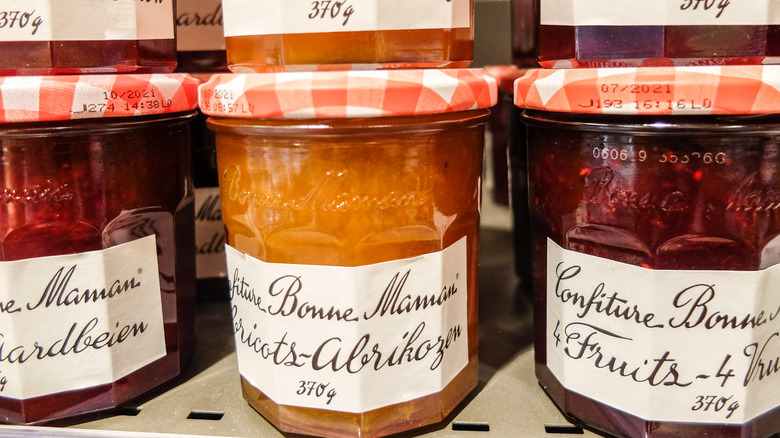 SophieOst/Shutterstock
If you're looking for extra items to throw in with the cheese board, preserves and jams are always a good bet. They can be enjoyed simply with toast or as a pairing to balance the rich texture of cheese with a sweet and tangy element. For example, caramelized onion preserves are a versatile addition that will make anyone feel like they are enjoying a fine dining experience. Most people have at least one standard type of preserve or jam, but purchasing a unique flavor combination or a fine artisanal product isn't always a priority. Nonetheless, there is a difference between lower-end preserves and jams and those made in smaller batches with better-quality ingredients.
If you pick any high-quality berry jam, you can be sure that it will be eaten. Similarly, purchasing a mixed selection of flavors is also sure to be appreciated. Bonne Maman preserves are found in most supermarkets and even come in miniature formats so that you can gift a variety of flavors. As for novel flavors, Rachael Ray recommends a jelly made from dandelions — not your average fare. For something more familiar yet far from tame, look for a hot pepper jelly for your spice-loving friends.
Hot sauce collection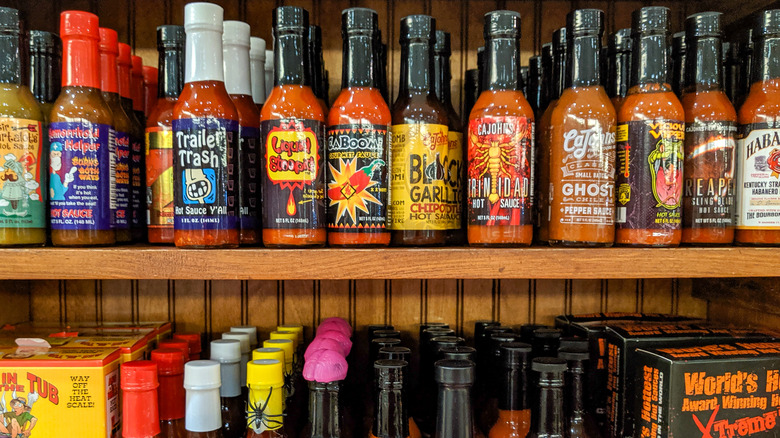 Christopher Sciacca/Shutterstock
Hot sauce isn't a gift for everyone on your list, but any spice lover will rejoice upon receiving a brand new assortment. Head to the condiment aisle in your grocery store and scoop up a mix-and-match spread. If you are well-acquainted with the options available, be sure to share your favorites. If everything looks unfamiliar, the sauces might also be novel to whomever you are gifting them to, and they're sure to enjoy the discovery.
Deciding on the best hot sauce is certainly subjective, so opt for a variety to fire up your giftee's palate. Be sure to pick up any products that are locally made, and extra points go to bottles with fun labels. One option is to aim for hot sauces made in different regions around the world to infuse the gift with a bit of wanderlust. Alternatively, see how many varieties of chili peppers you can cover. Gear Patrol lists plenty of inspiring options, including sauces made from habanero, ghost, California reaper, jalapeño, and scotch bonnet peppers. Seek out unique ingredients such as fruits and other spices for the ultimate envy-inducing hot sauce collection.
Wine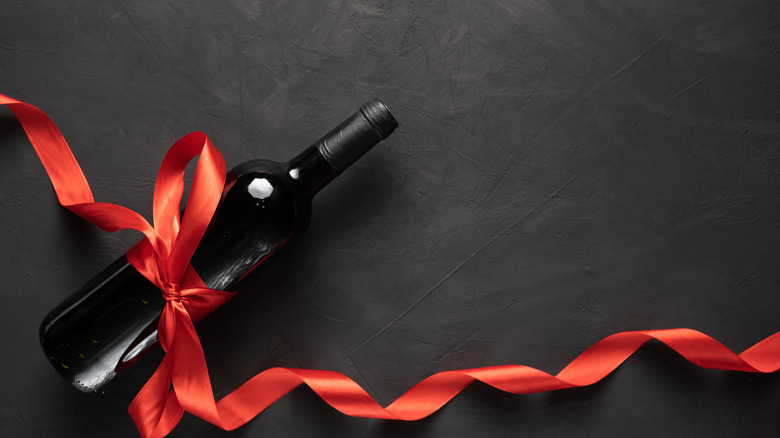 Lysenko Andrii/Shutterstock
Although you can't find wine at all supermarkets, if your local shop sells it, this is another fun gift. Make sure the giftee consumes alcohol, and if you know them to be extremely particular about their wine selection, it might be best to skip over this idea. For everyone else on your list, there are some helpful tips to simplify selecting a bottle from a wall of wine. Start by focusing your attention and eyes up top, as sommelier Cassandra Felix tells Wine Enthusiast that top-shelf wine is indeed an indication of quality. You can also opt for family-owned wineries if you want to pick up something special.
If you know that your recipient loves California Chardonnay, why not look for the same grape from a different region? If you have a friend who loves discovering different cuisines and flavors, be equally experimental in your wine choice. Similarly, if you're picking a wine for someone who loves Italian food, look for a wine to match the cuisine. If you're not too certain about their preferences, sparkling wine is a solid bet — and if it's not a favorite, it can easily be transformed into plenty of cocktails.
Nice chocolate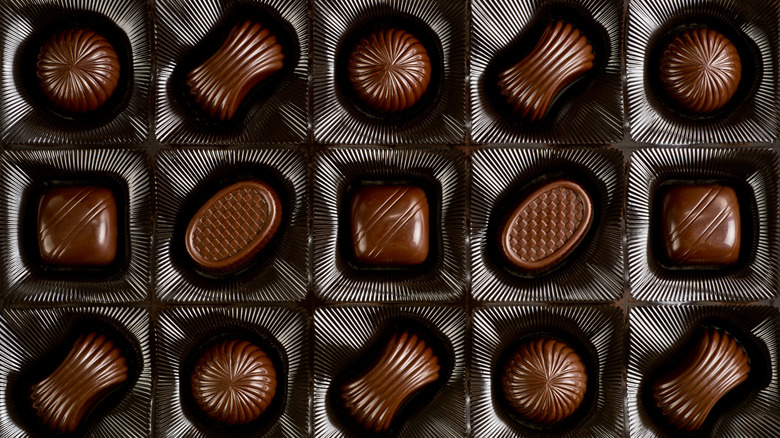 RUM-photo/Shutterstock
While chocolate might not be the most unique present out there, very few people would turn their nose up at receiving it. Supermarket selections will certainly vary, but opt for the best quality you can find. Whether you purchase a finely made bar from specially sourced beans or a box of Ferrero Rocher, chocolate is an easy win.
Ethically sourced fair trade products are increasingly easy to find at grocery stores around the country, meaning that you can gift chocolate and feel good about it all around. Plus, the variety of options is endless, ranging from chocolate-covered fruits, salty add-ins, creamy truffles, or hearty bars. While many people like chocolate, you should be mindful about what kind of chocolate you're choosing at your local grocery store. Be sure to consider the recipient, their tastes, and any sweets you've seen them consume when you're picking something out for them.
Make-your-own hot chocolate kit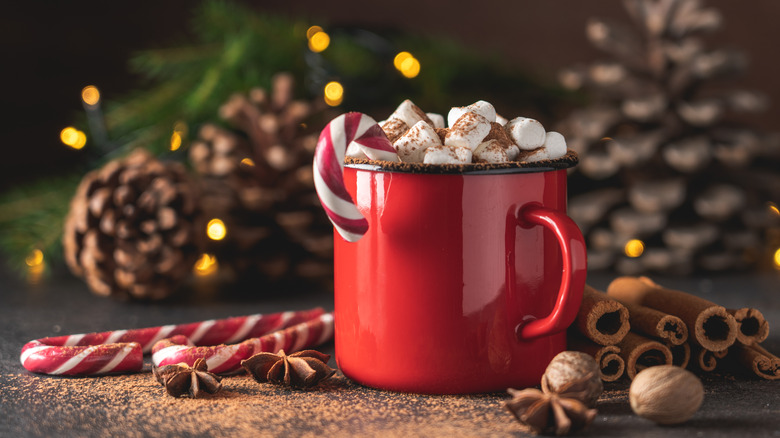 Anna Puzatykh/Shutterstock
If you're tired of gifting chocolate, its liquid form as hot chocolate is a fun alternative. Plus, if you live in one of many regions where temperatures cool down significantly during the holidays, the promise of a warm cozy mug of hot chocolate will surely be appreciated. You may be able to find a pre-made hot chocolate kit at your grocery store, but if not, the components to make one are straightforward.
Prepackaged hot chocolate powder is a good option — just make sure it's made with real chocolate if you want to make sure it tastes as good as possible. Alternatively, you might come across hot chocolate on a stick or other forms of drinking chocolate that essentially involve melting actual chocolate with milk. If you can find them, Mexican chocolate discs that are made with real cocoa and flavored with vanilla and spices are the ultimate treat. Once you've sorted out the chocolate, add some extras to the basket. Include a bag of mini marshmallows, candy canes, gingerbread, and of course, a cute mug. Wrap them all up with tissue paper and ribbon, or place them into a small basket for a heightened aesthetic.
Coffee and tea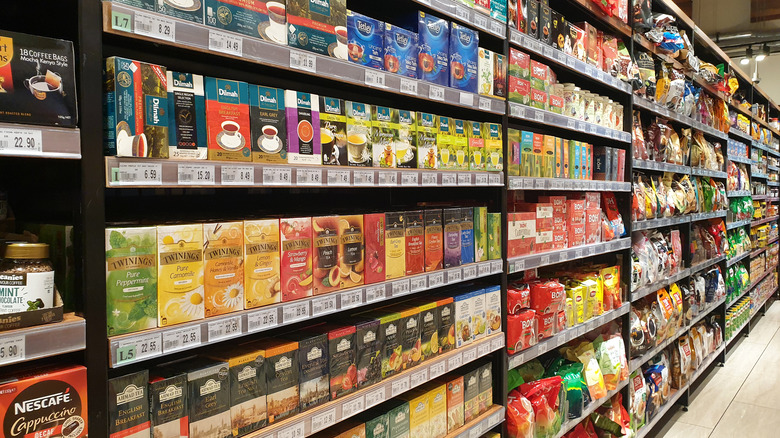 TY Lim/Shutterstock
Following the warm drink theme, coffee and tea are certainly high on the list of grocery store gifts your loved ones will appreciate. Before you buy this gift, it's a good idea to find out whether the recipient tends to drink coffee or tea on the regular. However, even if they don't, they might appreciate having a drink that they can serve when guests visit. The selection will vary largely depending on your grocery store, and you may be able to find local products to make your gift that much more meaningful.
If you've got a Starbucks lover on your hands, buying them a couple of bags of beans will save them time in the drive-thru line. For ultimate freshness, buying whole coffee beans is your best bet (you'll have to hope that the recipient has a grinder). If you can't opt for whole, choose a quality brand that carries pre-ground beans. Illy is a solid choice. As for tea, box sets with a mixed variety of flavors are a good way to avoid landing on the wrong type of tea. Similarly, herbal teas are a suitable option if you aren't sure whether your giftee is fond of caffeine.
Flowers or plants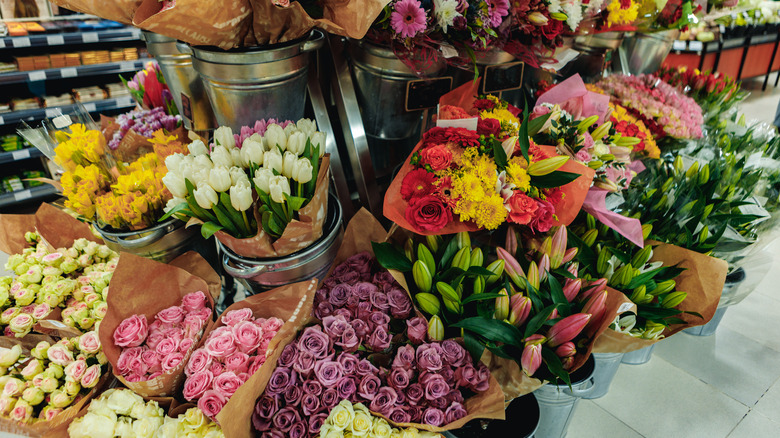 FabrikaSimf/Shutterstock
Sure, there's nothing like an exotic arrangement from the florist, but if you're short on time, a grocery store bouquet or plant can be a great alternative. As far as potted plants, supermarket selections tend to overlap with what you can find in specialty boutiques. Since the price is more competitive, add in a ceramic pot to complete the gift.
As long as they are fresh, grocery store flowers are an excellent and affordable choice. However, if you want to camouflage their source, you can always revamp your bouquet. Reorganizing an evenly distributed floral arrangement into colorful clusters or a concentric layout enhances its visual appeal. Think of playing up contrasts, or on the flip side, collect various shades of the same color into one monochromatic bouquet. Once you've got the bouquet ready, wrap it up with tissue or butcher's paper, and add some ribbon to tie the look together.
Themed dinner ingredients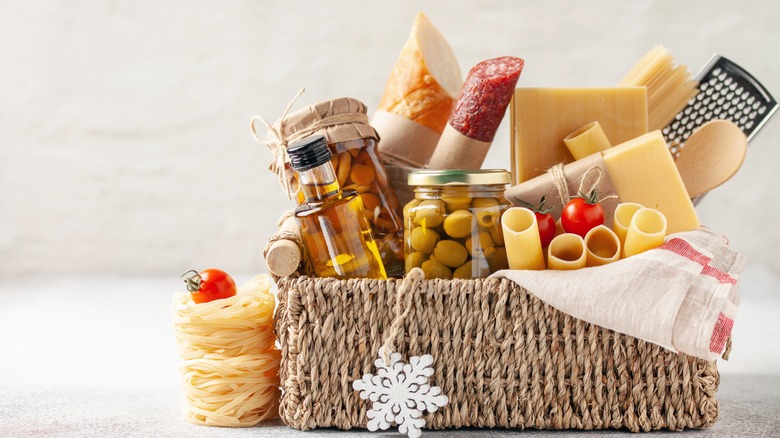 Natalya Bond/Shutterstock
It's easy to get stuck in a funk when buying groceries, but a creative approach can transform a simple dish into a fun evening. Why not pick up the makings for a globally inspired dish that will turn the recipient's dinner into a quick international trip? Set up a gift pack with the makings of an Italian dinner for two. Spaghetti, tomato sauce, Parmesan, and olive oil will all keep for some time, so your giftee won't feel pressured to cook that night. If you know they usually eat dinner at home, you could include fresher ingredients such as pizza dough, shredded cheese, and toppings for a fun pizza night.
If you're not sure where their culinary heart lies, make up a basket with fun condiments and ingredients used in specific types of cuisine. Rachael Ray loves stocking up on hoisin sauce, gochujang, miso, and nori leaves for an Asian-inspired feast, while tahini and za'atar are perfect if you're channeling the Middle East. Coconut milk and Thai curry paste are ideal if Southeast Asia is calling you — the options are endless.
Fancy baking ingredients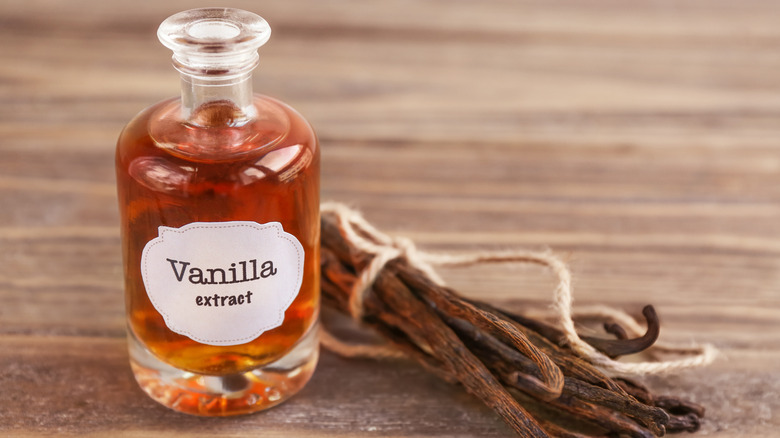 Africa Studio/Shutterstock
If you're looking for a gift for someone who loves baking, instead of offering them baked goods, gather up a collection of fine ingredients to keep them entertained. You may want to look for gourmet items to help make their final product that much better. If you have the chance, print out or write a few recipe cards with your favorite treats. For fun, you could gift the ingredients in a large mixing bowl — no matter how many the recipient already has, an extra bowl is always welcome.
If you can afford it, high-quality vanilla bean, chocolate, maple syrup, edible gold leaf, honey, and unique flours are all a great way to go. Also, any good baker will want to have plenty of different types of sugar on hand – think date, coconut, or maple sugar. As for extra flavoring, vanilla extract is common, but think outside the box and add almond, lemon, mint, brandy, and rum extracts to your gift set.
Ready-to-eat dessert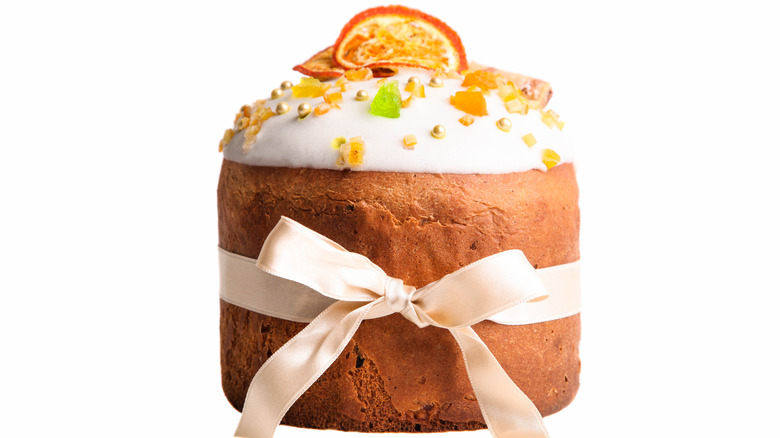 Studio KIWI/Shutterstock
If you're rushing for a last-minute gift to bring to a social event, showing up with dessert is sure to put you in your host's good books. All the same, there's a fine line between showing up with a vacuum-sealed shelf-stable cake and a more appetizing grocery store option. Thankfully, even if your options are limited, there are easy tricks to turn a packaged dessert into something that will be well-received (and taste good).
You can always decorate an ordinary cheesecake with fresh fruit to up the wow factor, not to mention the flavor. Similarly, topping any store-bought pie or cake with whipped cream makes it more enticing. Go a step further and add sprinkles, edible pearls, gold leaf, or flowers. If you opt for cookies, pick a soft, chewy variety and warm them up. No matter what you choose, presenting it on a serving plate will give the illusion of it being fresh out of the oven.