TikTok Is Loving Gordon Ramsay's Reaction To This Recipe Disaster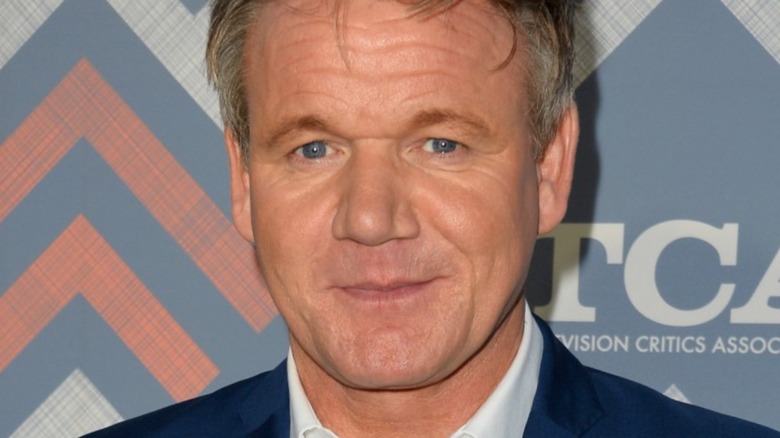 Featureflash Photo Agency/Shutterstock
Though celebrity chef Gordon Ramsay is known for his critical eye and sharp tongue in the kitchen, many TikTok users agreed with his criticism in one of his most recent #ramsayreacts videos. According to Today, Ramsay started this series as a way to make lighthearted jabs at people's culinary creations on the popular social media app. Previous entries included donut bread and beef Wellington cake. However, this recipe for what appears to be a holiday loaf definitely didn't take just the "Hell's Kitchen" host by surprise.
One user, @thing._.of_anxieity, wrote, "The worst part, IT WILL BE SOGGY. THE KING SAID IT HIMSELF, LISTEN TO THE MAN." If you've ever been to the United Kingdom in the month of December, you know that the nation does not take the holidays lightly. So, it's no surprise that many experienced a loss for words after they came across this unconventional recipe video.
Gordon Ramsay didn't appreciate the ketchup-y concoction
As seen in Ramsay's duet of the original TikTok post, the dish looked to be a baked mix of ketchup and french fry version of a holiday loaf. The original poster, @thevulgarchef, alternates between loading a ketchup mixture and a layer of french fries into a baking tray. He then bakes the dish for an unknown amount of time before the video cuts to the finished product: Which is the batter in meatloaf form.
The user then said in a voice over, "You bring this to your holiday party, they won't stop talking about you." However, if you're a follower of his account, you know that Kyle Marcoux lives to upset foodies, with his page's slogan literally being, "Bless your soul and your hole." According to First We Feast, he's created everything from Frank n' Bean Popsicles to a Rice Krispie Treats Bun Burger. Is your mouth watering yet?
However, if you do want to make your own version of the "Ketchup and Fry Loaf," the recipe is on Marcoux's website. Just don't post it on TikTok, or Ramsay won't be too happy.