26% Think This Brand Has The Worst Frozen Waffles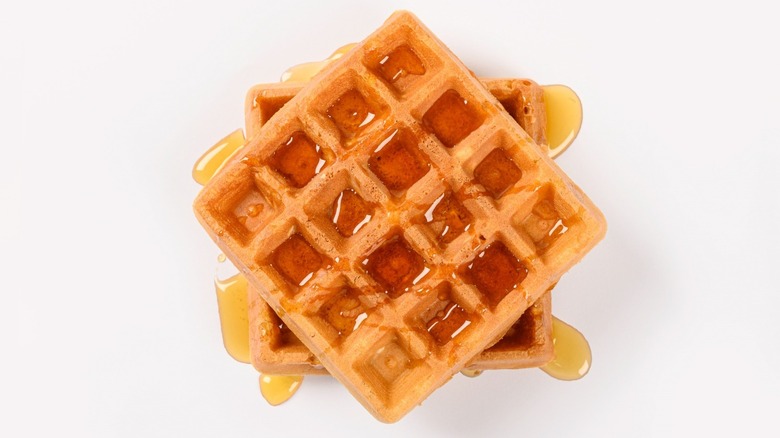 Jr images/Shutterstock
We may receive a commission on purchases made from links.
Whether you're sitting down for breakfast, brunch, or even dinner, you can't go wrong with a plate of fluffy waffles drowning in melted butter and sticky sweet maple syrup. (Or perhaps you like your waffles topped with fried chicken or served à la mode.) While thick, homemade Belgian waffles are the ideal for many, you don't always have time to make them from scratch. Enter frozen waffles, which can satisfy your craving, while being ready to eat in just a few minutes — with virtually zero effort on your part.
Of course, as convenient as they may be, not all frozen waffle brands are created equal. Mashed polled more than 600 people across the United States to find out which frozen waffle brands are worth buying (from Eggo to Vans) — and which you're better off leaving on the shelf. Here's which frozen waffle brand more than ¼ of respondents voted the worst out there.
People aren't fans of Whole Foods' frozen waffles
According to Mashed's poll results, the worst frozen waffle brand on the market is 365 Organic, which is Whole Foods Market's in-house brand. 26% of survey respondents chose the brand their least favorite out of five popular frozen waffle options. 365 Organic has a few types of frozen waffles: including classic Homestyle, Blueberry, and even Mini waffles (via Whole Foods). Some reviewers on Amazon claim the brand's waffles used to be delicious, but have sadly changed in recent years. "They are now pasty, tasteless and unevenly cooked. We actually threw the rest in the trash," one person wrote, while another described the texture as resembling a "grainy sponge."
How did other popular frozen waffle brands compare to Whole Foods' offering? Van's and Target's Market Pantry brand also aren't very well-liked, receiving 20% and 19% of respondents' votes, respectively. Annie's garnered 13% of the votes, followed by Eggo with 11%. Trader Joe's was in last (or first, depending on how you look at it), with 8% of votes, making it the best choice in the list.