This Trader Joe's Cookie Mix Makes A Perfect Holiday Gift
We may receive a commission on purchases made from links.
When you hear the name Trader Joe's, the first thing that you likely think of is grocery shopping — whether you're shopping the extensive produce section, the cult-favorite frozen foods, or the plethora of unique cheeses. However, you can find more than just groceries at Trader Joe's, if you know where to look. For instance, the popular retailer is also home to some fun holiday gifts for almost everyone on your list this season. There are quirky Advent calendars filled with chocolates or pet treats, to count down until December 25. There are bath and beauty products for the skin care aficionados. And of course, there's the wildly popular Jingle Jangle, with chocolate-covered pretzels, caramel popcorn, Joe-Joes, and mini peanut butter cups.
Another great gift idea for 2021 is a jar of Trader Joe's cookie mix. After all, who doesn't love a batch of homemade cookies fresh out of the oven? A Redditor shared a photo of this sweet tooth-approved find from Trader Joe's — here's what you need to know about it, and whether or not it's something that should be on Santa's list this holiday season.
The cookie mix is only available during the holiday season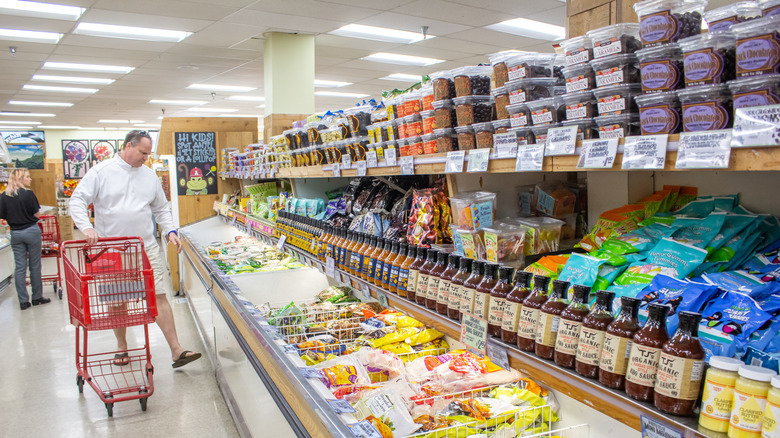 TonelsonProductions/Shutterstock
Sure, you could give your friend or family member some homemade Christmas cookies as a gift — but you could also give them a jar of Trader Joe's It's Sedimentary My Dear Cookie! mix, so they can bake it themselves. Maybe they're an amateur baker or maybe they just have a sweet tooth, but regardless, they are sure to enjoy this pre-measured mix, which has everything they need to whip up a delicious batch of chewy cookies. The jar includes all of the dry ingredients — like flour, sugar, oats, peanut butter chips, and graham cracker crumbs — so all they have to do is add butter and eggs. 
This mix has been a Trader Joe's repeat release for years. "It's the best cookie my wife and I have ever had," one fan on Trader Joe's Reviews raves. Many other agree, and say they wish that the mix was in stock all year round, rather than just for the holidays.