Holiday Trifle Recipe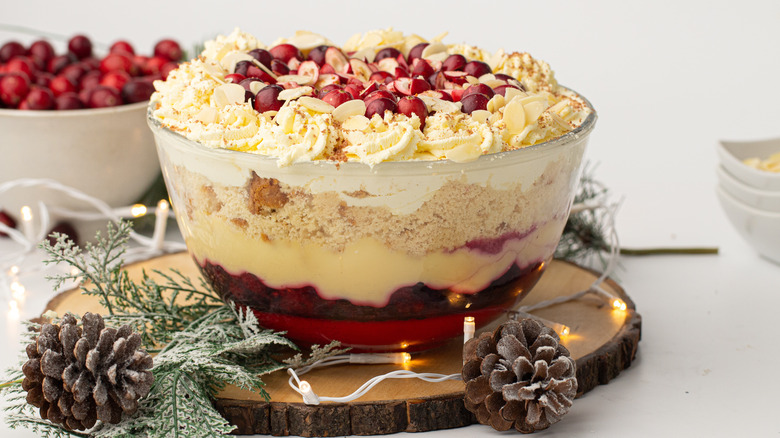 Susan Olayinka/Mashed
In the U.S., when we talk about a trifle we're usually referring to something that is no big deal. However, if someone's behavior is described as trifling, Urban Dictionary explains that this means they're up to shady business. On the other side of the Atlantic Ocean though, trifle is something entirely different and infinitely more enjoyable. Recipe developer Susan Olayinka who blogs at The Flexible Fridge explains that "Trifle is traditionally found in British cuisine." She describes it as "a layered dessert mainly with sponge, jelly, berries, and cream." 
While she does say that this delightful dessert is served year-round, she explains that a big, fancy trifle typically features as a dessert served after Christmas dinner. The reason, she tells us, is that "It is an easy dessert to make when you're cooking so much anyway!" We also love the thought of trifle as an after-holiday dessert since you can make it with leftover cake. Also, while Olayinka's version does not contain alcohol, the cake that goes into a trifle is often soaked in some type of booze, so you might even be able to work in a little of that leftover eggnog!
Gather the ingredients for this holiday trifle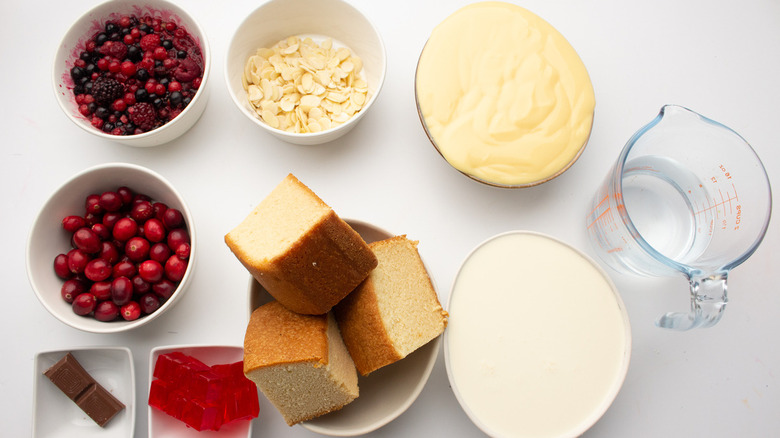 Susan Olayinka/Mashed
To make her trifle, Olayinka uses a couple of ingredients that aren't readily available in the U.S. She starts with what she calls "jelly," which isn't the same thing as our jelly. Instead, it turns out to be fairly similar to Jell-O, so you can just use this product instead. She also uses "custard from a carton," which is sold in the U.K. but not readily available here. You may be able to find custard powder imported from the U.K., or you could always make homemade custard. Olayinka says that we Yanks can just use vanilla pudding instead. The Madeira sponge cake Olayinka's recipe calls for is another item that is readily available across the pond but not so much here — at least under that name. As Olayinka tells us, "I have seen some Americans call it pound cake, too." She adds, "Any dense vanilla cake would do," though she warns, "It can't be too light or it will get all soggy."
You shouldn't have too much trouble finding whipping cream, slivered almonds, or milk chocolate. If you're making this trifle at any time from October through December, you should also be able to find fresh cranberries with no trouble. Olayinka does say these berries are "not traditional for trifle, but they are traditional for Christmas so I thought that I would add them." No cranberries? Double down on the mixed berries instead.
Prepare the Jell-O and custard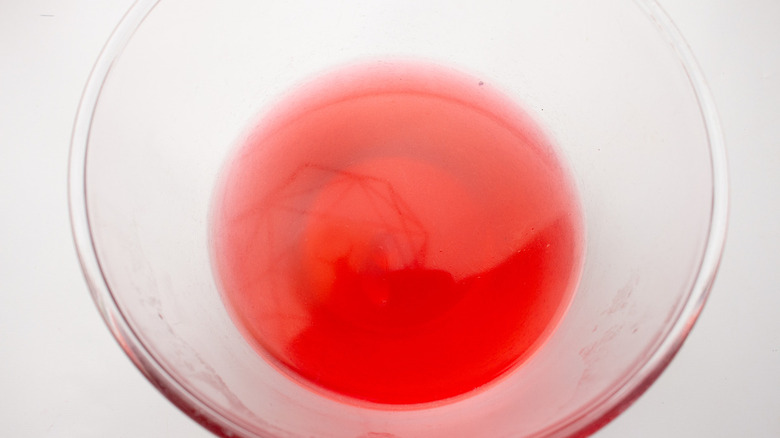 Susan Olayinka/Mashed
Begin by preparing the Jell-O according to the package directions, using a large, pretty bowl in which you plan to serve the trifle. You can, of course, use store-brand "flavored gelatin dessert," we're just using the term "Jell-O" in the generic sense here. Once you've mixed up the Jell-O, stick it in the fridge for 3 hours to chill.
While the Jell-O is chilling, you can prepare the custard or pudding as per the package directions if you're doing it yourself. If you have managed to find ready-made custard as Olayinka uses, or you're subbing ready-made pudding, you can skip this step. One thing we do need to point out though is that you cannot use frozen custard! That's an entirely different dessert which is more ice cream than pudding.
Assemble the trifle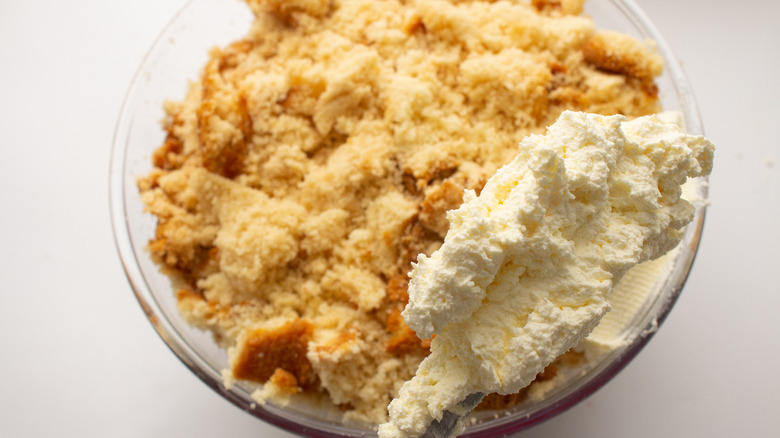 Susan Olayinka/Mashed
Once the Jell-O has chilled and is at least semi-solid, top it with the berries and then layer on the custard or pudding. Break the cake into chunks and scatter those across the pudding in an even layer. Whip the cream until it forms stiff peaks, then spoon some on top of the cake chunks. Use a spatula to smooth out the whipped cream layer — Olayinka says you want this to be even with the top of the bowl. You should have some whipped cream left over, which is a good thing as you'll be using it in the next step.
Top off the trifle with fruit and chocolate
Susan Olayinka/Mashed
Scoop the leftover whipped cream into a piping bag (or a Ziploc bag with the corner snipped off) and pipe some decorative swirls along the outside edges of the trifle. Roughly chop half of the cranberries, then scatter the whole and chopped cranberries over the top of the trifle along with the slivered almonds. Finish off the dish with a sprinkling of grated chocolate. No need to be too exact with the measurement here — use as much or as little chocolate as you like.
Olayinka says that a holiday trifle is "typically served at the end of a big Christmas dinner along with the Christmas pudding." She goes on to say, "It's quite light so people usually do ... have room for it." It's a good thing too since who would want to miss out on this amazing dessert?
Holiday Trifle Recipe
This impressive holiday trifle recipe is easier to whip up than you'd think. There are lots of ways to customize it into a dessert everyone will enjoy.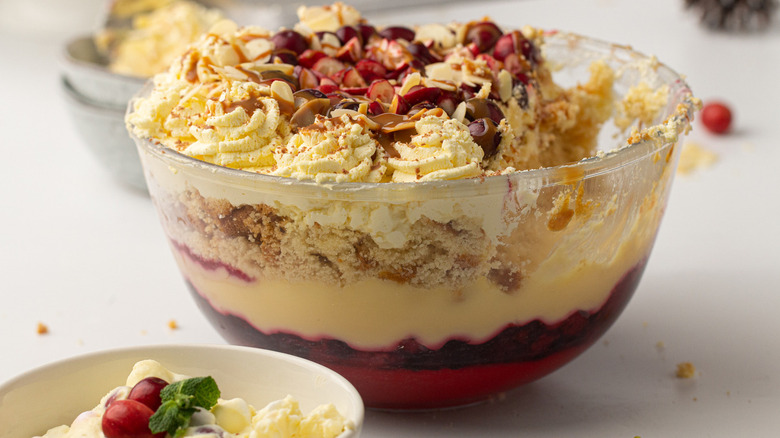 Ingredients
1 (6-ounce) package strawberry Jell-O or 2 (3-ounce) packages
1 cup mixed berries
3 cups vanilla custard (or pudding)
14-ounce Madeira sponge cake (or pound cake)
2 cups heavy cream, whipped, divided
1 cup fresh cranberries
½ cup slivered almonds
½ ounce milk chocolate
Directions
Prepare the Jell-O as per the package instructions and chill it in the refrigerator for at least 3 hours.
Prepare the custard or pudding if you're not using a ready-made version.
Top the chilled Jell-O with the berries, followed by the custard or pudding.
Break the cake into bite-sized chunks and spread these over top.
Spoon the whipped cream over the cake chunks and use a spatula to smooth it out so it's level with the top of the serving bowl.
Place the remaining whipped cream into a piping bag and pipe decorative swirls on the trifle's surface.
Top the whipped cream with a mixture of whole cranberries, chopped cranberries, and slivered almonds.
Grate the chocolate over the finished trifle.
Nutrition
| | |
| --- | --- |
| Calories per Serving | 373 |
| Total Fat | 17.6 g |
| Saturated Fat | 8.3 g |
| Trans Fat | 0.0 g |
| Cholesterol | 171.7 mg |
| | |
| --- | --- |
| Total Carbohydrates | 46.1 g |
| Dietary Fiber | 1.6 g |
| Total Sugars | 20.2 g |
| Sodium | 192.4 mg |
| Protein | 9.7 g |