30% Agree This Is The Worst Starbucks Breakfast Sandwich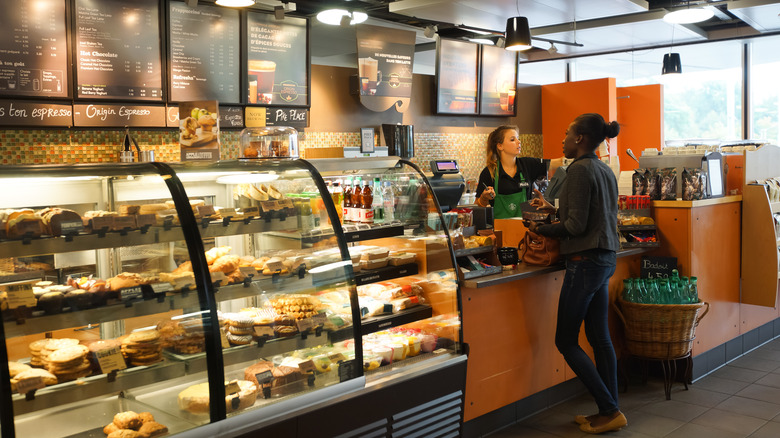 Sorbis/Shutterstock
Life tip: Go to Starbucks for the coffee, stay for the food. Whether you're in search of a quick breakfast, an afternoon snack, or an on-the-go lunch, the popular coffee chain has an impressive menu of eats. If you're in the mood for something sweet, you can indulge in an oversized chocolate chip cookie, a fluffy slice of banana nut loaf, or the ever popular cake pops. If you want something with a little more staying power, you can snag a bagel with avocado spread, a cup of oatmeal, or one of the many protein boxes. And, of course, if you're hitting up the Starbucks drive-thru in the morning, you can order one of the many breakfast sandwiches on their menu for a quick and easy meal on-the-go.
You don't have to settle for just plain old bacon, egg, and cheese, either. Starbucks has a unique lineup on its breakfast menu, from roasted ham, Swiss, and egg sandwiches to the fan-favorite spinach, feta, and egg white wrap, many of which have great reviews. But, which one should you stay away from? Mashed polled more than 600 people across the country to find out what they would deem to be the worst breakfast sandwich at Starbucks.
The Impossible Breakfast Sandwich isn't a big hit with Starbucks customers
Impossible Food's meatless meat — like the famous Impossible Burger — has skyrocketed in popularity over the last year. It's even landed on the Starbucks menu, in the form of the Impossible Breakfast Sandwich, which features their plant-based sausage, a fried egg, and aged cheddar on a sesame ciabatta bun. However, according to Mashed's polled results, the veggie-friendly item is the worst breakfast option to order, according to respondents, with 29.89% choosing it as their least favorite Starbucks breakfast sandwich. "The flavor was non-existent and the texture was ... how can I put this best? ... pre-chewed," a reviewer at Men's Health said.
As for how the other breakfast sandwiches on Starbucks' menu stacked up — the Turkey Bacon, Cheddar, and Egg White Sandwich was a close second place finisher, with 21.02% of respondents dubbing it the worst. It was followed by the Bacon, Gouda, and Egg Sandwich, with 15.76% of the votes, and the Roasted Ham, Swiss, and Egg Sandwich, with 14.45%. Only 10.84% of people hate the Sausage, Cheddar, and Egg Sandwich, while the very similar Double-Smoked Bacon, Cheddar, and Egg Sandwich was found to be the "best of the worst," with just 8.05% of people disliking it the most. At least we can all agree the variety that Starbucks offers for the all-important morning meal is something to truly love.