Instagram Is Loving These Throwback Pics Of Bobby Flay And His Cats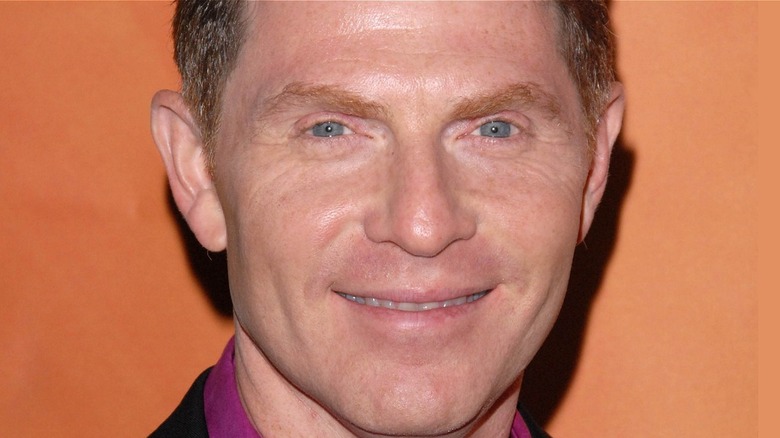 s_bukley/Shutterstock
Bobby Flay is a cat lover. He has two cats, Stella and Nacho (via Instagram), and his cat Nacho was even inspired enough by Flay's culinary career to start his own line of cat food, Made by Nacho. But those are just his two current feline friends, and it turns out that Flay has loved cats since he was a kid. Flay's cat Nacho has his own Instagram account, and in honor of Flay's birthday shared some photos of the chef as a kid with his beloved childhood cats, and fans are eating it up.
Why does Bobby Flay love cats so much? According to Flay, it's because he was an only child (via People). The only human child in his house, that is. He always had cats to hang out with, and he says that the cats practically helped raise him. These days, his cats help him calm down after a busy day. "It's a very special relationship that only people that have cats understand," he told People. The Instagram pictures of Flay as a kid with his cats shows just how strong his lifetime bond with felines is.
Fans can't get over these cute photos of Flay and his cats
Nacho's account posted four throwback photos in the post. One shows Flay cuddling a ginger cat underneath the Christmas tree; another is of him as a kid holding a cat on the stairs while wearing swim trunks; there's one of Flay in a footed onesie drinking from a bottle while a cat stands guard; and another shows Flay sitting with a family member and a cat on a set of stairs. Instagram users adored the throwback pics, as well as the one picture of Flay in the present day with Stella and Nacho.
"Omg you are so cute," commented chef Michele Ragussis, a former contestant on Food Network Star and Guy's Grocery Games. "Ah such sweet photos! A furever cat lover," exclaimed another follower. Lots of the people in the comments were writing from their own Maine Coon cat accounts, so the love was coming from humans and felines alike. "Furry hugs and purring birthday wishes," said one commenter. Flay may be known for his cooking, but to the cats in his house and online, he's just a really good cat dad. For a cat person, that's a badge of honor.