Copycat Fiery Doritos Locos Tacos Recipe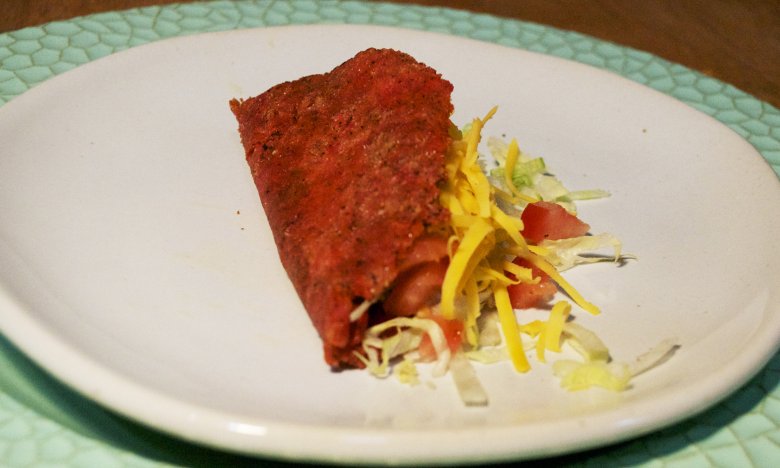 There are guilty pleasures in life, and then there's Taco Bell. Taco Bell is that place that people love to trash and swear off eating, yet there it sits comfortably in the top 10 ranking of quick service restaurants. The Bell has tried a few different gimmicks in their many years, but nothing has quite taken off like the Doritos Locos taco. It's simply a Doritos shell taco, but by combining two forbidden fruits into one tasty treat, Taco Bell saw increased sales across the board — with over $1 billion in sales in the first year of the Doritos Loco taco alone. 
The one that packs the most punch of the three flavors is the Fiery Doritos Locos Taco. Can we make one at home? You bet we can. And it's much easier than you'd imagine — or pretty difficult, depending on which path you take.
Let's get cooking!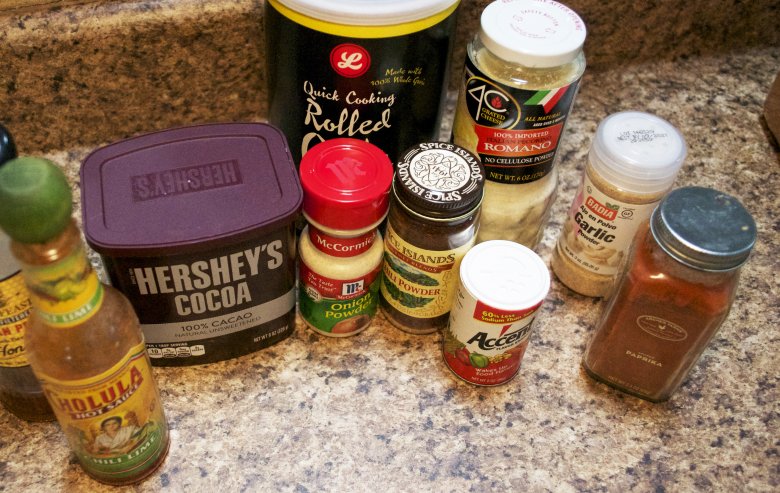 Here's what you need to make your own Fiery Doritos Loco Taco: taco shells (or masa to make your own), chili powder, smoked paprika, dry romano cheese, water, MSG, Cholula chili lime hot sauce, ground beef, oats, garlic powder, onion powder, powdered cocoa, cornstarch, lettuce, tomato and grated cheese.  The full ingredients list is at the end of this article, along with a step-by-step recipe.
Please note that we're going to give you two options to make these — the hard way and the easy way. The flavors will be remarkably similar,, but the appearance is vastly different, so the choice is yours.
What's a Dorito?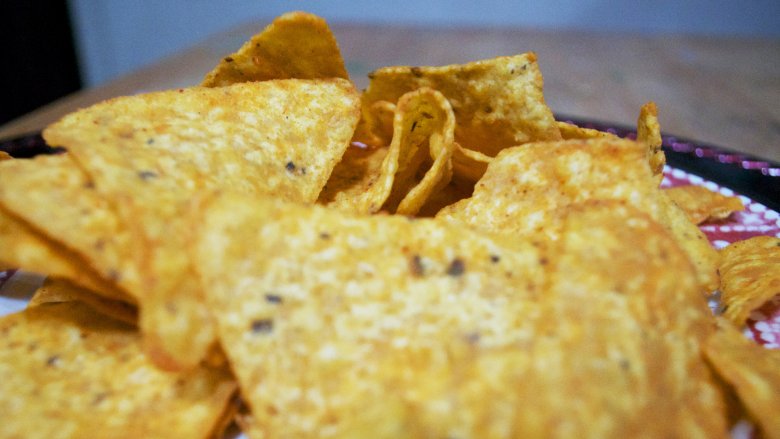 Besides the greatest thing ever, what exactly is a Dorito? Doritos actually got their start at Disneyland — the quick service Casa de Fritos opened in Frontierland shortly after Walt opened the doors at his California theme park. The Dorito was a big hit, mainly because it hits all the basic desires that people love in food; melt in your mouth taste, stick to your hands goodness, and a flavorful cheese. Simply, Doritos are programmed to be irresistible, and of course they are. The trick will be creating a dusting to go over a shell and provide the flavor we're looking for from a Doritos chip.  
The mystery meat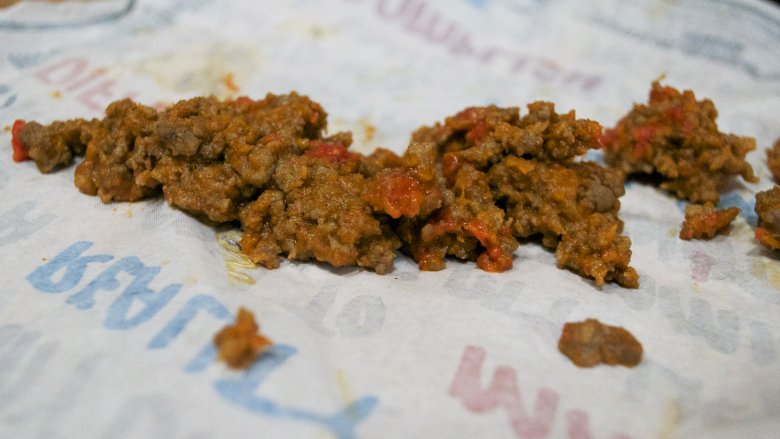 Taco Bell caught a lot of flack when a 2011 lawsuit alleged that their "meat" was only 35 percent meat. Taco Bell revealed the inner workings of their beef, and it turns out that it's actually 88 percent meat. That's still pretty low, but fairly standard in terms of restaurants using fillers to stretch product and keep costs down. The main filler Taco Bell uses is oats; not exactly bad for you, but not exactly Mexican cuisine either. This copycat won't taste like the real thing unless we make the meat taste like theirs, too — so we're going to.
That special shell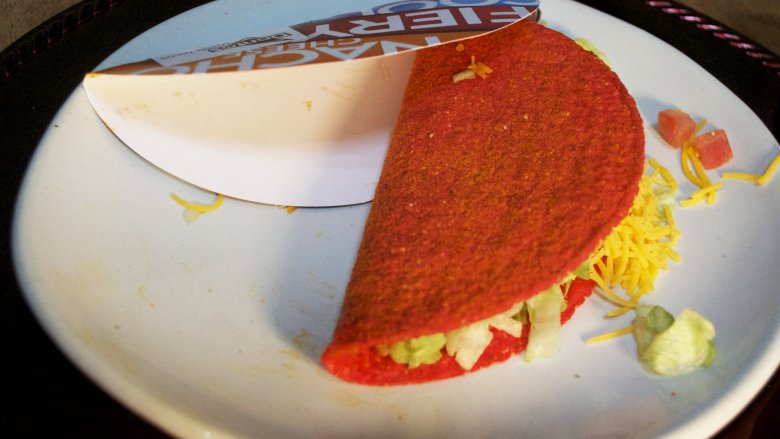 Doritos are just tortilla chips sprinkled with the kind of spice mix that can bring unity to the galaxy. Yea, it's that good. The big difference is the heat, obviously, between a regular Dorito and the Fiery one. Doritos doesn't make a Fiery Dorito, per say, but they do make things in the family of hot stuff. The Fiery Dorito has a bit of a chili-lime flavoring. Conveniently enough, Cholula makes a chili-lime hot sauce, and it tastes remarkably like a Fiery taco shell. There's more to it than that, but the key is "fiery flavors in a shell."  So why is the shell red?  Because it's hot! And it has a lot of "fire" flavors to it.
Choose your own adventure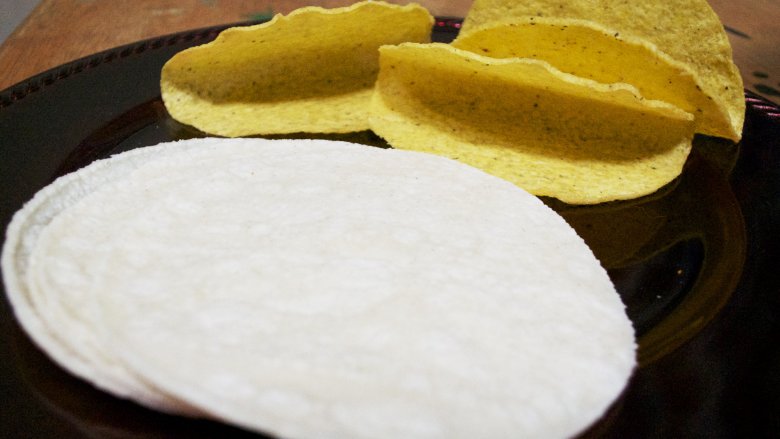 Before you get too far into this process, you need to make a decision: are you going to make shells from scratch or just use pre-made shells? This comes down to time, level of patience, and if you have the right tools. There's no right or wrong answer here. I made them both ways, so we'll take a look, and you choose.  
The spices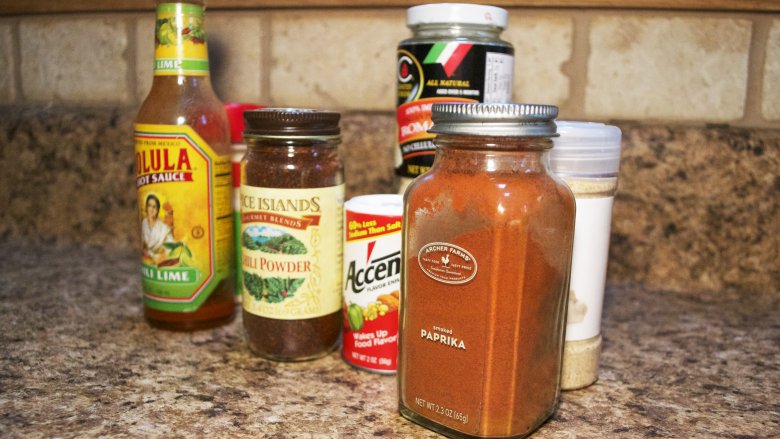 First we need to build our dry rub for the shell. In a bowl, combine chili powder and smoked paprika. To that, add Romano cheese — the dry kind you find in the Italian section of the grocery store, along with onion powder, garlic powder, and Accent.
The fire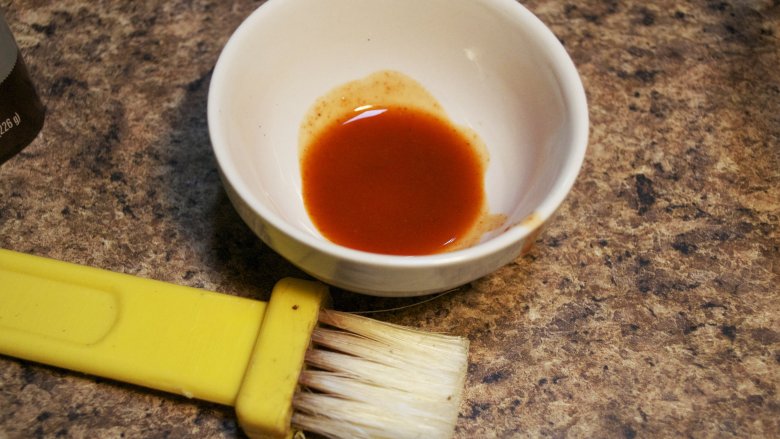 The kick that exists in a Fiery Doritos Locos Taco is a chili-based spice with a touch of lime. With its guajillo, paprika, arbol and piquin peppers, the "fiery" flavors of Cholula chili-lime hot sauce come together to taste very similar to what the Taco Bell shell is; in fact, the lime even gives it the hint of citrus you'll find in the shell. I'm not saying Taco Bell is using Cholula in their shells, I'm just saying we are.  
The shell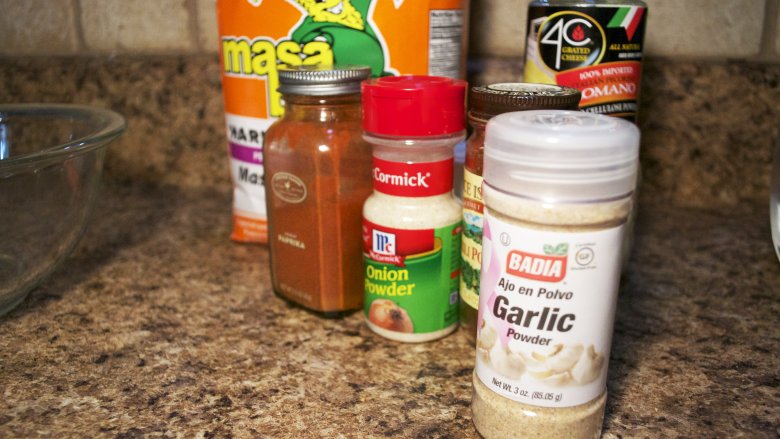 As mentioned, there are two ways to make a Fiery Dorito Shell; the "from scratch" way, and the "I'm not making a taco shell" way. If you've never made your own shells, it's not super difficult, but can be a bit of a pain. The easiest easy way is to simply purchase hard taco shells and add the seasoning. That's not cheating at all — no need to feel shame. If you're going all out, you need to pick up a bag of masa — that's the stuff you'll use to create your own shells.
If you're traveling down the easy path, here's what you need to do: Open the box of shells — that's it for now. Doesn't get any easier than that, does it? If you plan on making your own shells from scratch, we'll talk about that later.
Making your own mystery meat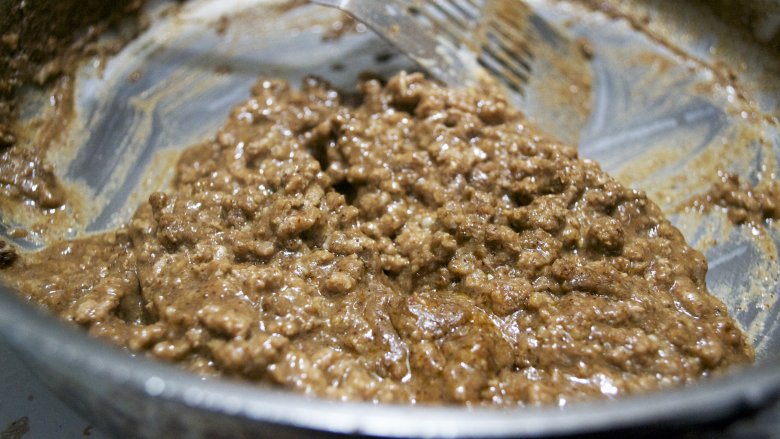 It's not Taco Bell without mystery meat, so let's make that, too.  The ingredients list may sound a little crazy, but it's not that bad.  
Combine a half pound of ground beef with an eighth of a cup of rolled oats. The oats are a filler to make the meat go farther — you won't taste it in the final dish. To that, we'll add onion powder and garlic powder, chili powder, smoked paprika, and cocoa powder. The cocoa powder isn't for flavor — it only adds color. Throw that all in a pan with a cup of water and bring it to a boil over medium heat.  
After you hit a boil, add two tablespoons of cornstarch to help it come together. Reduce the heat to simmer and let it coast for about 15 minutes. You'll notice the longer it simmers, the more it reduces and looks amazingly like Taco Bell's meat. 
Don't forget the toppings!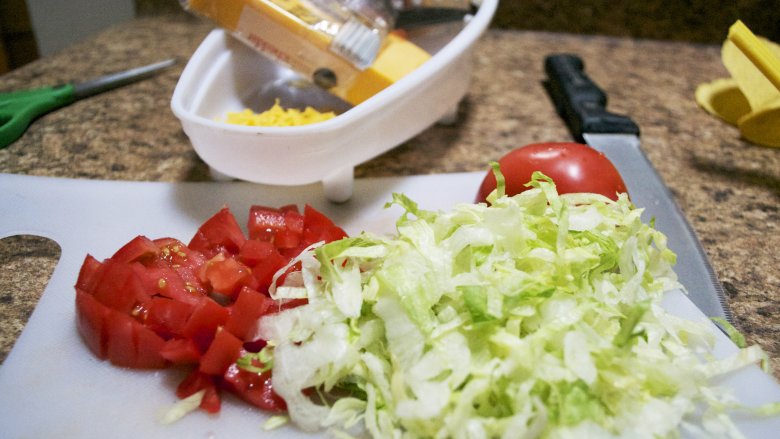 You're not really ordering your taco with just meat and cheese, are you? What are you, 6? Taco Bell doesn't reveal exactly what kind of tomatoes, lettuce, or cheese they use, but a standard mild cheddar, a head of lettuce, and a vine ripe tomato tastes exactly right. So shred some lettuce, dice a tomato, and shred some cheese.  
The build (the easy way)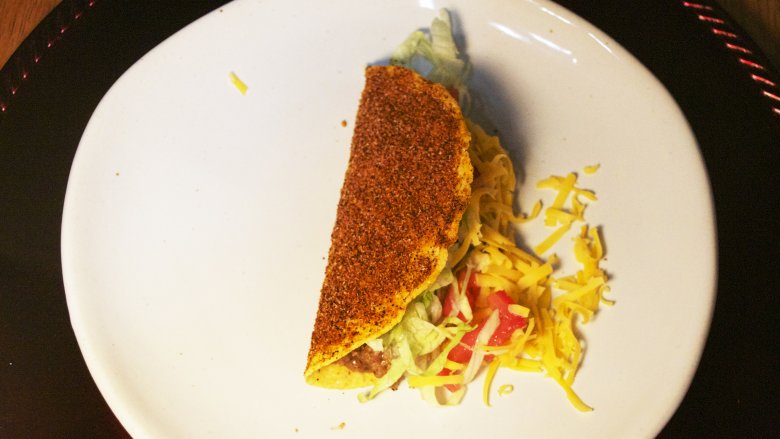 We need to get the boxed shells to magically turn into Doritos. We're going to use the "paint" method — with a cooking brush, paint the outside of the shells with the hot sauce, and then coat with the dry mixture. Shake to dust off the excess, and park those in a 325 degree Fahrenheit oven for four minutes.
Once they're done, it's time to build a taco!  Meat goes on the bottom (three ounces, if you want to be exact), followed by lettuce, tomato, and shredded cheese. Throw it on a plate and you're ready to go!
Now, I'm not trying to fool you; as you can see by the picture that's not a red shell, that's a taco shell with a bunch of sauce painted on the side. But that's the sacrifice you have to make taking the easy way. Don't worry, your taste buds will still be rewarded. Also, the instructions for making a "real" shell are on the way.
Making your own shell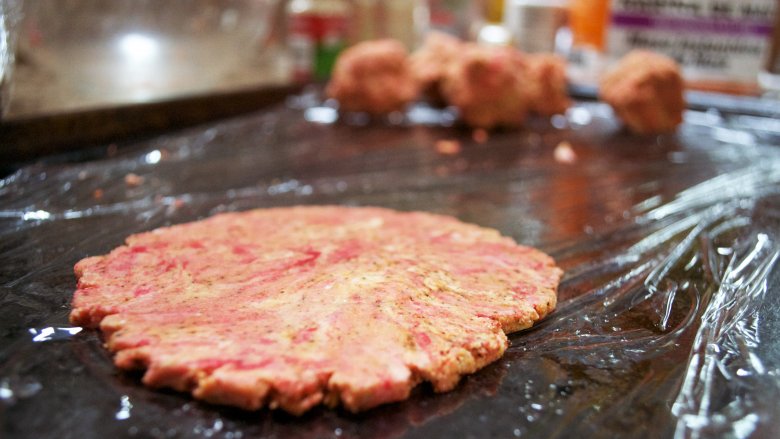 There are some of you out there who will insist on making your own shell from masa and water, I mean how hard can it be? Maybe harder than you think.
The major challenge here is getting your shells red — you need to build your shells just as you normally would, with masa and water. However, we need to add our fiery ingredients to the dry — that'd be chili powder, smoked paprika, Romano cheese, onion powder, garlic powder, and a Accent — to the masa.  
As for the wet side, masa takes a two to one ratio of masa to water — that means a half cup of water, but in addition add 3 ounces of Cholula Chili Lime hot sauce, and a few drops of red (or pink) food coloring.  
You want your masa to have a dough consistency. Make the masa concoction into four or five small balls, and rest them under a damp tea towel or wet paper towel for 15 minutes. After the rest, press them into flat tortilla shapes. Before you even begin pressing, get some plastic wrap and wet it a little bit to help ease the tortilla separation, and do the same for the top. Getting the tortillas flat without them ripping is a fine skill. My trick is to get a good sized pot and press the living daylights out of those dough balls.  
Cooking your shell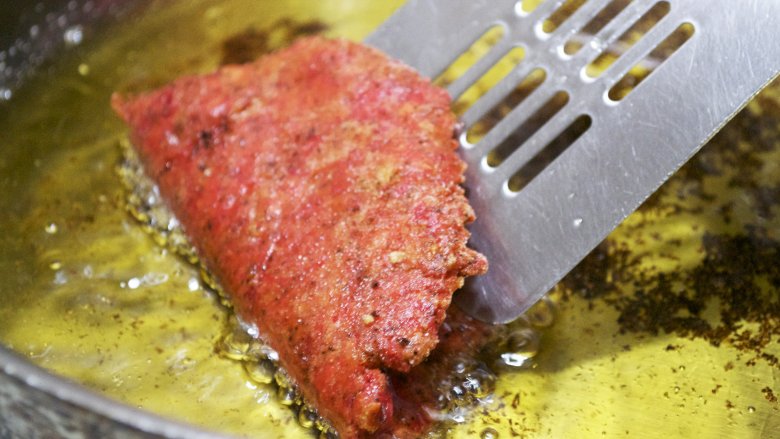 Making your own hard shell tacos is sort of a pain — it's hot oil, you have to move quickly, the shells can fall apart (not pictured, shells falling apart). Just know that it can get very frustrating, but you can do it! Do you feel better now? Do you have the confidence? Let's do this.  
Make sure your oil is at 350 degrees Fahrenheit. You don't need a deep pot, just a few inches of oil in a nice pan. Right before you add the tortillas to the oil, give them one more coating of Cholula to help give them the kick they need. Lay the shells flat in the oil, and let them go for about 10 seconds. Then, carefully flip it over and let that go for another 10 seconds. After that, we have to get fancy with it — carefully fold it over on itself but keep a little gap — which will obviously be where the stuffing goes. Grab one side with tongs and fold it over, and with your other hand put a spatula between the fold to hold a space. After about a minute, turn the shell over and cook the other side. Hopefully, your shell didn't break apart, but don't be discouraged if it does  Making these isn't easy, but your patience will be rewarded with a beautiful red shell.  
After you successfully pull off the shell, let it rest for about a minute before filling it up and serving.
How close are we?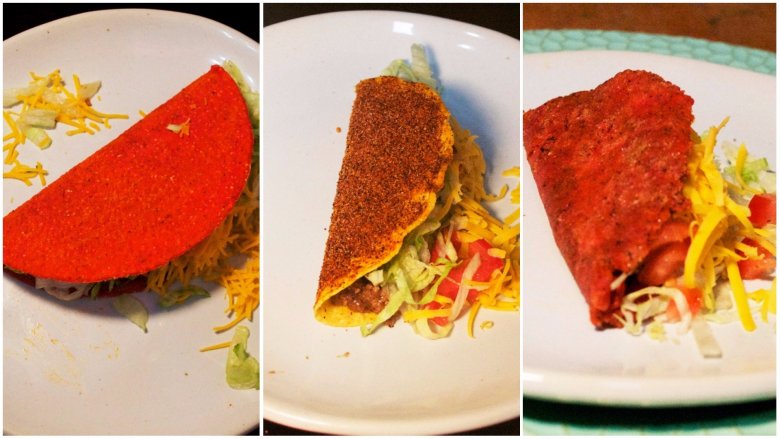 Regardless of which method you choose, you're going to be pleasantly surprised that you actually just created a Fiery Doritos Locos Taco.  The easy method is a little messy, but the shell flavor is right there. The masa method is cleaner to eat, and packs just a little less punch as the real thing. There's two ways to adjust it; you can dump an entire bottle of Cholula into the masa (which seems a bit much) or hit it with one more dab of sauce on the inside of the shell — this way no one will see it.  
The most shocking part of this copycat is how much the meat tastes like Taco Bell's — it's almost exact. 
For my money (and time), I'm just as happy dipping a pre-made shell in the hot sauce and rub, as blasphemous as it seems.  
Copycat Fiery Doritos Locos Tacos Recipe
Making your own Fiery Doritos Locos Taco much easier than you'd imagine, if you take the easy way, and the taste is spot on.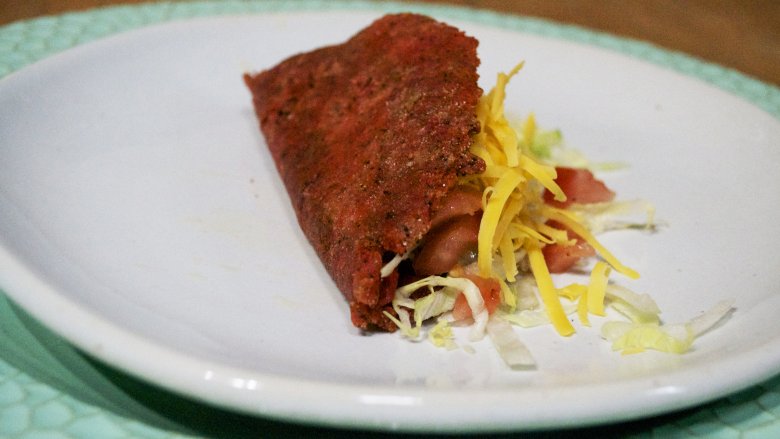 Ingredients
½ pound ground beef
⅛ cup oats
1 tablespoon plus ½ teaspoon garlic powder
1 tablespoon plus ½ teaspoon onion powder
3 ½ tablespoons chili powder
1 ½ tablespoons smoked paprika
1 tablespoon cocoa powder
1 cup water
2 tablespoons cornstarch
1 teaspoon Romano cheese powder
½ teaspoon Accent
3 ounces Cholula Chili Lime hot sauce
Optional Ingredients
A few drops of red or pink food coloring (if making your own shells)
1 cup masa
Directions
Combine ground beef, oats, 1 tablespoon garlic powder, 1 tablespoon onion powder, 3 tablespoons chili powder, 1 tablespoon smoked paprika, 1 tablespoon cocoa powder, and 1 cup water into a pan at medium heat.
Bring to a boil.
Once it's boiling, reduce to simmer and add 2 tablespoons of cornstarch.
Simmer for 10 to 15 minutes until mixture reduces and thickens.
Preheat oven to 325 degree Fahrenheit.
Combine ½ tablespoon of chili powder, ½ tablespoon of smoked paprika, 1 teaspoon Romano cheese powder, ½ teaspoon onion powder, ½ teaspoon garlic powder, ½ teaspoon Accent, and Cholula sauce in a bowl.
Apply hot sauce to outside of a pre-made taco shell using a pastry brush.
Sprinkle taco shell with dry seasoning mix and lay out on a baking sheet.
Bake for 4 minutes. If you want to make your own tortillas, now is the time to do it. You can find those instructions above.
Remove and fill.
Eat and enjoy!
Nutrition
| | |
| --- | --- |
| Calories per Serving | 229 |
| Total Fat | 13.5 g |
| Saturated Fat | 4.8 g |
| Trans Fat | 0.7 g |
| Cholesterol | 41.0 mg |
| | |
| --- | --- |
| Total Carbohydrates | 16.6 g |
| Dietary Fiber | 5.0 g |
| Total Sugars | 1.3 g |
| Sodium | 817.9 mg |
| Protein | 13.1 g |