Aldi Fans Are Freaking Out Over This Affordable Charcuterie Kit
Food trends come and food trends go, but charcuterie boards look like they're probably here to stay. Believe it or not, the expertly assembled arrangements of meats, cheeses, nuts, and spreads have actually been around since the 15th century (via Eat Cured Meat). However, it's really only been in the last few years that charcuterie has truly been having its moment, and now, foodies are so obsessed with the concept that there are even Instagram accounts dedicated to the beautiful boards.
Yes, charcuterie is certainly the "it" food right now, and, at this point, it's practically a requirement to have a board out if you're hosting a holiday party. But for as fun as they may be to put together (and, eventually, snack on), getting all of those must-have items for the picture-perfect grazing platter can also be a little bit pricey. According to Kitchen Seer, the wooden boards alone can range anywhere from $20 to $70, and then there's the cost of the actual food, which the outlet suggests budgeting $50 to $150 for. That's a lot of cheese!
Fortunately, everybody's favorite budget-friendly grocery chain, Aldi, is saving the day with Specially Selected Charcuterie Board Kits, which Aldi fan Instagram account @aldiforpresident recently spotted at their local store. "Aldi's here to take all the guesswork out of your next charcuterie board for the holidays!" the Instagrammer captioned a photo of the packs that run for just $9.99. What a steal!
What comes with Aldi's budget-friendly charcuterie kits?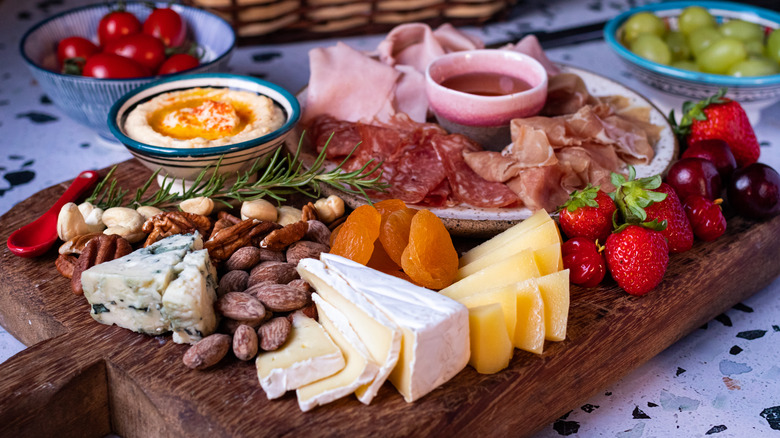 Paty Tessmann/Shutterstock
Aldi's affordable charcuterie board kits will provide you with several components for your platter for less than the price of some blocks of cheese. Per The Kitchn, each box runs includes dried apricots, apple slices, dates, and both plain and chocolate-covered almonds, all of which a note on the packaging says pairs nicely with prosciutto and goat cheese. 
The Kitchn reports that the Specially Selected Charcuterie Board Kits should be landing in all Aldi locations by Wednesday, December 15. However, some shoppers have already found them in stock at their local store, like Instagram user @aldiforpresident, whose post about the product on December 13 has generated some serious excitement amongst Aldi fans. Along with over 600 likes, many followers have hit the comments section to let some of their charcuterie-loving friends know about the product drop. "@dominicmontz for our charcuterie board nightttt!!" one user wrote, and now, we want to host a charcuterie board night of our own.
If you're planning on doing the same, the Aldi website also has some great advice to help make your grazing platters the best they can be this holiday season. One of its tips for a better board? "Follow the 3, 3, 3, 3 rule: 3 cheese, 3 meats, 3 starches, and 3 sweets," explained Sarah Crawford, who is a member of the grocer's Charcuterie Board of Directors. Will do!