Gingerbread Waffles Recipe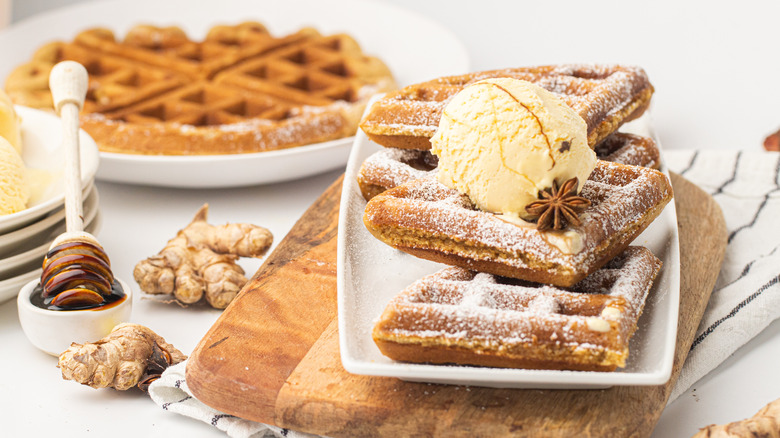 Susan Olayinka/Mashed
Imagine your favorite winter cookie ... for breakfast. Now we know that gingerbread men are a Christmas tradition, but why not combine them with waffles smothered in butter? Better yet, top them with ice cream! Is that even allowed for breakfast? Why, yes ... yes it is. Recipe developer and food photographer Susan Olayinka from The Flexible Fridge has a new take on gingerbread. Two words: gingerbread waffles. If you're like us and love cookies for breakfast (no judgment zone here!), then you will adore these rich morsels. Olayinka adds, "I love cookie-themed baked goods!"
According to The Spruce Eats, the history of gingerbread is undefined and though its inception could have been in Europe or Egypt, the details are uncertain. What we do know is that Olayinka's fluffy version makes the most remarkable meal. She tells Mashed, "[This is my] first time making ginger ones [...] but I make waffles all the time. It's my son's favorite breakfast." Busy moms, take note — Olayinka's method requires just over 10 minutes to prep and cook. Your home will be filled with Christmas scents in no time. 
Gather the ingredients for these gingerbread waffles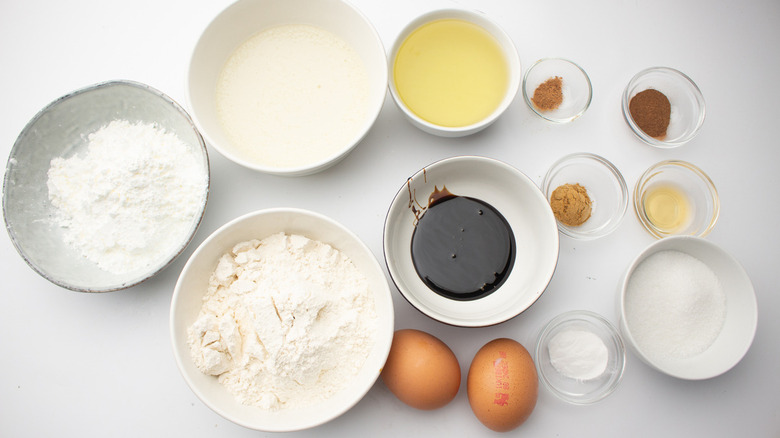 Susan Olayinka/Mashed
Now, be sure to record every detail because even the small amounts matter. To make these delicious gingerbread waffles, you'll need ¼ cup of white granulated sugar, 1 cup of all-purpose flour, ½ cup of cornstarch, and 1 teaspoon of cinnamon. On top of that, prepare ⅛ teaspoon of ground nutmeg, 1 teaspoon of baking powder, 3 teaspoons of ground ginger, and 2 whole eggs. Last but not least, you'll need a ½ cup of vegetable oil, ½ cup of milk, 1 teaspoon of vanilla extract, and 2 tablespoons of molasses (ask grandma to borrow some). To serve the waffles, choose your favorite toppings such as butter, maple syrup, and vanilla ice cream.
Combine the dry ingredients in a bowl
Susan Olayinka/Mashed
Set out a large mixing bowl that will hold the dry ingredients. Begin by combining the white granulated sugar, all-purpose flour, cornstarch, cinnamon, nutmeg, baking powder, and ginger into the mixing bowl. Since the ingredients are dry, you can use a fork or a whisk to mix them together. Make sure that the spices are evenly distributed with the rest of the dry ingredients so that each bite is packed with flavor. 
Whisk the wet ingredients
Susan Olayinka/Mashed
In a separate bowl, combine the eggs, vegetable oil, milk, vanilla extract, and molasses and mix until you have a frothy blend. Then, slowly combine the wet mixture into the dry mixture. Carefully mix the two together to incorporate them into a batter. Once that's done, you're ready for the next step — making the waffles. Olayinka walks you through how to make 2 waffles but you can definitely adjust the size and cooking time if you want to make many mini waffles.
Fill the waffle iron with gingery goodness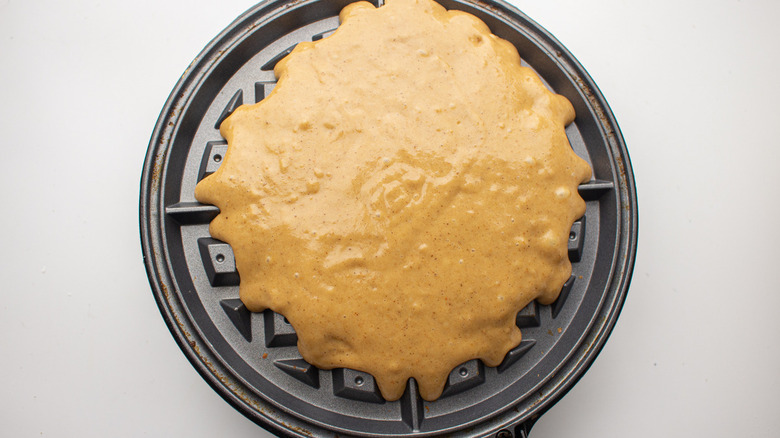 Susan Olayinka/Mashed
Now, plug-in your waffle iron and set it to medium-high heat if your appliance has such a setting. Otherwise, 325 F will do to cook the waffles. Measure out 1 cup of batter and pour it into the center of the waffle iron. Let it cook for 4 minutes then transfer it to a plate if you're going to dig in any second. Alternatively, place the waffle on a pan and keep it warm in the oven at 250 F while you cook the second one. 
Repeat the process, measuring out 1 cup of batter and pouring it onto the waffle iron to cook for 4 minutes. You'll quickly understand why Olayinka says that her favorite part of making these delicious morsels (aside from eating them) is the amazing smell: "Ginger in baked good[s] always smells like Christmas!"
Enjoy these decadent waffles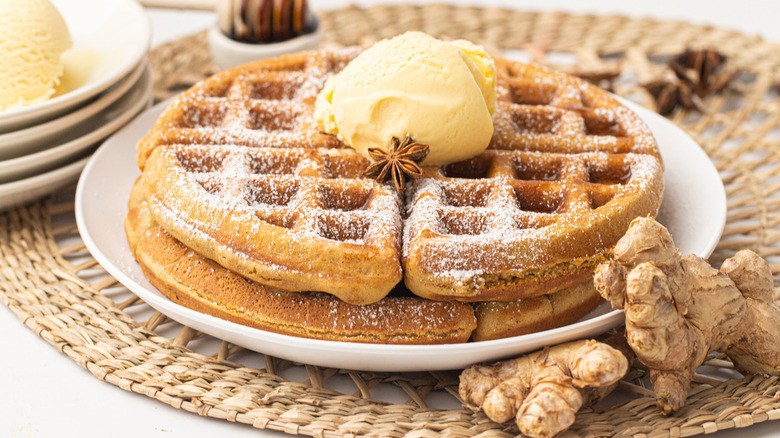 Susan Olayinka/Mashed
Behold, you now have the finest complement for your morning coffee. Serve these decadent gingerbread waffles immediately, savoring them with ice cream or butter on top. For added sweetness, dust them with powdered sugar and drizzle maple syrup over top.
We highly doubt this will happen, but in case you have any leftovers, Olayinka says to store them in an "Airtight container in the fridge ... but [they are] best eaten straight away." Follow Olayinka's suggestion and serve these delicious waffles on Christmas morning. 
Gingerbread Waffles Recipe
These delicious gingerbread waffles incorporate all of your favorite holiday flavors into a breakfast format. Enjoy this delightful treat with a cup of coffee.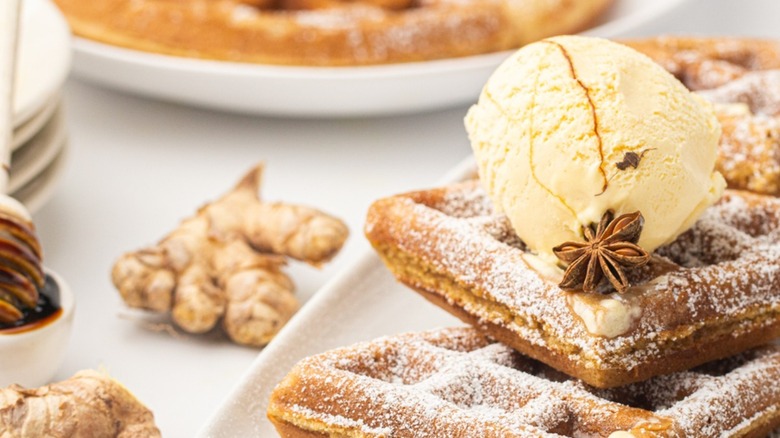 Ingredients
¼ cup white granulated sugar
1 cup all-purpose flour
½ cup cornstarch
1 teaspoon cinnamon
⅛ teaspoon ground nutmeg
1 teaspoon baking powder
3 teaspoon ground ginger
2 eggs
½ cup vegetable oil
½ cup milk
1 teaspoon vanilla extract
2 tablespoons molasses
Optional Ingredients
vanilla ice cream, for serving
butter, for serving
maple syrup, for serving
Directions
Begin by mixing together the white granulated sugar, all-purpose flour, cornstarch, cinnamon, nutmeg, baking powder, and ginger in a bowl.
In another bowl, mix together the eggs, vegetable oil, milk, vanilla extract, and molasses.
Pour the wet mixture into the dry mixture and mix to combine.
Heat the waffle iron (to medium-high if yours has this setting).
Pour 1 cup of batter into the center of the waffle iron.
Cook for 4 minutes. (If you want, keep the cooked waffle warm in an oven set to 250 F.)
Repeat to cook the second waffle.
Serve and enjoy immediately with ice cream, butter, maple syrup, or your favorite toppings.
Nutrition
| | |
| --- | --- |
| Calories per Serving | 1,121 |
| Total Fat | 62.9 g |
| Saturated Fat | 6.3 g |
| Trans Fat | 0.4 g |
| Cholesterol | 166.1 mg |
| | |
| --- | --- |
| Total Carbohydrates | 124.7 g |
| Dietary Fiber | 3.1 g |
| Total Sugars | 44.5 g |
| Sodium | 282.1 mg |
| Protein | 14.2 g |