Duff Goldman's DIY Christmas Gift For His Daughter Has Fans Impressed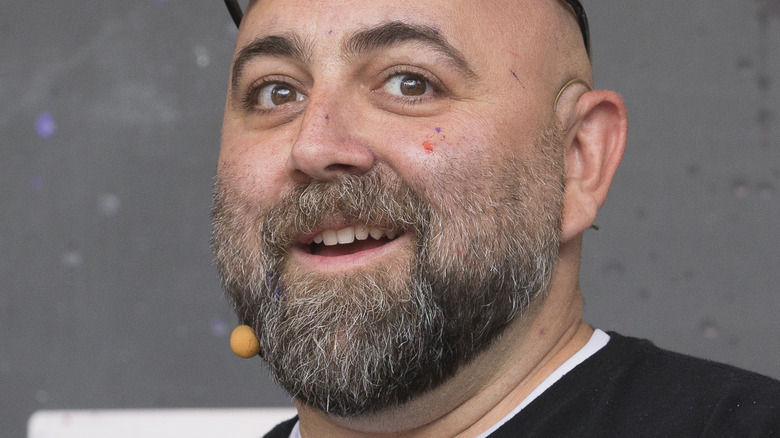 Sterling Munksgard/Shutterstock
Though we're used to seeing Duff Goldman constructing over-the-top cakes, we also love seeing his craftiness being applied in other regards — such as in this photo tease for a DIY Christmas gift he's making for his daughter.
Goldman always had a creative background before he became the host of "Ace of Cakes." In high school, the Food Network star began painting and metalwork, which served as the foundation for a lot of the cake art he makes today.
So for his daughter's first Christmas, Goldman had to go all out. Josephine Goldman was born in January 2021 to the celebrity chef and his wife. Already, Duff has proven himself to be a very dedicated dad, documenting everything from Josephine eating her first strawberry to dressing her up in her first Halloween costume. So of course, he also had to commemorate her first big Christmas present, which he shared on Instagram to friends and followers. 
Josephine's surprise
In the picture posted to his Instagram (shown above), Duff Goldman writes that he is making Josephine a sensory board, likening his workspace to "Santa's Workshop" and calling the project a "fun build." Various building tools and parts, including glue, a wrench, and a ruler, were sprawled across the table displayed in the picture. You could also see Josephine's present in the background, which comes with a tambourine, xylophone, light switch, and more.
While a few replies playfully warned Goldman that teaching his daughter how to operate things like light switches and door locks could backfire, the majority of the feedback was overwhelmingly positive. The TV star's fans were thoroughly impressed with Goldman's efforts. One user writes, "Is it wrong that I want to play there now as well?" Another commenter, echoing the sentiments of many, chimed in, "Amazing! I always knew you'd be a great dad!"
Clearly, it would've been easy for the celebrity chef to go out and purchase a store-bought gift for his daughter, but he decided to show his love in a way we're all familiar with — his natural craftiness. There's no doubt that Josephine will enjoy this special gift from her dad.