Duff Goldman Fans Can't Get Over His Daughter's Adorable Halloween Costume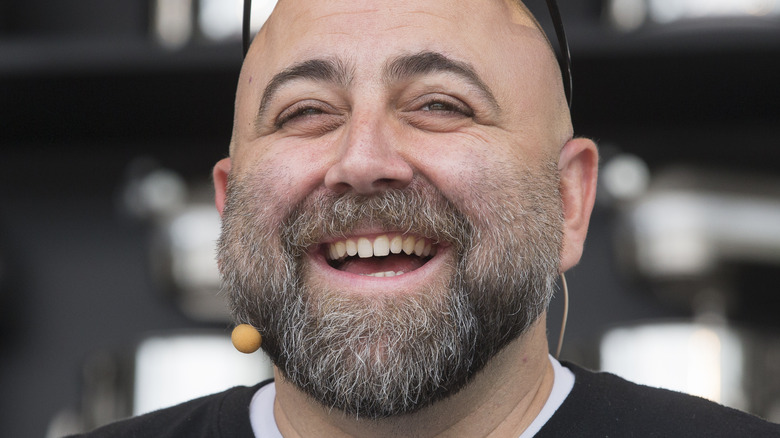 Sterling Munksgard/Shutterstock
If you're not following Duff Goldman on Instagram, what are you waiting for? Even if you identify with Team Buddy in the "Buddy vs. Duff" rivalry, you need to check out Goldman's Instagram. He posts the usual food celebrity stuff, shouting out his Discovery+ shows "Duff's Happy Fun Bake Time" and "Ace of Cakes," and he also promotes his famous bakery chain, Charm City Cakes. And if you like sweet, there are plenty of photos of gorgeous cakes on Goldman's Instagram. But ever since January 31 (via People), the sweetest thing of all on the baker's social media has been a mini-muffin called Josephine.
So far, Goldman's Instagram followers have seen his and wife Johnna's first child eating an apple, gnawing on her first watermelon, and just being too cute for words.
Sunday was Joesphine's first Halloween, and you knew you could count on Goldman to post a photo of her first Halloween costume. She keeps setting the cuteness bar higher with every social media appearance. The executives at Discovery+ probably are already brainstorming Josephine Goldman's first TV show.
Duff Goldman's baby was 'so cute' in her Halloween lobster costume
For Halloween — the day Josephine Goldman turned nine months old, incidentally — Duff Goldman's daughter was a lobster. Those chubby cheeks poking out of that red costume with the big crustacean's claws were just adorable. Goldman wrote "Happy Halloween!" in his Instagram caption. Mom Johnna Goldman posted a similar photo (except in hers, Josephine was smiling), and her Instagram caption read, "If you're happy and you know it clap your claws!" (Josephine may have been feeling a lot of moods in that moment. You can see a tear rolling down her cheek, too.)
Duff Goldman's Instagram comments were flooded with lots of heart emojis and exclamations such as "So cute!" and "Adorable!" One commenter thought they recognized Sebastian from "Little Mermaid." Another commenter had to be honest and suggested Josephine's costume might be a little off. @pongping_champ asked, "Not a crab?" You know, because Goldman's first Charm City Cakes shop is in Baltimore, Maryland, and "Maryland is for Crabs" — that state's very unofficial tourist slogan (via The Washington Post). Okay, maybe that's a stretch, but we're waiting to see what kind of claws Josephine will wear next Halloween.