This Creative Take On Cinnamon Toast Has TikTok Smiling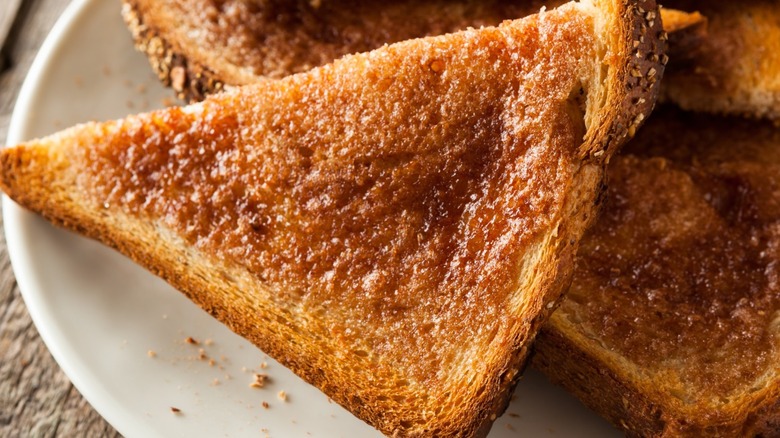 Sometimes, the tastiest sweets just have a few ingredients. If you're looking for a way to satisfy your sweet tooth and want to whip up something quick, just toast a piece of bread and top it off with butter and cinnamon sugar. If you want to put in just a little more effort, try making these cinnamon French toast bites or this French toast casserole. But if you need another way to add a little excitement to your cinnamon toast, there's a TikTok hack for that.
Recently, the account @lionfieldmusic posted a TikTok of them watching and reacting to a video of someone else making a spiral-shaped cinnamon toast snack. Of course, Emiliano and Matteo, the faces of @lionfieldmusic, had to try this out for themselves, and they say that the snack is delicious and crunchy.
For this jazzed-up cinnamon toast, you need to cut your bread and roll it up into a spiral shape, then put it on a wooden skewer. Dip the bread into butter and then a cinnamon sugar mixture. Finally, add some heat. In the original video, the creator uses what looks like a waffle iron, but Emiliano and Matteo let theirs sizzle on a pan on the stove. Besides being delicious, this cinnamon toast won't get your hands all sticky.
Here's what TikTok commenters are saying about this cinnamon toast twist
In the comments section of the video, a few people pointed out the obvious fact that this is pretty similar to French toast or churros. There were also plenty of commenters who were enthusiastic about this creative take on cinnamon toast. One person wrote, "I did this today too! It was so good with maple syrup!" 
Another commented with a simple "approved" and a thumbs up.
But this recipe isn't entirely new. Several TikTok commenters pointed out that this dish looks like traditional recipes from Portugal and Spain, respectively called rabanadas and torrijas. Journey Latin America has a recipe for Brazilian rabanadas (which originate from Portugal), and the recipe explains that rabanadas are eaten at holidays like Christmas and Easter. Torrijas are also eaten during Easter celebrations, and you can find a recipe for them on Serious Eats.
And if you just decide to stick with making a regular old cinnamon toast or an American-style French toast, then these are the mistakes that you want to avoid making.