Keira Knightley Crying At This GBBO Episode Is So Relatable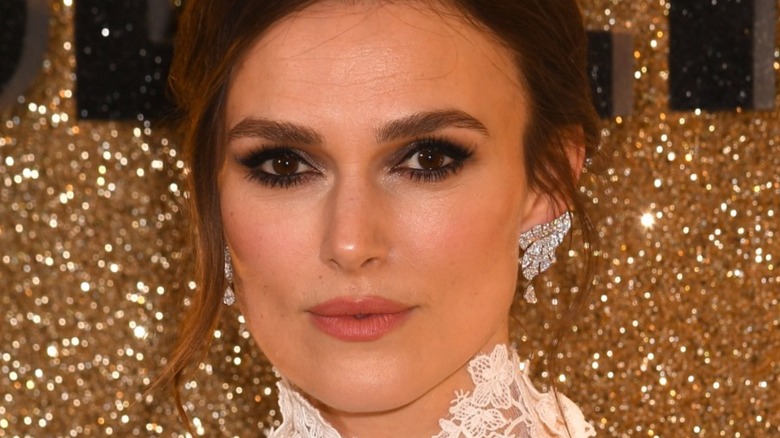 Dave J Hogan/Getty
The commercials that feature a family waking up on Christmas morning to find their long-lost son brewing a pot of coffee in the kitchen will either make you change the channel or weep into your own cup of joe. For those of us who wake up and choose vulnerability, any emotional moment on a show will send us into a tailspin of feels. Keira Knightly was moved to tears while watching a recent episode of "The Great British Bake Off," and viewers are right there with her.
Knightly knows to have an extra box of Kleenex on hand when she is watching just about any show. The famous actress admits to People that she is prone to crying when watching competition shows because she can tell that the contestants have invested so much time and energy into doing what they love.
Keira found herself "bawling on the sofa" during the quarter-final episode of "The Great British Bake Off" when Lizzie Acker created a gluten-free cake decorated to symbolize Acker's personal struggles with Attention Deficit Hyperactivity Disorder (ADHD) and dyslexia. The baker hit a cord with Knightley, who said, "I am dyslexic. Lizzie baked a dyslexic cake and said it was like the inside of her brain. It was such a beautiful cake, it made me cry."
Lizzie Acker wanted to highlight special educational needs with her cake
According to Family Lives, children with Special Education Needs (SEN) have a more difficult time with education due to learning disabilities, emotional and behavioral issues, sensory challenges, and communication difficulties. And Acker is a contestant on "The Great British Bake Off" who struggles with learning disabilities and wanted to highlight her special needs by baking a symbolic cake for the showstopper challenge.
In an interview with Disability Horizons, Acker said, "For my showstopper I wanted to celebrate SEN [special educational needs] – it's all about being different." Lizzie created a two-tiered gluten-free coconut sponge cake decorated with multicolored icing meant to depict her "brain fuzz" and celebrate neurodiversity.
Along with the multitudes of people who have learning disabilities, Kiera Knightley understands the challenges that Lizzie Acker faces and was moved by the cake she created that represented her individual but relatable struggle with ADHD and dyslexia. Although Lizzie didn't make it to the next round in Season 12 of "The Great British Bake Off," she said, "I felt that was the best cake I have ever made in my life, and I walked out of that tent with my head held high."