The Truth About Lizzie Acker From The Great British Baking Show: Season 12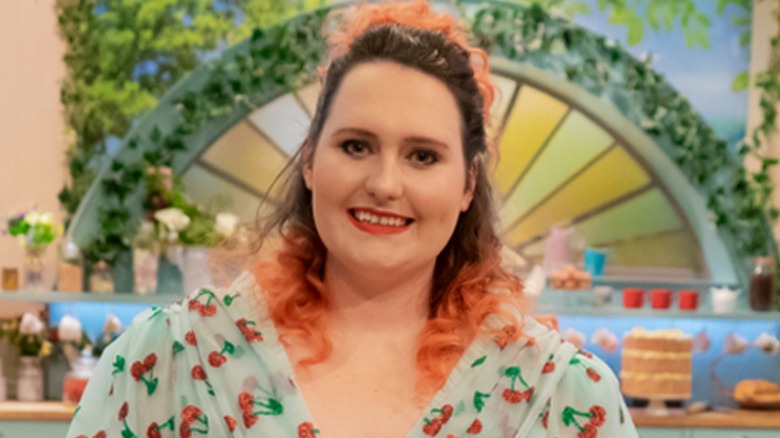 British Bake Off/Twitter
Lizzie Acker won our hearts on Season 12 of "The Great British Baking Show." But who is this talented baker beyond her exquisite pastry skills? As those of us who watch the series know, Acker was diagnosed with ADHD and dyslexia and is a huge advocate of special education awareness, according to WalesOnline. She wanted her Showstopper challenge cake in her final episode to symbolize her "brain fuzzies," which she represented with rainbow, shag- carpet-inspired icing (via Decider). Judges were impressed by the thought that went into her cake, but surprisingly, Acker wound up being eliminated at the end of the episode.
The Liverpool native was then reunited with her beloved Bedlington Terrier, Prudence, who ran up to her human so enthusiastically that the baker felt like she was in a "romcom," she wrote on Instagram. Though we're sorry that Acker's time in the competition had to come to an end, we all were touched by her legacy on "The Great British Baking Show."
Acker was a huge fan of the show she was competing on
Acker described how competing on "The Great British Baking Show" was a surreal experience, considering how much of a fan she already was of the series. She said in her exit letter, "Being on 'Bake Off' has been mental, I went from being a mad 'Bake Off' fan and stalker of the past bakers to being in the tent," Metro reports.
Aside from baking for fun — Acker does not yet own or operate her own bakery yet — she currently works at a Jaguar vendor in Liverpool. In her free time, she likes to dance the samba and investigate "the lives of serial killers," says The Takeout. Though her time on the show has come to a close, thanks to social media, this isn't the last we'll see of Acker. Give her a follow on Instagram for content of Pru the dog and lots of baking. Episodes of Season 12 of "The Great British Baking Show," are still being released, so give it a watch to see how Acker's fellow bakers fare in the final episodes.