Instagram Is Loving Rachael Ray's Adorable Christmas Card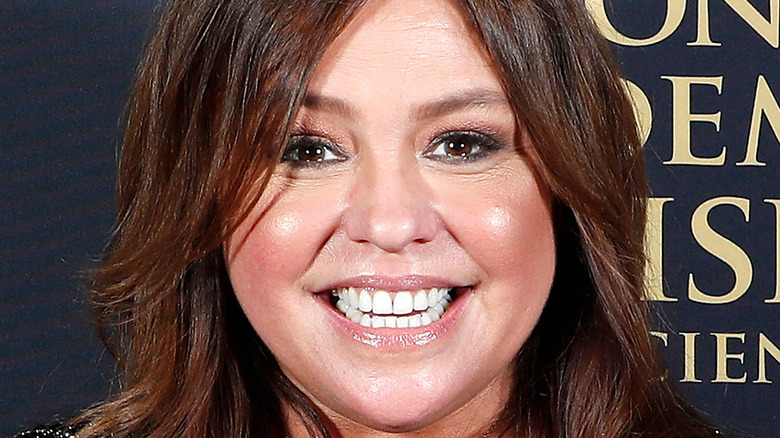 Joe Seer/Shutterstock
There's so much to love about the holiday season. Watching Christmas movies and eating yummy peppermint bark are only a few of the things we look forward to year after year, along with receiving all of those beautiful Christmas cards from our family and friends. According to Hallmark, sending out seasons greetings is a custom that dates all the way back to 1843, and now, over 1.3 billion cards are mailed out during the holidays each year.
Even our favorite Food Network stars partake in the annual tradition, like Rachael Ray, whose Christmas card this year features an extra special member of her family. No need to wait anxiously by your mailbox in hopes that you've somehow ended up on the mailing list for Ray's holiday greetings, either. The Food Network star recently posted the festive mailer to her Instagram account for all of her fans to see — and we're pretty sure you're going to want to check it out for yourself.
Fans are gushing over this festive snap of Rachael Ray's dog
Many people feature a family photo at the front and center of the annual Christmas cards, but on Rachael Ray's card, neither the talk show host nor her husband, John Cusimano, are anywhere to be found. Rather, the couple decided to make their dog, Bella Boo Blue, the star of their season's greetings this year, which Ray shared on her Instagram page earlier this week. "Ho Ho Ho...my hooves are cold! Can we fly home now, Santa?" Ray captioned the swoon-worthy, seasonal snap that saw her adorable pup "posing" next to a penguin and a polar bear while Santa's sleigh flew through the sky in the background. "#HappyHolidays from BBB," she added, along with a single snowflake emoji.
According to People, Ray and her husband adopted Bella Boo Blue in June 2020, and there has been no shortage of photos of the pooch since she joined their family. Earlier this year, the cookbook author shared a picture of her furbaby all costumed-up for Halloween that her followers loved. Now, they're gushing over Bella Boo's Christmas card as well.
Along with more than 3,300 likes, the post has been flooded with comments from fans like @janesjohnson1. "Beyond cute! Merry Christmas Bella & family," the user said. "How adorable is that," added another fan. "I absolutely LOVE this," another follower wrote, and we certainly do too. Thanks for sharing, Rachael!