Here's How To Make A Traditional Festivus Meal
"A Festivus for the rest of us!" If you've ever watched the '90s sitcom "Seinfeld," which starred Jerry Seinfeld (as a semi-autobiographical version of himself), Julia Louis-Dreyfus (Elaine Benes), Jason Alexander (George Costanza), and Michael Richards (Cosmo Kramer), you've more than likely seen the "The Strike," the 10th episode of the show's ninth season (via IMDb). The holiday episode has been consistently ranked among the program's top episodes by publications like Variety and The Guardian.
During the episode (which aired on December 18, 1997) the crew observes Festivus, a holiday created by George's father, Frank Costanza. Festivus traditions include the "airing of grievances," during which each participant tells the others all the times they disappointed them in the past year; the "feats of strength," during which the head of the household tests their strength against a guest of their choice by pinning them to the ground; and the Festivus pole, an undecorated aluminum pole that represents a rejection of glitzy Christmas trees and commercialism (per FestivusWeb.com). And then, of course, there's the classic Festivus dinner.
The traditional Festivus dish is meatloaf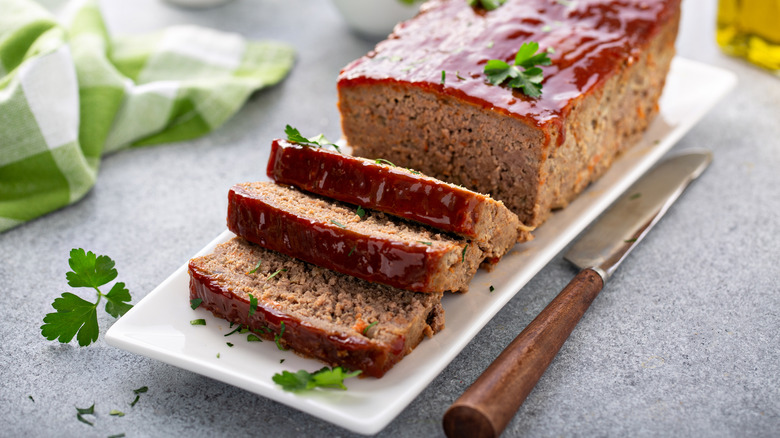 Elena Veselova/Shutterstock
The traditional Festivus meal, which makes a brief appearance in the episode as George's mother Estelle carries it to the dining table, consists of hearty slices of meatloaf arranged over a bed of lettuce. Side dishes such as peas and mashed potatoes can also be spotted on the table. However, there has been some hilarious debate about the entrée. For years (particularly before HDTV technology made its debut) some fans swore that the briefly displayed plate was spaghetti and meatballs, according to FestivusWeb.com.
Obviously created in a fictional setting, the sitcom holiday has been celebrated in real life since the episode first aired. In addition to countless house parties, bars across the U.S. host Festivus gatherings each year, incorporating the holiday traditions. Great Lakes Distillery in Milwaukee, for one, whips up various "Seinfeld"-themed cocktails — sometimes served out of a Festivus pole (via Facebook).
If you ever decide to host a Festivus function, it is highly encouraged to prepare a fancy plate of meatloaf and lettuce ... or spaghetti and meatballs ... or perhaps both! FestivusWeb.com shares "Seinfeld" fans also have been known to serve other foods and drinks that have played iconic roles on the show, such as soup, pretzels, black and white cookies, peaches, and Junior Mints. Happy Festivus, one and all!