Wings Over Just Dropped A Chicken Tender Sandwich With A Fun Twist
To say that America loves chicken sandwiches is an understatement. Restaurant Business called 2020 "the year of the fried chicken sandwich." In 2019, burgers still ruled when it came to fast food orders, with 6.4 billion beefy sandwiches sold. According to The NPD Group, however, chicken took away some of the market share, jumping more than three percent to 2.3 billion breaded chicken sandwiches ordered that year (via QSR Magazine).
While there's disagreement as to which restaurants (Chick-fil-A? Popeye's? KFC? Shake Shack?) serve the best breaded and fried breasts in a bun, one restaurant is trying to shake things up with a hot take on the chicken sandwich.
Wings Over, a growing chain of more than 30 restaurants in the Eastern United States, is rolling out a new Original Tender Sandwich (via Chew Boom). The new product features a hand-breaded crispy chicken tender resting in a top-split, butter-toasted bun. The tender is topped with a choice of ranch or blue cheese drizzle and can be tossed in one of Wings Over's 25 signature wing sauces. A naked tender option is also available. The rollout comes six months after another Buffalo chicken wing restaurant, Buffalo Wild Wings, entered the chicken sandwich wars.
2 for $5 deal offered on Original Tender Sandwich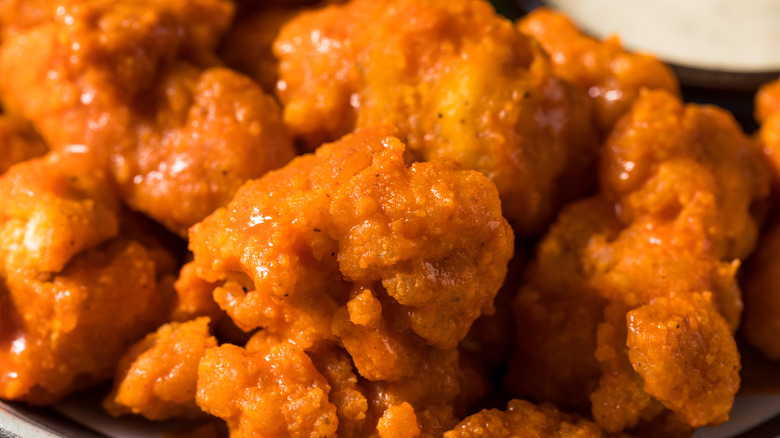 Brent Hofacker/Shutterstock
Beginning this week, Original Tender Sandwiches are available at all Wings Over restaurants. The chain made the decision to permanently add the novel sandwich to their menu after it was successfully tested with customers last summer, according to Chew Boom. This isn't the fast-casual wing chain's first foray into chicken sandwiches, though. Three other sandwiches are also on the menu, each available in a wrap or on a traditional bun: the Classic Chicken, Chicken Bacon Ranch, and Buffalo Chicken sandwiches. All feature lettuce and tomato, a choice of hand-breaded or grilled chicken, and a new buttermilk marinade, according to Wings Over's website. Like the Original Tender, they can be tossed in one of the chain's wing sauces.
Wings Over is currently offering a 2 for $5 deal, according to a Twitter post from the chain. The restaurants are primarily located in the Northeast and New England, with some additional locations in North Carolina and the Midwest.
The announcement of the Original Tender Sandwich drop is too new to have generated any feedback or reviews of the tasty-looking sandwich on WIngs Over's social media channels (including Facebook, Instagram, and Twitter), but we'll be watching the reactions to this new offering.